Bupkis' Brad Garrett Jokes About Filming That Naked Scene With Pete Davidson - Exclusive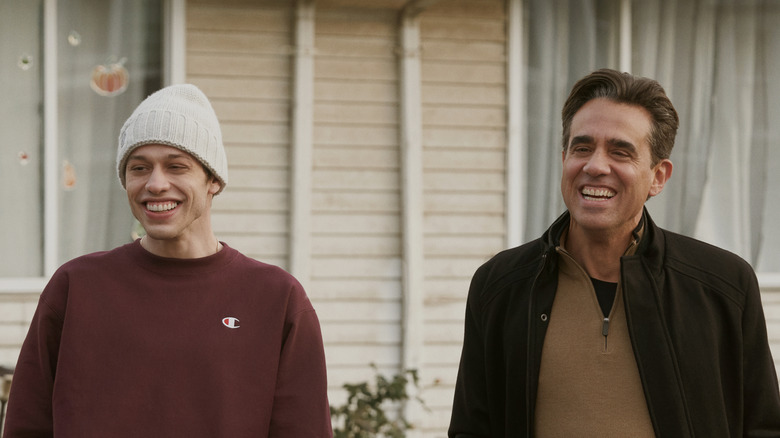 Peacock
Contains spoilers for "Bupkis" Season 1
If any word can sum up the entirety of Pete Davidson's "Bupkis," it's "chaos." From start to finish, the series goes deep inside Davidson's head. The results span from absolutely hilarious to mildly disturbing and raunchy in the weirdest ways. You end up just shaking your head, thinking, "Okay, that makes sense," when it comes to fictionally chronicling the comedian's life. Fans will laugh, they'll cry, and they'll laugh-cry.
Of course, Brad Garrett probably did a combo during one particular scene. Fans who binged the show will immediately know this scene without any context. But for anyone who wants a spoiler for the show's funniest (and most awkward) moment in the series, Pete helps Garrett's character, Roy (his uncle), reach completion while he does the deed with a sex worker. We mentioned the chaos, right?
The scene is absolutely absurd while undeniably funny. Naturally, we had to talk to Garrett about this hilarious moment when Looper spoke to Brad Garrett and his former "Everybody Loves Raymond" co-star Ray Romano about guest starring on the show. Given the comedians' proclivity toward firing off jokes at the drop of a hat, don't take anything too seriously.
Naked and not afraid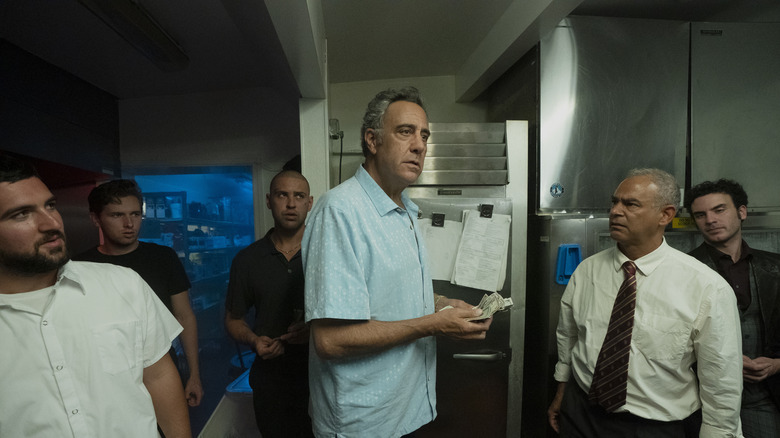 Peacock
On some of the chaotic and awkward scenes Ray Romano and Brad Garrett filmed over the course of the show, Romano said, "Well, Brad, you have the awkward scene, right?" 
Garrett confirmed the awkwardness, admitting, "It was a little awkward, I have to say." 
Romano got to the question everyone was thinking before we did, asking, "Was any part of you naked in this scene?" 
After Garrett noted that he was, in fact, "totally naked," Romano joked, "I'm out. I am out." To be fair, no one wants to see their platonic bestie naked.
"No, wait a minute — in the audition," Garrett added. "Let's be honest — me naked is not going to help anybody, so I won't get into details about that." While some sets don't offer actors enough support or privacy during intimate scenes, Garrett had nothing but praise for the "Bupkis" set. "But the great thing about it was how comfortable the set was," he continued. "What was frightening is that [it] was my first scene that I filmed in the show. I had just met everybody for the first time. And it's intimidating when Joe Pesci yells, 'Keep your frigging pants on,' so I didn't expect it to go that way." 
The art of cursing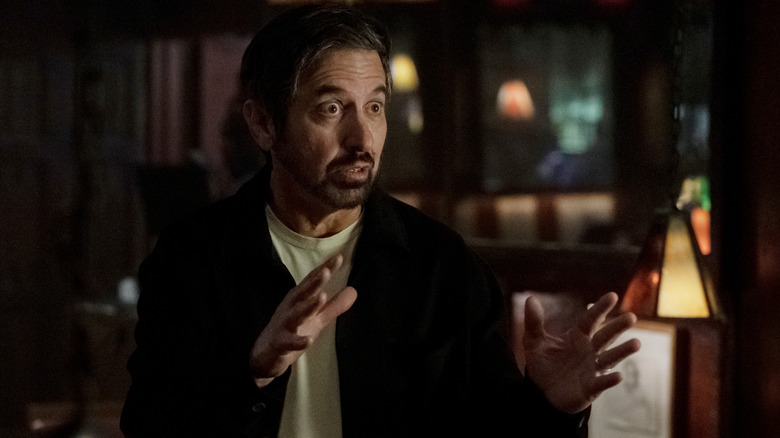 Peacock
Ray Romano chimed in with, "That's a first for you ever, to have any scene with any nudity in it, right?" 
Brad Garrett jokingly fired back, "Well, in real life as well. Let's not forget the wedding night ..."
Romano shot back with the roast "...when your wife said, 'Keep your friggin' pants on.'" 
Garrett was more than happy to keep the bit going, adding, "She ran into the lobby with a saber, and it was a standoff." Romano teased that the show "Naked and Afraid" was inspired by that, and Garrett confirmed.
Garrett wanted to know if Romano had any awkward scenes. "There was no awkwardness for me except for [wondering] how far out there they wanted [my character] to go," Romano answered. "There was stuff written, and then we started ad-libbing, and I didn't know how dark and weird they wanted it to go. There was no limit, really. They edited it down. But I said things there that I've only said to you, Brad."
After calling Romano's cameo "hysterical," Garrett pivoted the conversation by trying to recall if he'd ever heard Romano curse. 
Romano countered with an anecdote about Vegas. And really, who doesn't curse in Vegas? Naturally, Romano had to close the question off with a rib to Garrett: "Shut the f*** up, let's go." Point 1 goes to Romano. 
Season 1 of "Bupkis" is now streaming on Peacock. Just don't watch it with your grandma.