Guardians 3's Box Office Numbers Exceed Expectations Internationally With Stellar Worldwide Cume
James Gunn is laughing all the way to the bank with his latest Marvel hurrah.
After five years of anticipation, Marvel Studios has unleashed "Guardians of the Galaxy Vol. 3" upon the world. Written and directed by Gunn, the threequel sees the ragtag group of cosmic warriors racing against time to save one of their own. With stellar reviews — Looper critic Audrey Fox gave it a 7/10 — and solid word of mouth thanks to an A CinemaScore, "Vol. 3" has debuted to a whopping $282 million globally, per Variety.
Prior to the film's release, many worried that Marvel's latest would flounder at the box office thanks to negative press and the backlash faced by "Ant-Man and the Wasp: Quantumania," which boasted less-than-stellar box office receipts. At least internationally, so-called "Marvel fatigue" doesn't seem to exist. The superhero space adventure opened in 52 international markets, grossing $168.1 million. Early projects saw the film coming in between $130 and $140 million. Deadline says that the film beat initial projections in China, which is its largest international market thanks to a $28.1 million debut. Mexico, Korea, and the United Kingdom also boasted $10 million+ openings.
"Guardians of the Galaxy Vol. 2" opened to $106 million internationally back in 2017, albeit in only 37 markets, per Deadline. With "Vol. 3's" additional markets in mind, both sequels have opened similarly.
Guardians of the Galaxy Vol. 3 soars with a $114 million domestic debut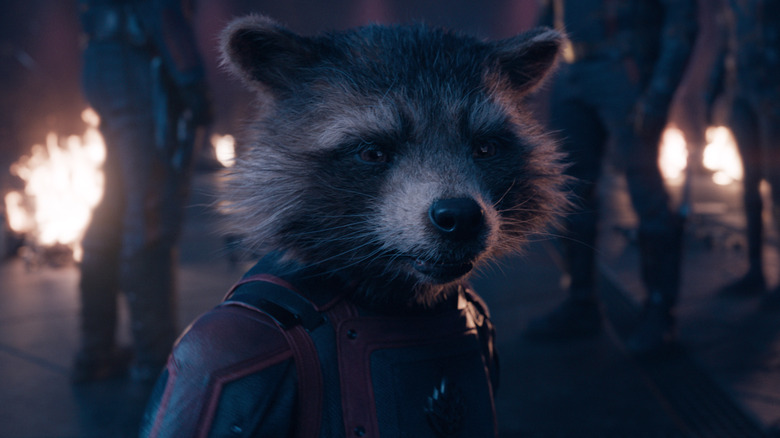 Marvel Studios/Walt Disney Studios Motion Pictures
"Guardians of the Galaxy Vol. 3" is also boasting sizable profits domestically. The Chris Pratt-starrer opened to $114 million in the United States and Canada, taking the top spot at the box office this weekend. It usurped "Mario," another Pratt vehicle, which has dominated multiplexes for the last month. For Marvel, the $114 million domestic debut is nothing to scoff at. It's their second $100+ million debut of the year, following "Ant-Man and the Wasp: Quantumania's" $104 million opening back in February. Of course, Paul Rudd's threequel only recently passed the $210 million mark domestically, making it a disappointment of sorts for the billion-dollar studio. 
How far will "Vol. 3" go domestically? Only time will tell. Word of mouth is positive and audiences are interested in seeing Gunn's latest on the best screens possible (IMAX screenings accounted for $25 million in ticket sales worldwide). Seeing as the film is consistently being marketed as the final entry in the cosmic franchise, it's likely those previously burned by Marvel will show up to support Star-Lord and the gang's swan song. Compared to "Vol. 2," however, the threequel doesn't exactly stack up. The second film, which introduced Mantis (Pom Klementieff) opened to a whopping $146 million back in 2017, per The Numbers.
For now, "Guardians of the Galaxy Vol. 3" is on the right track with a global $282 million debut. It faces little competition next week, but there are bumps ahead thanks to the releases of "Fast X" and "The Little Mermaid."