Ant-Man 3's Abysmal Ratings Are Actually A Very Good Thing For The Kang Dynasty And Secret Wars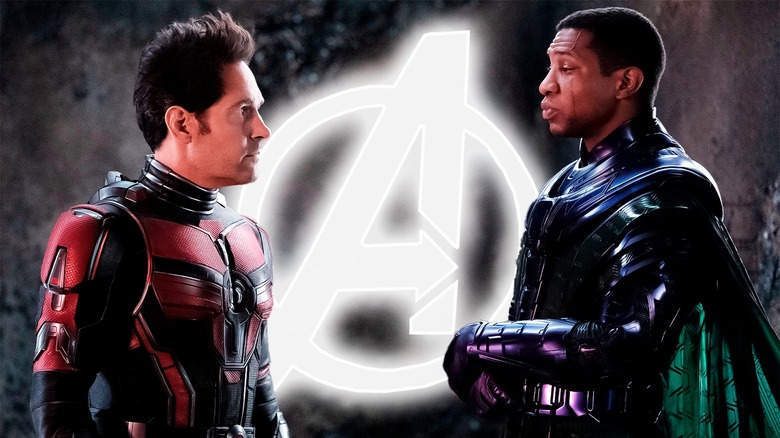 Static Media
By now, it's no secret that "Ant-Man and the Wasp: Quantumania" has been, at best, polarizing. A number of moviegoers seem to have enjoyed the film quite a bit, but the critical consensus is far less positive. "Quantumania" has been criticized for its messy structure, lack of substantive character arcs, and overreliance on computer-animated effects and landscapes. The jokes, also, are far from home runs.
Since "Quantumania" is the first entry in Phase 5 of the MCU, these issues should be — and are — concerning for fans. Phase 4 had shining moments, like "WandaVision," "Spider-Man: No Way Home," and "Black Panther: Wakanda Forever." But its lasting imprint is incredibly disjointed. The phase introduced a ton of new characters to the franchise, some of whom have been well-received, but gave them little to no connection to any overall guiding storyline. And with so many original MCU stars now gone, there's been less and less reason for people to keep tuning into every project.
Phase 5 is supposed to be different. Marvel Studios president Kevin Feige has laid out an extensive roadmap for the next few years of the series, which is meant to comprise a much tighter narrative centering on Kang the Conqueror (Jonathan Majors), the Council of Kangs, and the multiverse. However, with "Quantumania" receiving so much backlash, those plans seem to be in jeopardy. 
Think again. While fans have every right to be worried after the mess of "Ant-Man and the Wasp: Quantumania," all the bad press could turn out to be a good thing. Here's why.
Quantumania shows what Marvel has planned for Phase 5 and beyond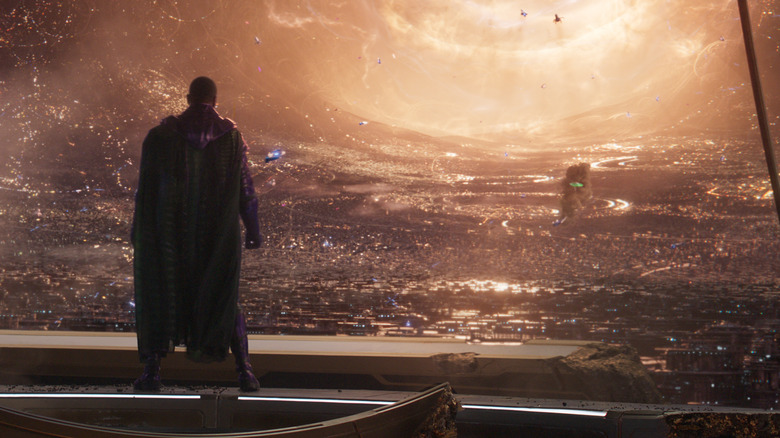 Marvel Studios/Disney
It might seem easy to write "Quantumania" off as an isolated failure, but the truth, unfortunately, is more complicated. Not only is the Kang storyline intended to dominate the series for years to come, but the creative team and overall style are indicative of what Marvel Studios has suggested is coming. Jeff Loveness, the writer of the film, cut his teeth on "Rick and Morty" before joining the MCU. Before that, he mostly wrote for events and talk shows like "Jimmy Kimmel Live!" Michael Waldron, who penned "Loki" Season 1 and "Doctor Strange in the Multiverse of Madness," also came through the "Rick and Morty" to MCU pipeline.
These two creatives are currently set to have a huge impact on the next few years of the franchise, with Loveness writing "Avengers: The Kang Dynasty" and Waldron heading up "Avengers: Secret Wars." Those films are still a ways off, but they've been positioned as the MCU's next big climax — an act two for the massive success of "Infinity War" and "Endgame," though not necessarily so directly connected.
"Quantumania" embodies the brand of zany, high-concept sci-fi that the so-called "Multiverse Saga" seems to be all about. To that end, it makes sense that Marvel Studios would bring in some "Rick and Morty" writers, given that the Adult Swim series lives in a similar genre. Just as the Russo brothers came from "Community" to help lead Phase 3, the MCU now seems to be taking its creative lead from a different kind of comedy community. But "Quantumania" isn't exactly a roaring endorsement of that new direction.
The Ant-Man backlash should make Marvel Studios reevaluate some things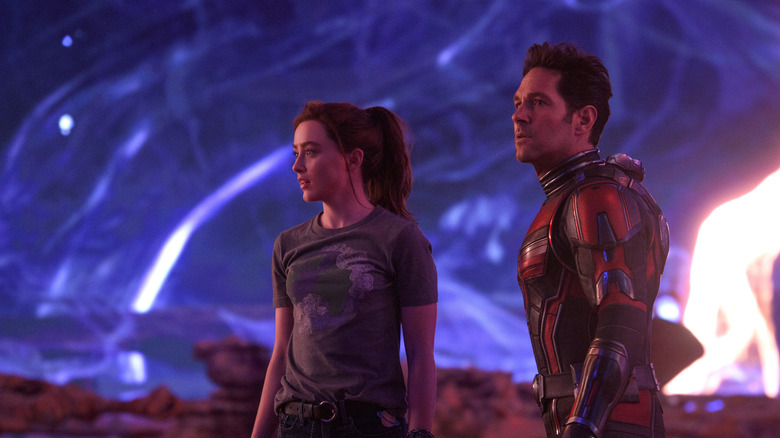 Jay Maidment/Marvel Studios/Disney
So we've laid out the bad news: "Ant-Man and the Wasp: Quantumania" is a good example of where Marvel Studios says the MCU is headed, which is concerning given its lackluster reception. The good news is that Kevin Feige and co. have a golden opportunity now to set things right.
There's perhaps no greater wake-up call for a studio than dropping below 50% on Rotten Tomatoes, especially for a franchise with such a solid track record. Disney would have to be completely out to lunch to ignore the critiques of "Quantumania" and not factor them into future plans.
This may already be in the works. The day before "Quantumania" was released, The Hollywood Reporter published a report suggesting that Disney might delay a number of upcoming Marvel projects in the interest reducing audience fatigue and improving overall quality. The theory has seemingly been supported by some of CEO Bob Iger's own words, and by the official delay of "The Marvels" being announced the day "Quantumania" dropped in theaters.
These moves aren't necessarily a response to the "Quantumania" reviews, but there's no doubt that Iger, Feige, and others are thinking deeply right now about the right next steps to take. Ultimately, the film's poor reception could turn out to a blessing in disguise — a warning sign marked early enough out for Marvel to make some needed changes to their upcoming slate.
After Phase 4, the MCU needs big wins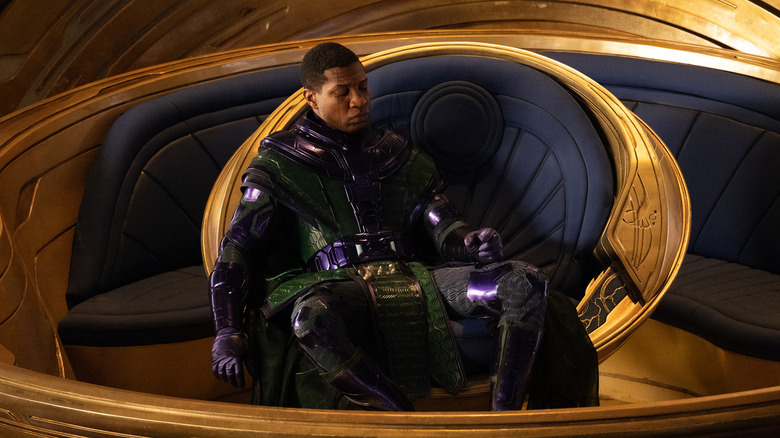 Jay Maidment/Marvel Studios
The MCU is still arguably the biggest media franchise in the world, even after a few iffy years. But it may not keep that crown for long if Marvel Studios doesn't make some changes. According to a poll conducted by Morning Consult and published in August of 2022, adult interest in superhero movies is waning, including among those who identify as Marvel fans specifically. While "Quantumania" is doing fine at the box office, it's far from the franchise's biggest win. And with Phase 4 delivering an overstuffed slate of stories with wildly uneven reviews, Disney really needs big wins in the next few years.
It might be hard to remember, but the blockbuster comic book franchise model hasn't been around for all that long. There was a time before the MCU ruled movie theaters, and there will certainly be a time after. Whether that decline comes sooner or later is largely up to the studios in play and their ability to separate the wheat from the chaff. The long-term financial viability of Disney+ is still up in the air, and after "Quantumania," the film side of things also looks a bit questionable. The MCU needs big, consistent wins. And if Disney hopes to maintain its past relevance, it needs them soon.
Will Disney actually be able to right the MCU ship?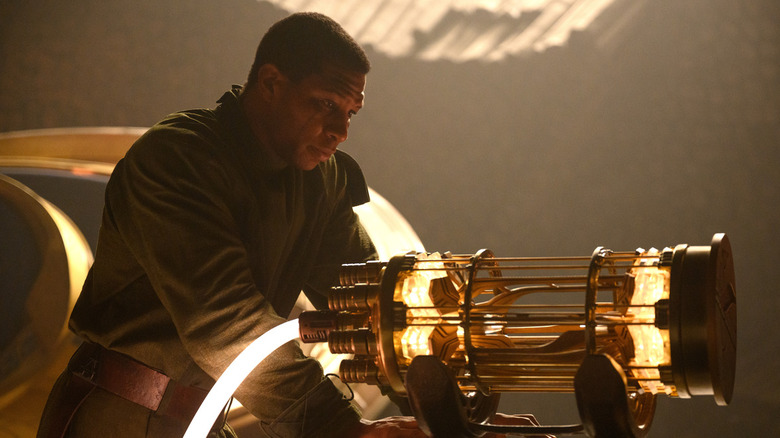 Jay Maidment/Marvel Studios
With future release dates being pushed around and Bob Iger back at the helm of Disney proper, it's clear that at least some machinery is already in motion to shift things up at Marvel Studios. Whether it will be enough, however, remains to be seen. It's hard to know exactly how much is set in stone for 2024, 2025, and 2026, but according to the aforementioned Hollywood Reporter story, Iger has no qualms about limiting release lineups.
Right now, that might be the best course of action. When the MCU was at its best and most profitable during Phase 3, everything was funneling toward the same endpoint — a two-part cinematic event that smashed box office records. "The Kang Dynasty" and "Secret Wars" could do the same, but not if Marvel Studios keeps firing out half a dozen middling projects every year until they come out. Phase 4 created a sense that you don't need to see every movie and show, and "Quantumania" does little to alter that idea. Even with its focus on Kang, it ends up feeling like another footnote in the story the studio is attempting to tell.
Right now, the MCU is at a crossroads. We're four years out from "Endgame," things are still super messy, and Ryan Coogler can't keep swooping in to save the day with "Black Panther" movies forever. "Quantumania" should be a huge wake-up call to Disney at large to take a look at what's being done and reevaluate. If they take heed, we could be headed back to another golden era. If not, this may be the year we look back on as the beginning of the end.