Guardians Of The Galaxy Vol. 3 Review: A Satisfying Conclusion That Wears Its Heart On Its Sleeve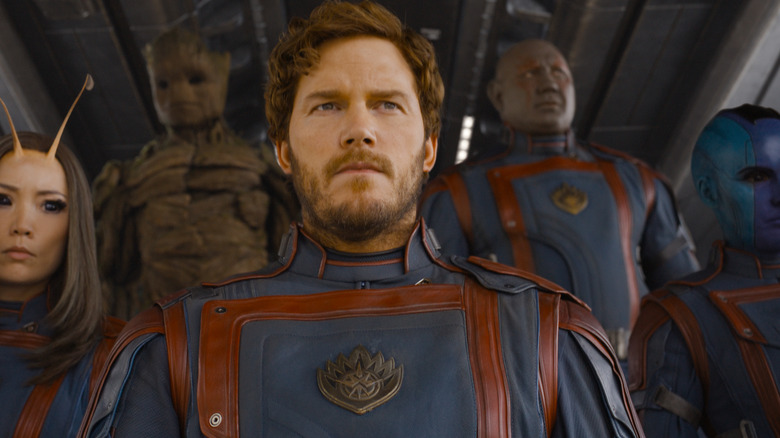 Marvel Studios/Disney
It's 2023, and the Marvel universe is at a bit of a crossroads. For most of the 21st century, you pretty much just had to say the word "superhero" and suitcases full of cash would start rolling in. But we're beginning to see a shift, and the looming question mark over "Guardians of the Galaxy: Vol 3" is whether or not this is a franchise that can still charm audiences. The answer is yes — mostly. The "Guardians of the Galaxy" finale is not without its flaws, but it also adheres closely to the stylistic choices that made its predecessors so popular. And although some fans may find this conclusion a little deflating, the "Guardians of the Galaxy" films have such a unique sense of humor and so much heart that even an imperfect entry in the franchise is more fun to watch than any other generic superhero movie.
The film opens on Rocket (Bradley Cooper) listening to Radiohead's "Creep," and it's clear the Guardians are going through a bit of a rough patch. Rocket is quietly reminiscing over some early childhood memories, Peter (Chris Pratt) is grieving the loss of his version of Gamora (Zoe Saldaña), and Kraglin (Sean Gunn) still can't figure out his whistle arrow, bequeathed to him by the late Yondu (Michael Rooker). The Guardians are in a funk — and that's before fledgling superhero Adam Warlock (Will Poulter) comes blasting into Knowhere, causing serious property damage and critically injuring Rocket in the process. They attempt first aid on the ailing raccoon but quickly discover that Rocket is equipped with a kill switch, and the only way to get him the medical support he needs is to track down the override code from the company that made Rocket ... well, Rocket.
Rocket's the star of the show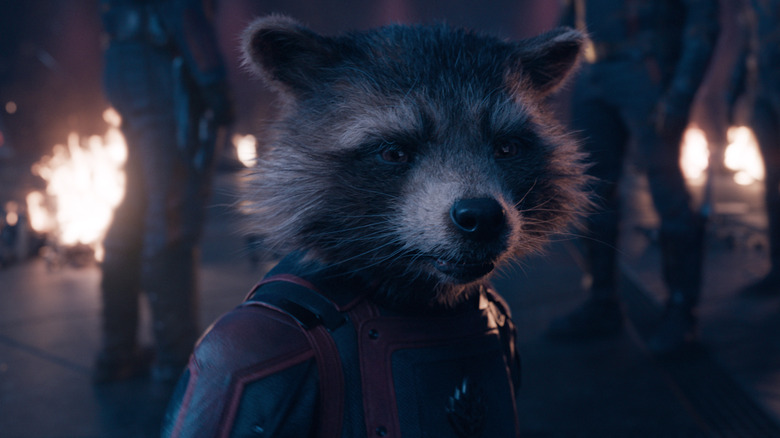 Marvel Studios/Disney
In case it wasn't clear, this movie may call itself "Guardians of the Galaxy Vol. 3," but it's 100% Rocket's film. It delves into his background in a way that is emotionally manipulative but effective, giving him a heart-wrenching origin story that had only been alluded to in the prior films. Will you be furious at James Gunn for having the sheer nerve to take this subplot into truly dark places to wring every last drop of sadness from audiences? Yes. Is there a good chance you might still cry? Also yes. It has all the subtlety of a Sarah McLachlan ASPCA commercial, but it gets the job done. 
"Guardians of the Galaxy Vol. 3" wears its influences on its sleeve, and that's most evident with Rocket's storyline; it has heavy allusions to "Frankenstein," with the god-like creator equal parts horrified and fascinated by the promise of its creation, and "The Island of Dr. Moreau," with its fairly tragic animal-human hybrid designs. (Fair warning: There is a naked mole rat character who will haunt your dreams.) There's also a gruesome, almost-Cronenbergian quality to the character designs of the denizens of Batch 89, the experimentation group from whence Rocket came. These elements do well to emphasize the poignant bond between Nebula and Rocket, which hasn't been fully explored in the past but makes perfect sense — no one in the world could understand what it feels like to have your entire being changed at the whim of another more than these two.
The tactile world of the Guardians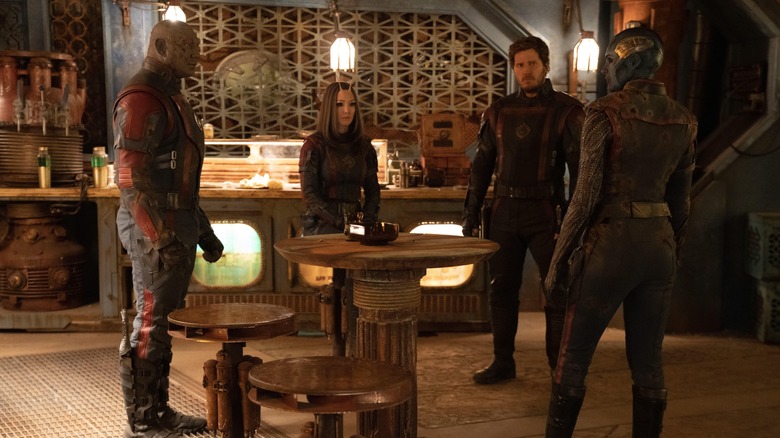 Jessica Miglio/Marvel Studios/Disney
One of the things that "Guardians of the Galaxy" doesn't tend to get enough credit for is how much it resists the inclination of Marvel films to utilize CGI to the extent that everything feels as though it's taking place in front of a screen. This film in particular has sets that actually seem like they exist in a physical space. The laboratory planet where Rocket was experimented on is especially tactile, having been hewn entirely out of living matter. It's squishy and oozy in ways that feel real. Genuinely, "Guardians of the Galaxy Vol. 3" has the most goo of any film since "Super Mario Bros," and that is a compliment. It's a breath of fresh air after the years of overly sanitized space sequences we're usually treated to.
The film doesn't let the franchise down, but that isn't to say that it's perfect, either. This is a common complaint for superhero movies — applied more fairly to some than others — but you do feel the length of "Guardians of the Galaxy Vol. 3." It gets a bit self-indulgent at times since James Gunn is clearly eager to fit as much into his final installment of this series as possible. But there are moments when you can see where a cut should have been made and the film starts to drag — we probably don't need such an extended sequence on the "Bojack Horseman" planet of humanoid animals, for example, and we could have lost some of the "walking in slow motion with cool music" shots and repetitive "did that look cool?" jokes without audiences being any the wiser. Its third act goes and goes and goes, only to come to a sudden, almost unceremonious end — which, along with some earlier scenes, reflects the film's tendency to undercut some of its narrative stakes.
But overall, this is a worthwhile conclusion to the "Guardians of the Galaxy" trilogy, bringing the trademark sense of humor and unique visual storytelling that have always set it apart from any of Marvel's other films. It does right by all of the characters, giving them the send-offs they deserve — especially Rocket, who manages to evoke more of an emotional response than his little CGI face has any right to. It feels somehow late in the game to be peeling back the layers on such a prominent character, but what a perfect note for the series to go out on, highlighting the devastating origins of a trigger-happy anti-hero who would eventually become one of the Guardians of the Galaxy. The film has its flaws, but it's hard to be too tough on it — "Guardians of the Galaxy Vol. 3" delivers on almost every front, and should be a satisfying conclusion for fans of the trilogy.
"Guardians of the Galaxy: Vol 3" opens in theaters on May 5.