Whatever Happened To Shake From Love Is Blind?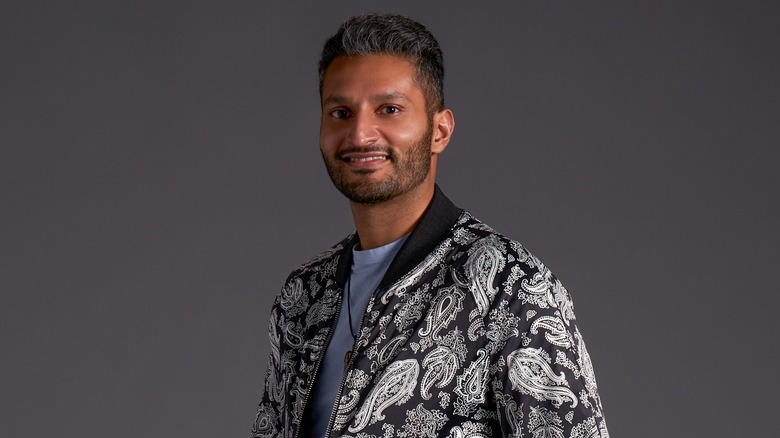 Ser Baffo/Netflix
As fans know, Netflix's popular reality dating show "Love is Blind" has had plenty of not-so-likable cast members — such as, most recently, the mean girls Micah and Irina of Season 4. But prior to Micah and Irina wreaking havoc in the pods, there was Shake in Season 2, who many fans would consider one of the worst contestants on the show overall.
Right off the bat, Shake made a bad impression with the women in the pods — as well as the viewers — when he immediately started asking his dates shallow questions to try to determine what their body types are like. However, Deepti called him out on it and they were able to move past his shallowness to form a bond, eventually getting engaged. When they meet, Shake is seemingly attracted to Deepti — despite having admitted to only being interested in blonde, white women in the past — even grabbing her butt and making a comment about getting her pregnant.
However, as soon as they get to Mexico, Shake begins recoiling from Deepti and looking uncomfortable when she talks about the future. From there, Shake starts confiding in other contestants (and later on, even his mother) about how he isn't attracted to Deepti, even comparing her to an aunt. Luckily, Deepti says no to him at the altar.
Shake's deplorable attitude only then continued at the reunion, during which he emphatically defended his behavior and, at one point, blatantly stated that the only woman in the room he was attracted to was co-host Vanessa Lachey (in front of her husband and co-host Nick no less).
So after making a terrible impression on television, "Love is Blind" fans may be wondering what happened to Shake.
Shake found love outside the pods with a new girlfriend
A couple months after "Love is Blind" Season 2 aired, Shake posted on Instagram, announcing he had a new girlfriend — alongside a few photos of them together, Shake wrote, "Good things come to those who wait don't settle." Since then, he has posted many photos of the two of them together. Then, he spoke to Us Weekly about his new girlfriend, Emily Wilson.
Shake said, "We're both so in sync that we can't help but be excited. I'm an open book. I'm like a golden retriever — I'm wagging my tail. I'm just happy to talk to anybody about anything and I felt such a strong connection with her."
You're likely wondering if Emily has seen Shake on "Love is Blind" — and the answer would be yes, but not at first. She told Distractify, "I watched the show after getting to know Shake, which was definitely a good thing. If I'd seen the show prior to meeting him, I don't know that we'd be dating right now. I'm glad I got to know the real him before watching it."
Shake and Emily started a podcast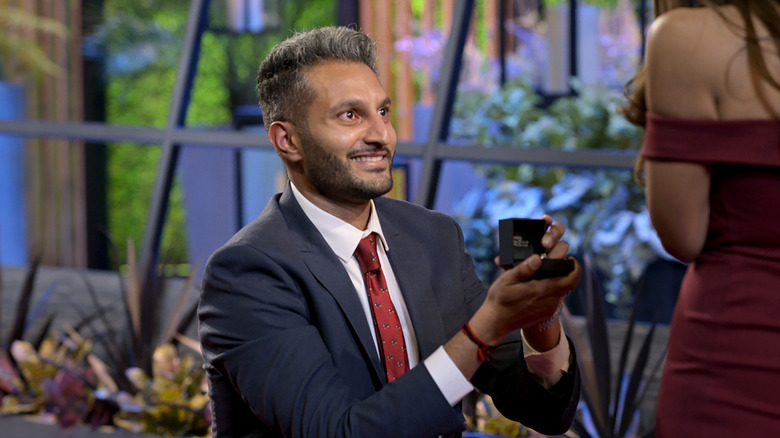 Courtesy of Netflix
Also following "Love is Blind," Shake — alongside his girlfriend — started a podcast called none other than ... "Life is Blurry." The name, of course, is a reference to the Season 2 reunion when Shake said that he wants to be on a reality show called "Love is Blurry" because he wants to form an emotional bond but also wants physical attraction to be at the forefront.
Speaking to The Tab in 2022, Shake explained what he wanted to explore in the podcast, stating, "I've learned a lot during this entire process and am looking forward to sharing what I've learned. We have a team in place that is excited to help make sure my story and those who have ended up on my side of reality TV have an opportunity to share more about themselves. People are dimensional and I think it is important to start talking about that." He also specified that they would specifically be covering topics that are controversial.
At the time of writing, "Life is Blurry" has put out a total of 16 episodes, with the last one being aired in November 2022.