Law & Order: Whatever Happened To Anthony Anderson After The Show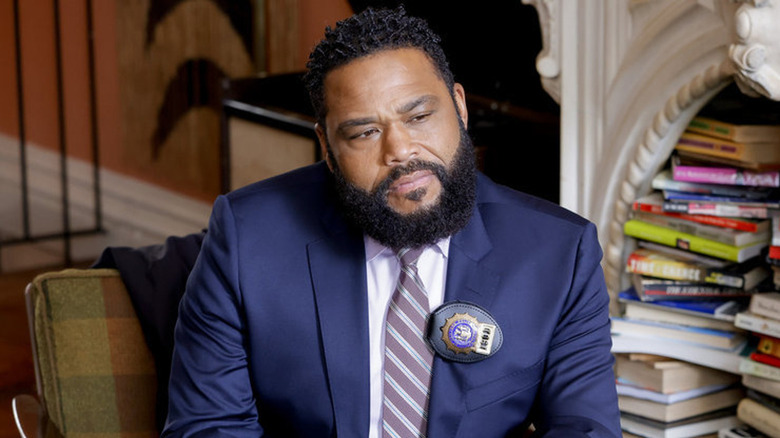 Will Hart/NBC
Though "Law & Order" star Anthony Anderson has been acting since the early '90s and has nearly one hundred credits to his name, most people won't recall seeing him before the 2000s rolled around. That's because this is when the veteran performer started appearing in mainstream comedy movies like "Big Momma's House" and "Me, Myself, and Irene."
On the other hand, contemporary audiences will likely be familiar with Anderson based on his work on two long-running series. The actor played Andre "Dre" Johnson across all 176 episodes of the long-running sitcom "Black-ish" and was forced to shave his beard when he also appeared on 60 episodes of "Law & Order" as Detective Kevin Bernard.
While his long stints on those two shows both wrapped up in 2022, it doesn't look like Anderson will be staying away from the small screen for long. According to NBC, Anderson and his mom will be the focus of a new reality TV series called "Trippin'." The docu-series will follow the actor as he makes one of his mom's dreams come true, taking her on an extensive trip across Europe and documenting their various misadventures along the way.
Anthony Anderson is Trippin' with his mother, Doris
As Anthony Anderson explained, "Trippin'" will see him and his mother, Doris Hancox, a.k.a. Mama Doris, traveling across Europe together for six weeks. According to the synopsis, the trip is a big thank you to his mother for all of the sacrifices that she made so that he could pursue his acting career from a young age.
The full title of the series will be "Trippin' with Anthony Anderson and Mama Doris," and the official synopsis is as follows. "As a token of his appreciation, he is treating her to the trip of a lifetime — a six-week excursion through England, France, and Italy — to discover some of Europe's wonders for her first time and experience a real, cultural vacation filled with history and luxury."
Of course, knowing Anderson, the series will also be filled with plenty of laughter. The series is set to premiere on the E! on June 11th, 2023. In the meantime, fans of the "Law & Order" star will just have to dig into the actor's extensive back catalog of work if they want to see more of him.