Yellowstone Fans Think Ryan Deserves More Screen Time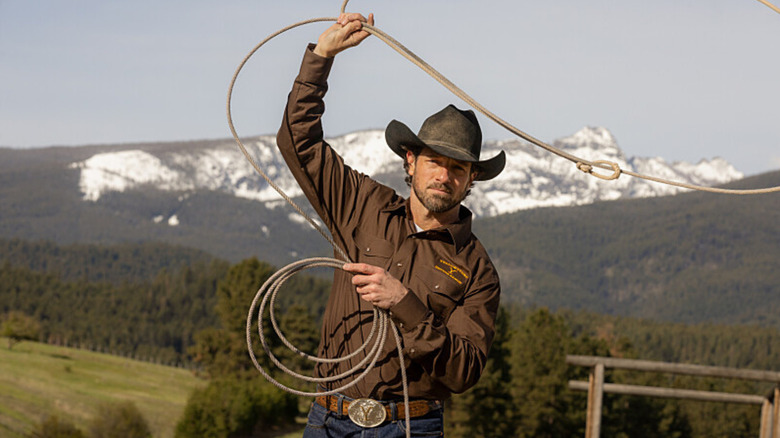 Paramount Network
For four-and-a-half seasons, Taylor Sheridan has managed to keep "Yellowstone" fans pinned to the edge of their seats with tales of the Dutton faction's eternal struggle to keep their coveted ranching lands in the family. He has, of course, tempered the high-stakes drama throughout with the often comedic, if occasionally weighty antics of the Dutton Ranch bunkhouse gang. At this point, some fans might even argue the bunkhouse has become the beating heart of the "Yellowstone" saga.
Of the motley crew who currently call the bunkhouse home, most have laid claim to the title "fan favorite." But the bunkhouse boy who continues to get the most love from "Yellowstone" faithful would likely be Ian Bohen's affable wrangler Ryan. And there are, in fact, several threads in the greater Redditsphere boasting posts from fans demanding to see more of the loyal, level-headed cowboy.
User u/flokiwolf is clearly among them, dropping into one such thread to declare their desire for Ryan's character to get more screen time, posting, "I hope so. I like Ian Bohen. He was pretty funny in Teen Wolf and he even has a line or 2 in Yellowstone showing this so hopefully more development." And u/montanajoev soon chimed in claiming they'd like to see more of Ryan as well, commenting, "I would. I find Ryan to have the most potential of the bunkhouse cowboys. I'd really like one of them to break out of the mold a little. Ryan shows a little ambition, so maybe it's him."
Some fans think Ryan is the most underrated actor on Yellowstone
If you dive into those Ryan-loving Reddit threads, you typically don't have to read very long before you find a post from a fan declaring the character worthy of a central role in the "Yellowstone" action. Redditor u/WifeMomOsi is one of many happy to beat that drum, dropping the post, "I want more Ryan. I'd be happy if Ryan was the primary character." That user is far from the only one who thinks Ryan is undervalued in the landscape of "Yellowstone" personas, with u/emsnowball opening their own Reddit thread under the title "Ryan is underrated."
That user's opening comment, and several more thereafter made clear that both Ryan, and the actor who plays him, are indeed earning considerable adoration from viewers who find them, shall we say, exceedingly easy on the eyes. That part of Ryan's fanbase was surely thrilled about the character's long-overdue romantic subplot in Season 5. But fans like u/Big-Ad-8040, who posted, "Ryan is great. They're constantly overshadowing him with Walker, in the script," still feel his stories are too often eclipsed by other characters. And one mystery poster even declared disbelief that Ian Bohen hasn't become a major star since his "Yellowstone" breakout, noting, "Badass actor. I wish he had more creds."
There was, however, at least one "Yellowstone" fan who doesn't get all the Ryan hype, with u/carolinamary409 posting, "I don't know what it is about Ryan but he has too much bro energy for me." Outlying critique aside, the consensus is clearly that "Yellowstone" fans are dying to spend more time with the bunkhouse stalwart.