GOTG: James Gunn Requested This One Scene In Infinity War To Set Up Vol. 3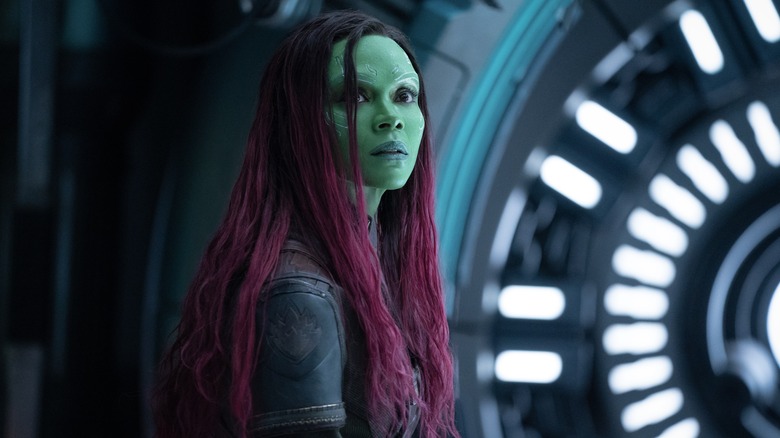 Marvel Studios/Disney
Contains spoilers for "Guardians of the Galaxy Vol. 3"
In concluding the "Guardians of the Galaxy" saga, writer-director James Gunn had the tall task of giving closure to these fan-favorite characters. And like so many aspects of the Marvel Cinematic Universe, Gunn knew that in order to achieve the desired emotional outcome, he would have to plant the seeds early. 
While talking with Rotten Tomatoes about the latest and final installment of the series, "Guardians of the Galaxy Vol. 3," Gunn explained that to ensure that the new dynamic between lovestruck Peter Quill (Chris Pratt) and an especially aggressive Gamora (Zoe Saldaña) would work, he had to ensure a scene in "Avengers: Infinity War" would exist. "So the one thing I asked The Russos [to] do was to give me the kiss because they needed to have the kiss," Gunn explains. "I'm like, yeah, please have them give the kiss so that we know that they're in a relationship now." Gunn adds that a kiss scene was filmed for "Guardians of the Galaxy Vol. 2," but the filmmaker found Gamora's acknowledgment of their "unspoken thing" to be much more fitting and subtle. 
No doubt, the subtle hints make Quill and Gamora's bittersweet turn in "Vol. 3" all the more emotionally damaging. And if conjuring up how to set up the downfall wasn't tricky enough, executing it gave the actors their own set of obstacles. 
Zoe Saldaña found it challenging to play the new dynamic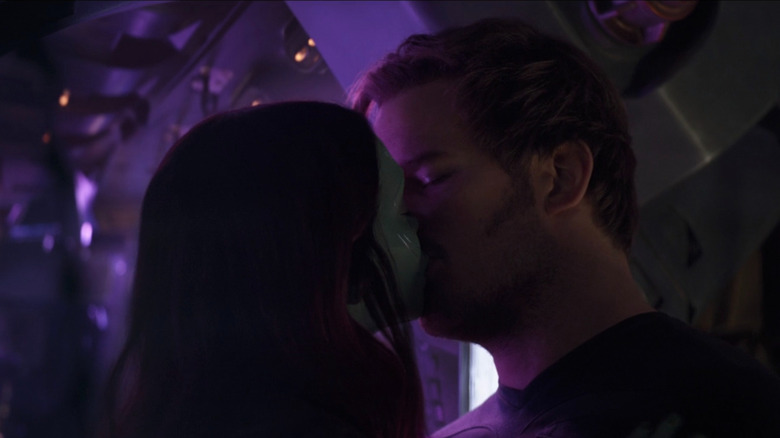 Marvel Studios/Disney
James Gunn and company put a lot of work into making Peter Quill and Gamora's send off as heartbreaking as possible. Perhaps unsurprisingly, the cast who had spent over a decade cultivating these characters and their relationships found some challenges in going through with the idea.
In an interview with Hey U Guys, Zoe Saldaña explained that her initial inclination for how the two should end up clashed a bit with the new concept. "It was challenging because obviously, you know, we're creatures of habit and you wanted these two characters to end up together more and more," she said. Of course, the "Avatar" star warmed up to the plan and even embraced the possibilities this gave her as an actor. "But it also felt fresh to sink our teeth into this brand new fresh start that they're able to have," she continued. "And whether or not the destination is where we are expecting it to go or not, it's still going to be entertaining." 
Just as they began, the Guardians' final journey brought viewers to some unexpected emotional places. And no matter the hurdles, the cast and crew did whatever it took to keep those emotions riding high.