GOTG 3: How James Gunn & Chris Pratt Mastered Improv Throughout The Trilogy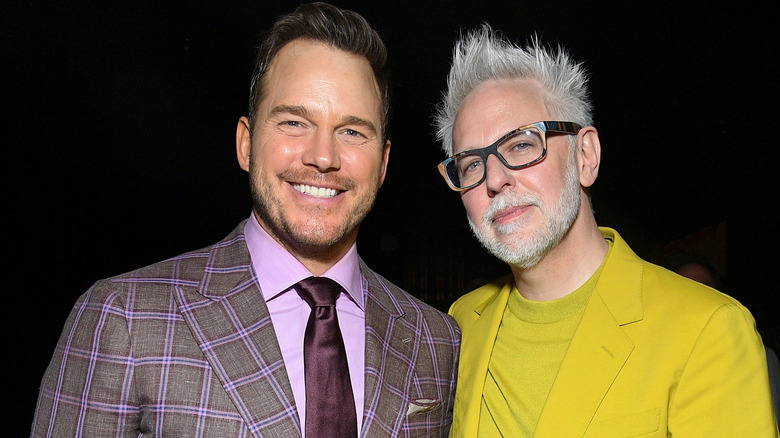 Charley Gallay/Getty Images
Much of the offbeat nature of the "Guardian of the Galaxy" trilogy can be credited to both writer-director James Gunn and the space saga's equally eccentric cast. And in the near decade that these films have captivated audiences, this creative team has grown to become more open to trying new things. 
With the recent release of "Guardians of the Galaxy Vol. 3," ScreenRant spoke with Gunn and Star-Lord actor Chris Pratt about how their artistry has evolved over the years. Pratt praised the director's more recent willingness to go with what the moment calls for. "Uh listen James has always been very, very prepared," the "Jurassic World" star commented. "I think probably this film became the most liquid in finding magic in the moment."
Pratt went on to explain how the original 2014 film was much closer to Gunn's script, while the newest and final entry of the Marvel trilogy allowed for more opportunities for improv. Gunn agreed with the sentiment, explaining that the moment where Star-Lord stares at Nebula (Karen Gillan) with possible feelings was partially improvised. 
"I think that I just am more willing to take the time if I see something new — if I find the magic, go ahead and do it," Gunn explained, adding that many times the fun of doing improv on set trumps the possibility of the material not being used in the final film. Thankfully, one key piece of improv left in the film broke an MCU barrier.
Pratt's improv led to the first uncensored MCU F-bomb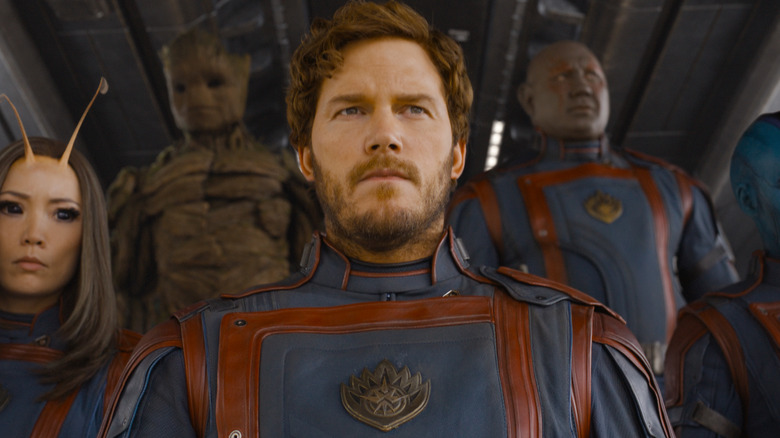 Marvel Studios/Disney
The "Guardians of the Galaxy" movies, like all other MCU offerings, have been enjoyed by audiences of all ages. But there are certainly some aspects that only grownups will pick up on. "Guardians of the Galaxy Vol. 3" is no exception, but one improvised Star-Lord moment left little to the imagination. 
On Counter-Earth, Peter Quill, Nebula (Karen Gillan), and Groot (Vin Diesel) plan to drive the car owned by the humanoid bat family to reach the High Evolutionary's (Chukwudi Iwuji) ship. While Nebula struggles to get into the vehicle, Quill yells out, "Open the f****** door!" The unexpected swear not only brought plenty of laughter but also made MCU history as the first uncensored F-bomb within the franchise. Director James Gunn explained in a tweet that the improvised moment made the scene all the better, saying, "You can only have one in a PG-13 movie. That said it wasn't planned – I told Chris to add it on set and it just made the moment funnier so we kept."
Chris Pratt was especially proud of breaking the barrier, as he told Men's Health. "It was not scripted. Everyone's been trying to improv F-bombs for 10 years, and finally one made it in," he says. "And they actually put it in the film! So that's pretty good... Yeah, I'm really proud."