Why Mouch From Chicago Fire Looks So Familiar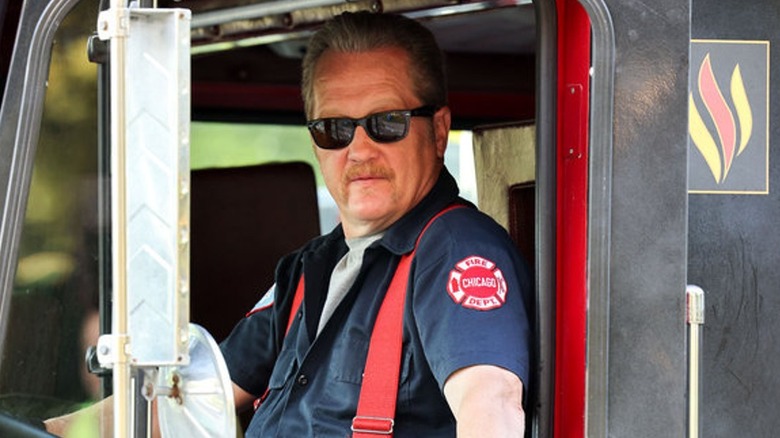 George Burns Jr/NBC
With 11 seasons and counting on NBC's reliably red-hot action-drama "Chicago Fire," Christian Stolte's firefighter Randall "Mouch" McHolland has had plenty of time to become a familiar face to Chi-Hard viewers of the hit series. Racking up over 230 episodes of the show since first suiting up in the series' 2012 pilot, Mouch has earned a place in the hearts of fans as a courageous presence on the Firehouse 51 team as well as an old-school veteran of the squad who occasionally supplies a bit of comic relief along with avuncular advice to the less experienced.
As long-time fans of the show are well aware, Stolte's character earned his nickname due to the amount of time he spends on the couch watching TV — i.e., half-man, half-couch equals Mouch. And as it turns out, his familiarity with fans of "Chicago Fire" also extends to those tuning in to the series' One Chicago sister shows. In this respect, the stolid firefighter has crossed over to appear in 10 episodes of "Chicago P.D." and two outings on "Chicago Med." And while Stolte's recent high profile among TV viewers certainly stems from his role as Mouch McHolland, fans may also have the feeling they've spotted him elsewhere on TV or in films. Not to worry, we've got the scoop on other places you might have seen Stolte beyond his time battling blazes or kicking back on the couch on "Chicago Fire."
Stolte spent years acting in one-offs before his big break on Prison Break
Like many actors who set their sights on a career in front of the cameras, Christian Stolte put in years playing minor roles before working his way up to being cast in more significant parts. Nonetheless, sharp-eyed viewers might have picked out the actor in one of these early, less-glamorous assignments. For instance, if they didn't blink, they could have caught Stolte's very first on-screen appearance as the Ambulance Attendant in the 1992 feature "The Public Eye."
But Stolte's career took a major step up from near-anonymous bit parts in 1999 when he was cast in the cop drama "Turks." Seen briefly in the pilot episode as Set Up Man, Stolte then appears as the named character Vincent Roberts in the "Hearts of Fire" and "Friends & Strangers" episodes. The next decade or so found Stolte again consigned to playing cops, vehicle drivers, reporters, and other unnamed characters. Until, that is, he snagged multiple roles on the action-drama series "Prison Break." In the first two episodes of the show, he portrays two different, nameless Corrections Officers. But by Episode 3, "Cell Test," the actor was promoted to the named role of Corrections Officer Keith Stolte. 
As C.O. Stolte, Christian Stolte finally became recurring series character, appearing in a total of 18 episodes of "Prison Break" from 2005 through 2007.
Stolte hit it big playing bad guys in Public Enemies and Law Abiding Citizen
By 2009, Christian Stolte was clearly well on his way to climbing the Hollywood career ladder. That year, he joined co-stars Christian Bale and Johnny Depp to take on the major role of Charles Makley in director Michael Mann's '30s gangster saga, "Public Enemies." In a gripping action sequence from the film, Stolte's Makley backs up Depp's machine-gun-toting John Dillinger to rob a bank. As Dillinger strong-arms the bank manager into opening the safe, Makley knocks a security guard to the floor and begins to bust open tellers' cages and grab their cash. It's a breathtaking, high-tension scene and, of course, diametrically opposed to the laid-back Mouch on "Chicago Fire."
2009 also found Stolte in another memorable role as he shared the screen with Gerard Butler and Jamie Foxx in "Law Abiding Citizen," the story of one man's crusade to avenge the deaths of his murdered wife and daughter. Playing a character even more violent than his bank-robbing gangster in "Public Enemies," Stolte's Clarence Darby is the psychopathic killer responsible for the cold-blooded killings that trigger the narrative in "Law Abiding Citizen."
And while Stolte made a number of TV and film appearances up through his 2012 casting on "Chicago Fire," it's the above high-profile roles that may have fans saying, "THAT'S why I recognize Mouch."