The Muppets Mayhem Review: The Electric Mayhem Rock!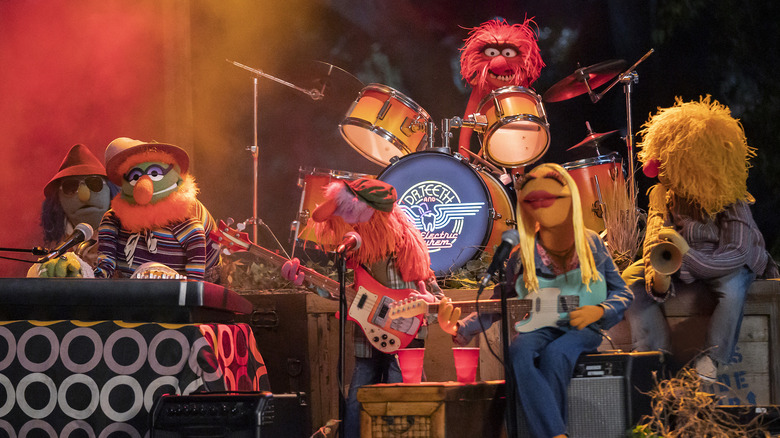 Disney/Mitch Haaseth
After many attempts to jumpstart the Muppets — "Muppets Tonight," "The Muppets," "Muppets Now" — I'm happy to report that "The Muppets Mayhem" is the real deal. It's pure Muppet bliss for 10 episodes, except this time they focus on Dr. Teeth and the Electric Mayhem, the house band for "The Muppet Show" from way back. In fact, Kermit isn't even mentioned until the post-credits scene of the final episode. The only classic Muppets to make an appearance apart from the six members of the band are Statler and Waldorf, the cranky hecklers, who have a cameo in the final episode. 
While the band has never carried their own show, they do so beautifully here, with help from their human companions: record executive Nora (Lilly Singh); their number one fan, Moog (Tahj Mowry); JJ (Anders Holm), a successful businessman with a crush on Nora; and Nora's sister, social media influencer Hannah (Saara Chaudry).
The story is about how Nora, who slaves away at a failing record label, finds a contract from the '70s for an undelivered Electric Mayhem album and comes to collect. Of course, between the delivery of the record and a big show at the Hollywood Bowl, the band goes through plenty of ups and downs; from writer's block, to the arrival of Dr. Teeth's dentist parents, to splitting up after they get cell phones to pursue their individual digital dreams.
As always, however, even the darkest storylines are sprinkled with amusing gags and a can-do attitude. In fact, that may be part of why we like the Muppets so much — they aren't immune to the hardships of the world, but one way or another, things work out for them. It's comforting, and it's done in such a good-natured way that it's hard not to like the group.
No Kermit, no problem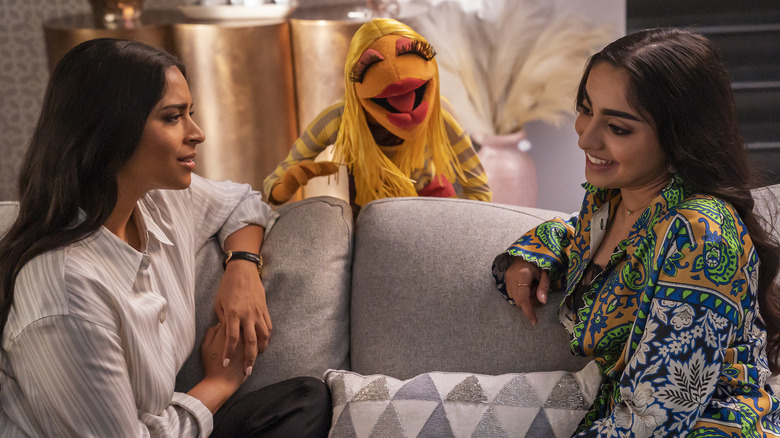 Disney/Mitch Haaseth
The Electric Mayhem have a unique upside to them: they're the Muppets who play music, and it's hard not to like the music they choose. From the classic "Can You Picture That?" to an assortment of covers from Simon and Garfunkel's "Bridge Over Troubled Waters" to Kiss' "Rock and Roll All Nite," the band is pretty tight. And their new music, which they come up with throughout the show, easily sits beside these hits. This is one reason the Electric Mayhem was a good choice for a stand-alone show.
The other reason is they all have different personalities that mesh well together. Dr. Teeth, Sgt. Floyd Pepper, Janice, Lips, Zoot, and Animal have spent so much time together that they aren't shy about sharing their opinions, even when their opinions all seem to be positive.
That said, there is no Kermit here, no straight man who can explain what's going on, so that leaves the humans to pick up the slack. Fortunately, Lilly Singh and the others are up to the task. Singh may have started as a YouTube star but she's managed to seriously branch out from there, and she's great as the grounding presence who tends to explain things to the band while learning that sometimes she needs to let go and do things their zany way. When she's not there, Hannah, JJ, and especially Moog are available to step up when needed. Still, there's no stopping these good-time guys and a gal when the groove strikes, and the nice thing is that despite the inappropriate timing, they always know the right thing to play.
There are a lot of celebrity guest stars in the mix here too; everyone from Kesha to Cheech and Chong shows up. But unlike something like "Bupkis," which made it seem like Pete Davidson knew all these celebrities personally, the Electric Mayhem live in a heightened reality, making their tendency to run into a menagerie of celebrities much more realistic. Also, a lot of the cameo performers are pop stars, making them organic to the story of recording an album.
Fandom and phones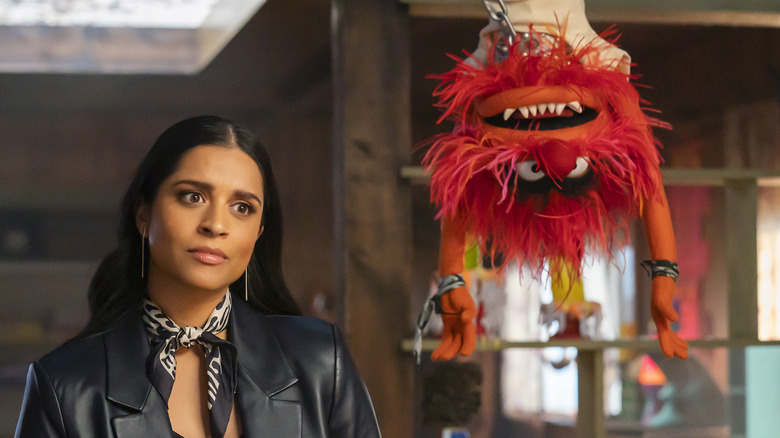 Disney/Mitch Haaseth
"The Muppets Mayhem" also offers an interesting perspective on fandom. In the third episode, Moog tells Nora that being a superfan just means "you love something deep in your heart." It's a great statement for all of us watching the show, as it tells us why we love the Electric Mayhem's music so much — not to mention all of our favorite non-Muppet bands.
The trouble comes when, in the eighth episode, fans show their darker side. The Swifties (Taylor Swift fans), Beliebers (Justin Bieber fans), Bey-hive (Beyonce fans), and Little Monsters (Lady Gaga fans) turn on the Electric Mayhem after a badly spell-checked tweet — and show no mercy. While it makes sense to show the negative side of fandom, this is so negative it's almost too much. In the end, the Electric Mayhem end up winning all the angry fans back over at a virtual concert, but while the Electric Mayhem are great, even they aren't deterring an angry Swiftie, so this is a little hard to swallow.
Also hard to swallow is what happens when everyone in the group gets cell phones. While there are some members of the group who don't appear to have had a cell phone, Lips at least has one. But the writers seem to have conveniently forgotten all about that. While they need the cell phone storyline for the last couple of episodes, there are ways to do this without acting like no one has ever had access to this technology before. Also, ultimately the Electric Mayhem seem to frown on cell phones, preferring live interactions over virtual ones. But they could have shown the group learning to balance using cell phones with real life instead — the lack of nuance feels like a real missed opportunity.
Still, there's so much good here, it's easy to overlook these complaints. Not only is the show charming, clever, and funny, we're given more backstory on the Electric Mayhem than ever before. Floyd's adoption of Animal, Dr. Teeth's origin story, and even Janice's identical twin are covered for our viewing pleasure, and not one of these stories disappoints. All in all, "The Muppets Mayhem" is the best show involving the classic Muppets to come out in years. I hope there's a Season 2.
"The Muppets Mayhem" premieres on Disney+ on May 10.