The Best Fictional Musical Groups In Movie And TV History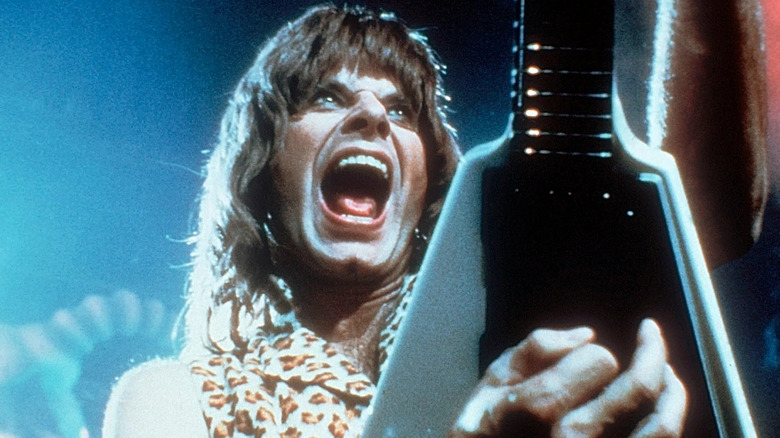 Hollywood loves to make movies about certain industries. It most often enjoys turning the mirror on itself and the field of movie-making, but a close second is probably the music industry. This often comes in the form of musical biopics — think Baz Luhrmann's "Elvis" or Bryan Singer's "Bohemian Rhapsody" — but there are plenty of fictional musical acts, too. 
"Daisy Jones and the Six" is just one timely example, but there are many others. By creating a fictional musical act, movies and television have more freedom to tell their own story without rewriting history. It also allows for some good-natured ribbing of the music industry, with plenty of spoofs, parodies, and tongue-in-cheek comedies poking fun at the business through a fictional music group. Many of these fake acts often become unforgettable in their own right. Some have gone so far as to record albums under their movie monikers, and a few have even gone on tour like any real band.
Through movie and TV history, a number of iconic fictional musical groups have proved enduring, but only the best and most memorable have made our unranked list. Sadly, some classics just couldn't fit on this list, like The Beets from "Doug," The Soggy Bottom Boys from "O Brother, Where Art Thou," Figrin D'an and the Modal Nodes from "Star Wars," or No Vacancy from "School of Rock." Think we've missed someone?  
Stillwater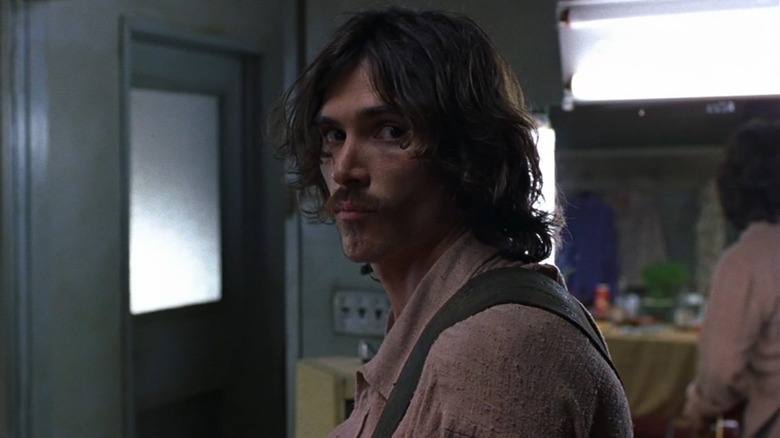 Dreamworks Distribution
Seen in the 1997 drama "Almost Famous," the rock group Stillwater was inspired by the '70s rock outfit the Allman Brothers Band, but share their name with another very real Southern rock group (per Rolling Stone). The movie itself is at least partially based on a true story too, chronicling the teenaged life of its writer and director, Cameron Crowe, who in his youth had been a rock journalist for Rolling Stone magazine. The film starred Patrick Fugit as teen reporter William Miller, and Kate Hudson as the real-life groupie Penny Lane, as they both follow the band on tour.
Billy Crudup plays guitarist Russell Hammond, Jason Lee is singer Jeff Bebe, while Mark Kozelek and John Fedevich round out the group as bassist and drummer, respectively. The band plays several original songs in the film, most notably "Fever Dog," written by Nancy Wilson of Heart, who contributed three of the fictional group's five songs, with two of them making the film's Grammy-winning soundtrack (Peter Frampton penned the rest). The songs from the fictional group — thanks to Wilson and Frampton — are strong and authentic enough to the era that if you didn't know better you might actually think this was a real group and "Almost Famous" was a biopic. If you haven't seen it and plan to give it a watch, be ready to be singing Stillwater tunes for days.
Buckaroo Banzai and the Hong Kong Cavaliers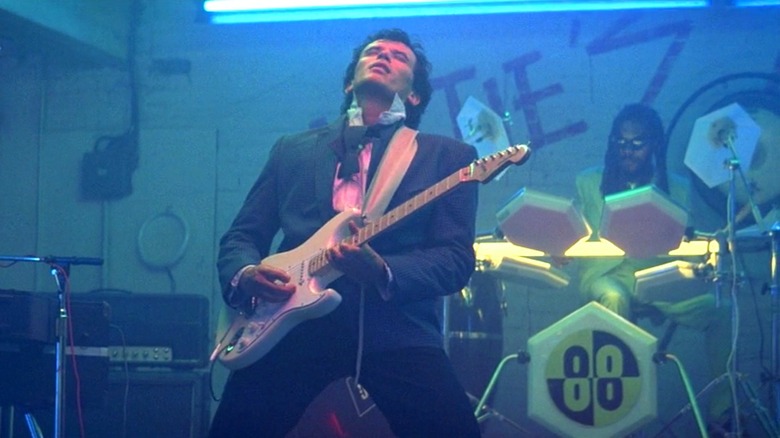 20th Century Studios
In 1984, future "RoboCop" star Peter Weller played a different kind of hero in "The Adventures of Buckaroo Banzai Across the 8th Dimension." In it, he stars as the titular Banzai, leader of a rock group known as the Honk Kong Cavaliers. Though they don't belt out as many songs as some others on this list, one memorable tune sees Weller shredding a killer guitar solo on stage with a group of saxophone players wailing away in typical '80s fashion. In addition to Banzai, the group is full of musicians with off-the-wall names like Reno Nevada and Pinky Carruthers. 
As mind-bogglingly weird as the movie itself, Buckaroo Banzai and the Hong Kong Cavaliers are a sight to behold. There's something undeniably fun about fusing pop, rock, and soft jazz into one, all smack dab in the middle of a dimension-hopping sci-fi superhero adventure. In a movie whose hero is a brain surgeon and rocket scientist who's also a rock star the discoverer of an army of inter-dimensional villains ready to conquer New Jersey, it totally works. Plus, any band that includes a keyboard-playing Jeff Goldblum decked out in a cartoonish cowboy getup deserves a spot on the best fictional bands of all time.
The Be Sharps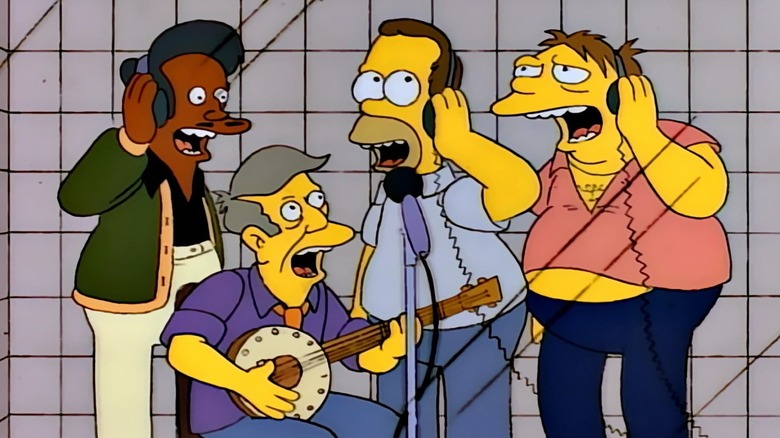 20th Television
Across its 30+ seasons, "The Simpsons" has had its share of music groups, including a few fictional ones that include Homer's '90s grunge band Sadgasm and Bart's boy band Party Posse. Without a doubt, the best and most famous has to be the Be Sharps, who appeared earlier in the show's run during the fifth season episode "Homer's Barbershop Quartet."
Initially formed by Homer, Apu, Mr. Skinner, and Chief Wiggum as a local barbershop group, they hit the big time when a British record executive decides they should be the next big thing. Wiggum is quickly replaced by Barney (discovered crooning in a bathroom stall), and they soon rocket to the top of the charts. Before long, they're playing sold out venues and appearing on TV. They become a global sensation and even win a Grammy, but soon part ways after a series of controversies. Their final appearance — like the Beatles, on whom their journey was largely based — is a rooftop performance, this time above Moe's bar.
Voiced by real-life barbershop group The Dapper Dans, the Be Sharps episode also features memorable appearances from rockers David Crosby and George Harrison, but is still best remembered for its original songs like "Baby on Board" and "Coney Island Baby."
Sex Bob-Omb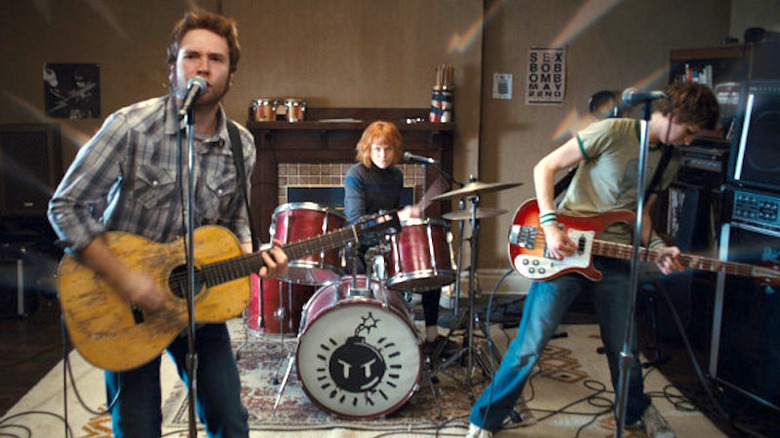 Universal Pictures
The garage rock band Sex Bob-Omb actually has its roots beyond film and TV, originating in the comic book on which the film "Scott Pilgrim vs the World" was based. Created by comic book artist and writer Bryan Lee O'Malley, the film version of the group is fronted by singer and guitarist Stephen Stills (Mark Webber), with Scott Pilgrim (Michael Cera) on bass, and Kim Pine (Alison Pill) on drums. All the actors actually played their own instruments, in an uncommon break from musical movie tradition, which makes them all the more impressive.
While Sex Bob-Omb's songs aren't actually anything particularly special, what makes them so great in terms of fictional rock groups is their authenticity and depth. In addition to feeling like a true garage band from the early 2000s, they have an entire album's worth of songs to enjoy, from the introductory "We Are Sex Bob-Omb" to the upbeat seasonal anthem "Summertime." Their music was written largely by indie rocker Beck (per Den of Geek). 
All told, the band's low-fi, hard-rocking sound perfectly complements the film, which mixes elements of comic books, video games, and indie rom-coms. While Sex Bob-Omb is just one of several fictional bands in the film — it also includes a group fronted by Brie Larson, for example — they're easily the best, and something altogether unique in the world of fictional music.
Drive Shaft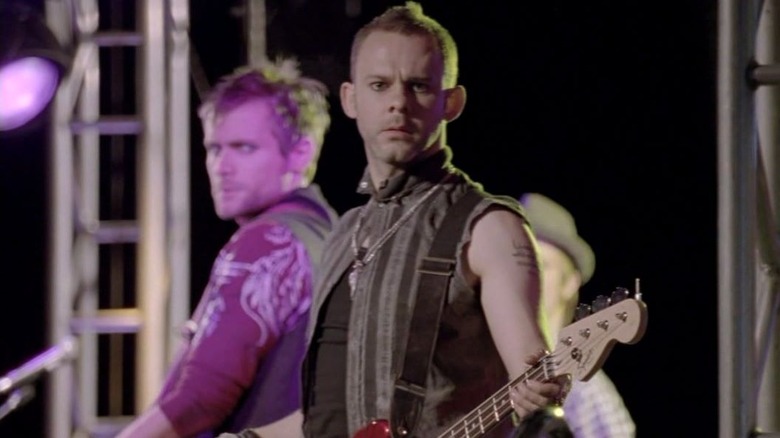 Disney-ABC Domestic Television
The 2006 series "Lost" is many things, from survivalist drama to mind-bending sci-fi epic, but it also served as a musical biopic of a fictional rock band called Drive Shaft. Though the band's story unfolded slowly over the course of a few seasons, revealed piecemeal in sparse bits of dialogue, at least one entire episode was specifically dedicated to their story, from their meteoric rise to fame off the back of a hit single to the tumultuous, drug-addled career that followed. The group's bassist was Charlie Pace (Dominic Monaghan), who wrote most of their songs, but who harbored an intense resentment towards his brother Liam (Neil Hopkins), the band's frontman, who seemed to get all of the attention.
The group is clearly influenced by the Brit-pop band Oasis, which was similarly fronted by a pair of brothers who had a falling out. In addition to forming a heartbreaking drama about the rift between two brothers and the effects of addiction on their lives, Drive Shaft also contributed the original song "You All Everybody," which became an instant TV classic. The song was developed by "The Batman" director Matt Reeves of all people, who was inspired by an old episode of "The Phil Donahue Show" where an audience member shouted out the song's now-iconic chorus lyrics, "You all everybody acting like it's the stupid people wearing expensive clothes" (via CBR).
Wyld Stallyns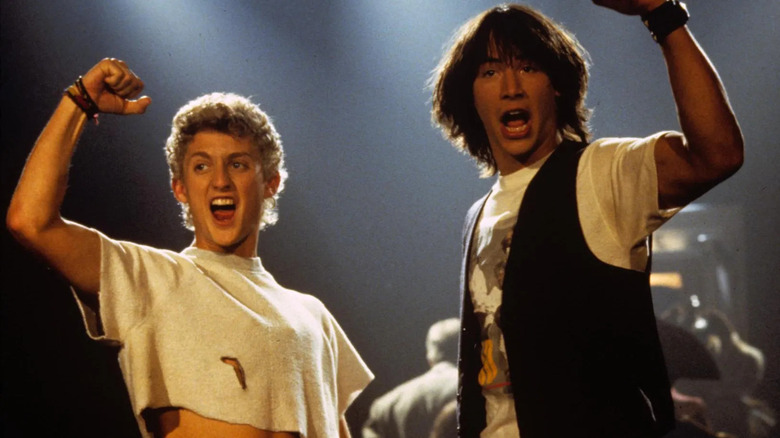 Orion Pictures
Who doesn't love Bill and Ted? The goofball heroes of "Bill & Ted's Excellent Adventure" and its two sequels didn't just give us one of the most fun movies of the '80s, but also one of the best fictional rock groups of the era. Bill S. Preston, Esquire (Alex Winter) and Ted 'Theodore' Logan (Keanu Reeves) fronted the Wyld Stallyns, a parody of over-the-top hair metal bands of the day. It wasn't until the two best buds took a trip through time that they filled out the rest of their band.
After being visited by futuristic sage Rufus (George Carlin), they venture back to the middle ages. There, they pick up Elizabeth and Joanna, a pair of maidens who come back to the future with them and become their keyboardist and drummer, as well as their girlfriends. Of course, the greatest thing about the group isn't their time travel origins, but that even before they were founded, Bill and Ted discovered that, in the future, Wyld Stallyns had become a legendary rock band whose music proved so profound that it literally brought peace on Earth.
The Blues Brothers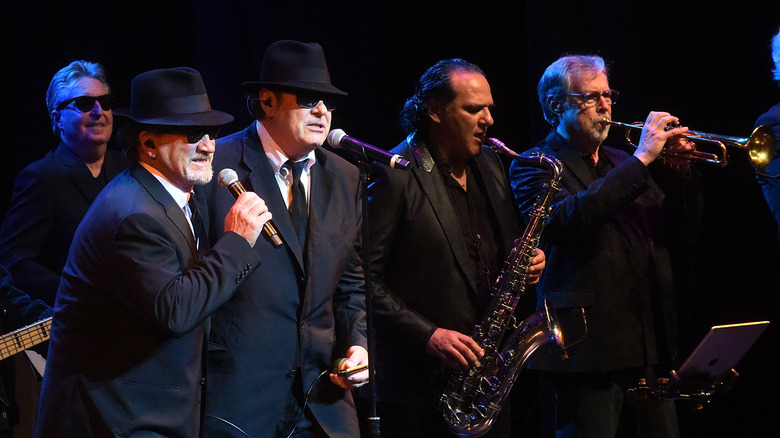 Bobby Bank/Getty Images
The fictional music group with the wildest of origins might be The Blues Brothers, whose original roster consisted of comedians Dan Aykroyd and John Belushi. They initially got together to play the blues during a sketch while they were both cast members on "Saturday Night Live," singing a tune in giant bee costumes. Eventually, they suited up in their now-iconic look, complete with black shades and fedoras, making 11 appearances on the show (per Open Culture). 
Playing off the work of legendary blues artists like John Lee Hooker and Buddy Guy, The Blues Brothers quickly started playing actual gigs in character as Jake and Elwood Blues. In 1980, they released a movie "The Blues Brothers," which turned the tongue-in-cheek duo into a buddy comedy that was a barn-burner at the box office and a hit with fans and critics. While Belushi's death in 1982 slowed them down, they couldn't be stopped, with comic actor John Goodman and eventually John's brother Jim standing in for more performances and a sequel film, "Blues Brothers 2000."
Still playing clubs to this day, "The Blues Brothers" have become almost more successful as a real band than a fictional one, having released eight albums to date.
Josie and the Pussycats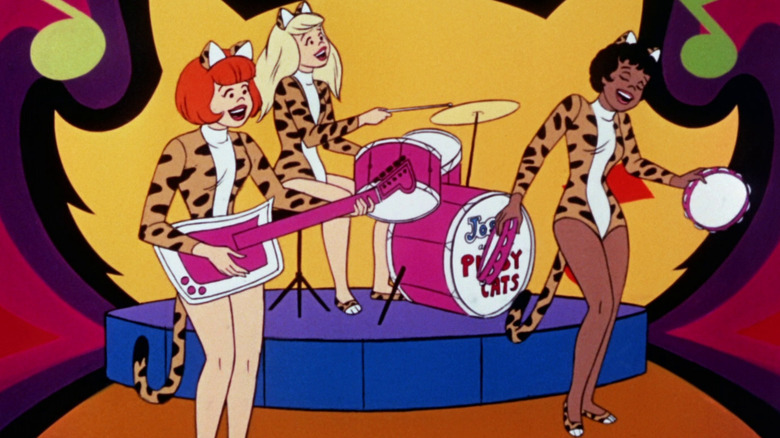 Taft Broadcasting
Like "Sex Bob-Omb," the all-girl rock group "Josie and the Pussycats" has its origins in comics as a spin-off of the classic "Archie" titles. Their legacy is all their own, as they received a popular cartoon in 1970 with 16 episodes that saw them solving mysteries in between rocking out on stage. They consisted of flighty drummer Melody Valentine, the titular Josie McCoy on guitar, and Valerie Brown, the level-headed and brainy tambourine player. 
With a catchy theme tune and plenty of wacky antics, the series quickly made its mark on pop culture, even if it was short-lived. It got a spin-off a year later, "Josie and the Pussycats in Outer Space." The fictional band is so iconic it even got a live-action feature film in 2001 starring Tara Reid, Rachael Leigh Cook, and Rosario Dawson. Decades later, the band made their presence known on the teen drama "Riverdale," played by Ashleigh Murray, Asha Bromfield, and Hayley Law. Josie meanwhile stepped over to the spin-off series "Katy Keene" where she became a series regular.
While they first appeared in comic book form all the way back in 1963, thanks to appearances on TV and film, their legacy continues. No matter your generation it's hard not to accept just how much these kitties rule.
Sexual Chocolate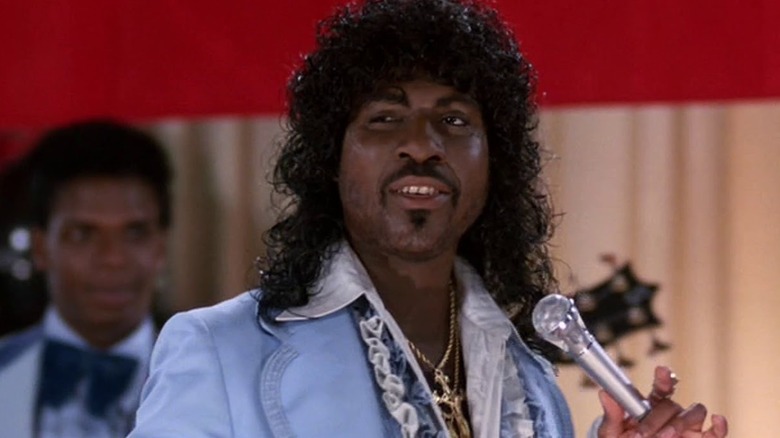 Paramount Pictures
Comedian Eddie Murphy has had a history of playing multiple roles in films like "Norbit" and "The Nutty Professor," but it's "Coming to America" that saw him playing the supplemental part of Randy Watson, singer of soulful lounge band Sexual Chocolate. Murphy steps effortlessly into the role of the outrageous, smooth-singing Watson, who croons with his light jazz backup group. Thanks to the magic of makeup and a legendary Jheri curl, you might not even realize it was him. 
Under a mountain of prosthetics, Murphy manages to show off his pipes by singing a cover of Whitney Houston's "The Greatest Love of All," after which he stomps on stage to no applause and literally drops the mic in one of the most iconic moments of the film. Though the audience on screen isn't particularly impressed, Watson and his band might be the best group of their kind on the big screen. As a result, fans celebrated in 2021 when they returned in the legacy sequel "Coming 2 America." Introduced as "better than Diana Ross," Watson gives a hilarious and unforgettable rendition of "We Are Family."
Spinal Tap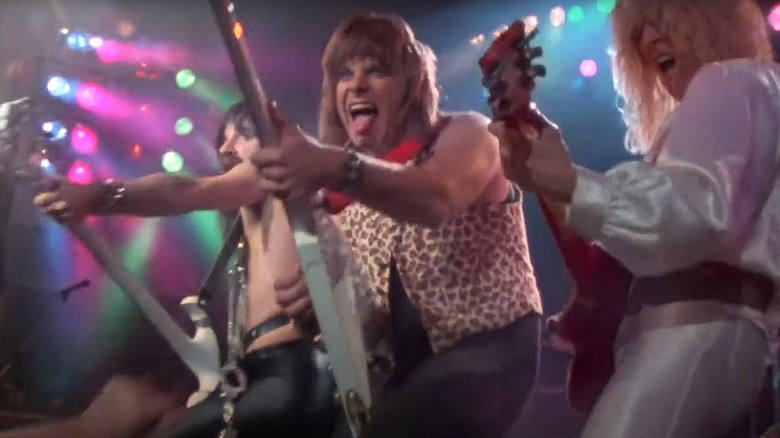 Embassy Pictures
Perhaps the most iconic fictional band in movie history, comedians Christopher Guest, Harry Shearer, and Michael McKean became Nigel Tufnel, Derek Smalls, and David St. Hubbins for their seminal rock group in the film "This Is Spinal Tap." Like the Blues Brothers, Spinal Tap originated as a comedy sketch, this time on "The TV Show" from 1979, which was later spun into the now-famous 1984 mockumentary.
Ostensibly hailing from the United Kingdom, the three British rockers are a send-up of classic heavy metal bands like Judas Priest, Black Sabbath, and AC/DC. Written and directed by Rob Reiner, the film chronicles the band's ups and downs as they embark on a U.S. tour following the release of their latest album. What makes Spinal Tap stand out is that they actually recorded a full-length album to accompany the film, which includes such comedy classics as "Big Bottom," "Hell Hole," and "Tonight I'm Gonna Rock You Tonight." 
While in character, the threesome has even gone on the road as Spinal Tap, touring like any other real-life rock group. They even held reunion concerts and additional tours in 2001, 2008, and 2009. They've recorded three full-length albums as the band. If you haven't heard them, put one on, and be sure to crank the dial up to 11.
The Rutles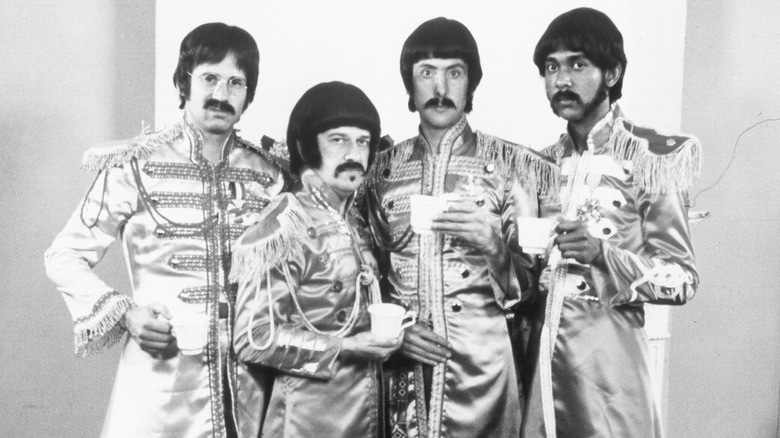 Michael Ochs Archives/Getty Images
Many fictional music groups have paid homage to the Beatles, but none did it quite so well as The Rutles, who accurately captured the feel of the Fab Four, with a tongue-in-cheek twist. Perhaps this is because the group — who first appeared as part of a comedy sketch in the British TV series "Rutland Weekend Television" — were the creation of Neil Innes and Eric Idle, "Monty Python" alums and personal friends to George Harrison. 
Whatever the case, the group captured the attention of audiences when clips from the show popped up on none other than "Saturday Night Live." From there, producer Lorne Michaels convinced them to head to the movies with 1978's mockumentary "All You Need is Cash," which lampooned Beatlemania.
The group consisted of Idle as Dirk McQuickly, Neil Innes (who wrote most of the music) as Ron Nasty, and John Halsey and Ricky Fataar as Barry Wom and Stig O'Hara. As The Rutles, they released a self-titled album along with the film. For decades, many thought of them as a one-and-done comedy outfit, but in 1996 Idle and The Rutles returned with a new album, "Archaeology," and in 2001 began touring. Their latest effort, 2018's "The Wheat Album," continues their parody of John, Paul, George, and Ringo.
Dr. Teeth and the Electric Mayhem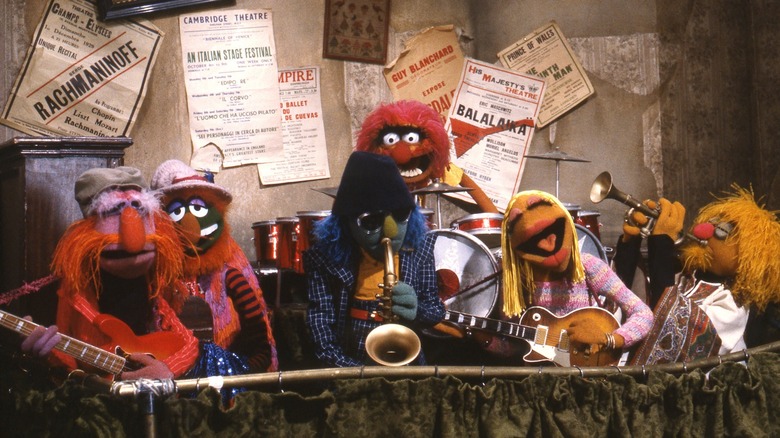 ITC Entertainment
Normally, a house band wouldn't qualify for our list, but when it comes to "The Muppets," pretty much everything is an exception. When the fuzzy-faced goons got their own show in 1975, it was unlike any kids' show the world had ever seen. It was essentially a variety show staffed by live-action puppet characters like Kermit the Frog, Miss Piggy, Fozzie Bear, Gonzo the Great, and the uncontrollable Animal. The latter served as percussionist extraordinaire for the show's house band, Dr. Teeth and the Electric Mayhem, an eclectic assortment of Muppets that included the titular Dr. Teeth, bassist Floyd Pepper, guitarist Janice, and sax-playing Zoot.
The Electric Mayhem returned in 1979 to perform the iconic "Can You Picture That?" for "The Muppet Movie" and continued supplying catchy musical numbers for nearly every subsequent Muppet film. From holiday tunes like "Zat You, Santa Claus?" from "The Muppets: A Green and Red Christmas" to covers of popular tunes like "Jungle Boogie" and "Dancing in the Moonlight," Dr. Teeth and his crew have done it all. Even though they're just puppets, thanks to some brilliant performances by their operators and voice actors — which include legends like Frank Oz, Jim Henson, and Kevin Clash — they're as good as any flesh and blood musical group, real or fictional.
CB4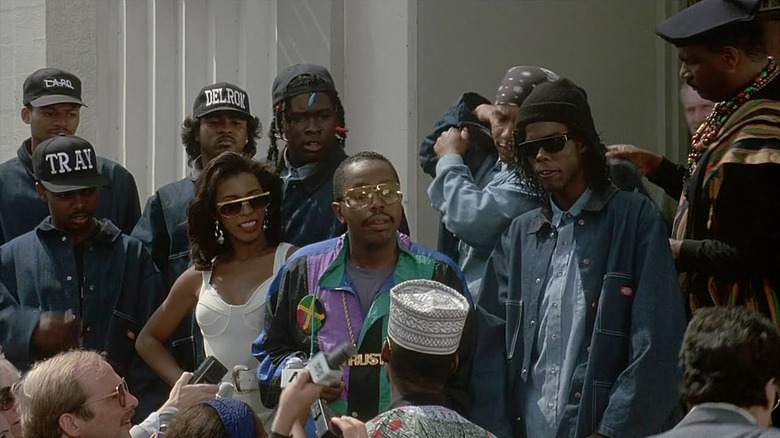 Universal Pictures
It seems that spoofs and parodies of iconic musical outfits often prove the most memorable, and that's the case once more with Chris Rock's rap group CB4, from the movie of the same name. Clearly taking inspiration from the gangsta rap groups of the mid-'80s, most notably N.W.A., the film pokes fun at the extremes of the genre, with members MC Gusto (Rock), Stab Master Arson (Deezer D) and Dead Mike (Allen Payne) naming their group after the cell block they'd met in while behind bars.
The film sees an amateur rapper named Albert steal the identity of a hardened crime boss, only to use his newfound clout to establish the rap group he's always dreamed of, CB4. A razor-sharp commentary on the state of music in the early '90s, the fictional group gets in a few famous numbers, including a killer rendition of the Sugarhill Gang's "Rapper's Delight," helped out by real-life rhymers Daddy-O and Hi-C, who provide the rhymes. One of Chris Rock's better films, it may include cameos from rappers Ice-T, Flava Flav, and Eazy-E among others, but it's CB4 who make the biggest mark as one of the best fictional hip-hop groups of all time.
Dethklok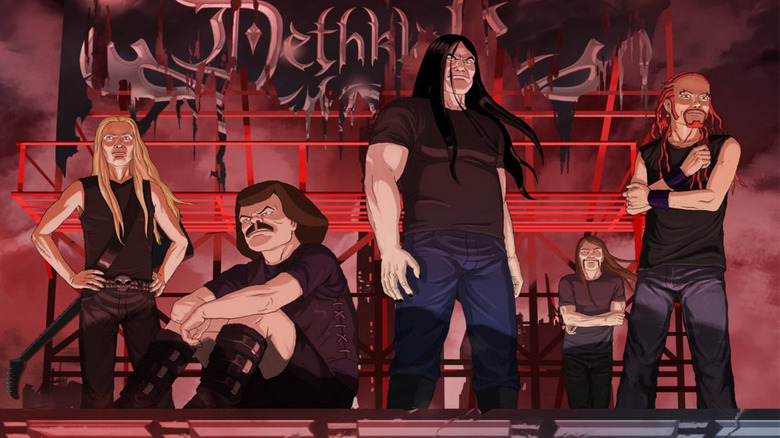 Warner Bros. Television
When it comes to offering fodder for a fictional band to poke fun at, few genres offer up as much rich opportunity as death metal, with its aggressive sound and over-the-top, hyper-theatrical personas. Comedy writers Brendon Small and Tommy Blacha obviously noticed, because they used it as the basis for their Adult Swim animated series "Metalocalypse," which centered on the fictional black metal band Dethklok.  
In the series, Dethklok is much more than a band, as their popularity is so great that they've become their own global economy. They have their own police force and the power to shape world affairs to their whim. Voiced by the likes of Mark Hamill and Malcolm McDowell, the band has also released several albums outside of the show. Beginning with "Dethalbum" in 2007, two numbered sequels, and "The Doomstar Requiem" in 2012, their song titles and lyrics mock the stereotypes of death metal, including "Briefcase Full of Guts," "I Ejaculate Fire," and "Burn the Earth."
Heavy metal fans are also famous for their perhaps surprisingly good sense of self-deprecating humor, and Dethklok has proven popular even among those it lampoons.