Demon Slayer's Genya Sports A Fun Connection To My Hero Academia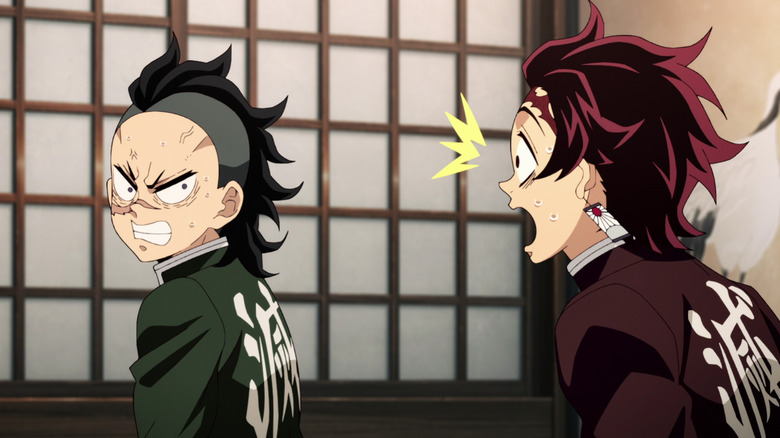 Ufotable/Aniplex
There are plenty of characters in Season 3 of "Demon Slayer" who were much less active in the show up until now. With Zenitsu (Hiro Shimono/Aleks Le) and Inosuke (Yoshitsuju Makoata/Bryce Papenbrook) off doing their own thing, characters like Muichiru Tokito (Kengo Kawanishi/Griffin Burns) and Mitsuri Kanroji (Kana Hanazawa/Kira Buckland)) have jumped in to back up Tanjiro (Natsuki Hanae/Zach Aguilar), even as Hatengu (Toshio Furukawa/Christopher Corey Smith) and Gyokko (Kosuki Toriumi/Brent Makai) appeared as the new dual antagonists.
However, there's another character worthy of note, and that's the badass warrior and brother to the Wind Hashira, Genya (Nobuhiko Okamoto/Zeno Robinson). Though he and Tanjiro didn't get along great when they first met in "Demon Slayer," the new season sees them forced to work together in order to battle the Upper-Rank demons.
However, if you think that Genya's voice actor in the Japanese version of "Demon Slayer" sounds a tad familiar, it's because Okamoto is also the voice actor who plays Katsuki Bakugo in "My Hero Academia." Of course, when you see the dynamic between Tanjiro and Genya in Season 3, this choice begins to make a whole lot of sense for fans of both series.
The dynamic between the two characters is also similar to MHA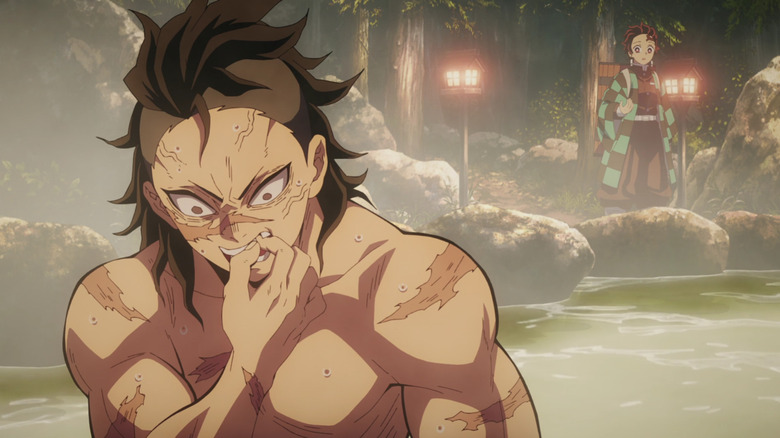 Ufotable/Aniplex
Anime fans who follow "My Hero Academia" will be well aware of the aggressive dynamic between Bakugou and Deku (Daiki Yamashita/Justin Briner). Despite Deku's well-meaning advice, and his attempts to mend fences, Bakugou is almost always quick to snap at the hero, often bursting into rage-fueled tirades at his classmate and friend.
If you recognized that the actor behind Genya in "Demon Slayer" was the same voice as Bakugou's Japanese performer, this is likely why. However, if by chance you missed it, just go back to Season 3, Episode 3 ("A Sword From Over 300 Years Ago") and listen to his voice as he loses it on Tanjiro for making awkward small talk with him at dinner.
What makes the connection even more amusing in "Demon Slayer" is that Tanjiro isn't discouraged at all. Instead of leaving well enough alone, the hero immediately begins looking for ways to befriend Genya, which just annoys him even more. Of course, this is exactly what Deku would do in this situation, which only makes the choice of Nobuhiko Okamoto in the role that much more appropriate.
While things are looking increasingly desperate for Genya as the battle continues with Upper Four, the warrior seems to have a lot of gas left in the tank for a guy who has been stabbed as many times as Genya has. With that in mind, perhaps he will live long enough to become a reluctant friend of Tanjiro's in the end.