Where To Watch The Vampire Academy Movie & TV Series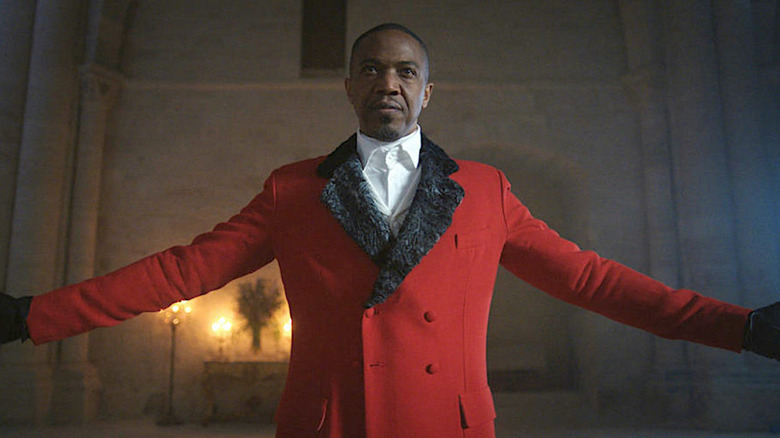 Peacock
For an entire generation of Young Adult fantasy lovers, the paranormal romance series known as "Vampire Academy" is sort of the gold standard for vampire fiction. The first book in the series was published in 2007, beginning the story of half-human, half-vampire Rose Hathaway and her vampire princess bestie Lissa Dragomir as they make their way through the undead underworld and, of course, the high school terrors of the titular Vampire Academy.
Their riveting story came to an end five books later, with the release of 2010's "Last Sacrifice." A few years after that, fans of author Richelle Mead's books were gifted a big-screen adaptation of "Vampire Academy" that featured rising stars Zooey Deutch and Lucy Fry in the lead roles. It also boasted "Mean Girls" helmer Mark Waters in the director's chair, with the filmmaker basically just turning Mead's more goth-tinged source material into "Mean Girls" with vampires. Despite solid turns from its stars, 2014's "Vampire Academy" didn't quite hit the mark with critics or audiences.
Over the years, the film has, however, developed a moderate cult following comprised of viewers who'd rather delight in its tonally disparate absurdities than dunk on them. And if you count yourself among those fans, you'll be happy to know you can now stream 2014's "Vampire Academy" on Netflix. But if you'd prefer to delve into the darker, more faithfully-adapted version of "Vampire Academy" that hit the streaming realm in 2022, you'll need to hit up a different streamer entirely.   
Both Vampire Academy projects are currently available to stream
Though audiences remain decidedly lukewarm to the movie, fans of Richelle Mead's "Vampire Academy" source material will be happy to know the 10-episode adaptation that hit the Peacock streaming platform in 2022 has been far better received by critics than its predecessor. Despite the warm critical reception, the series — which had initially been touted to go more than one season — has already been canceled by Peacock bosses. If there's one bit of silver lining with the cancellation of the "Vampire Academy" series, it's that those same bosses claim they may well revisit the story once their subscription base is a little steadier.
If you're looking for a second silver lining, it's that the first season of the series was actually pretty solid, and should satisfy fantasy fans who don't bring too much baggage to the proceedings. And if that does sound like you, you'll want to make sure your own Peacock subscription is current, because that is the only place you can stream the "Vampire Academy" series.
As for its much-maligned predecessor, if you're not a current Netflix subscriber, you do have several other avenues to check out the movie. That is, of course, contingent on whether or not you're willing to drop $3.99 on a flick boasting a 17% rotten rating on the ole Tomatometer. And according to Just Watch, that's exactly what it'll cost you to rent the movie from iTunes, Amazon, Vudu, and other rental platforms. And if you're looking to add it to your digital library for always, the purchase prices start at $7.99.