How Lucy Fry Evolved From Vampire Academy To Night Teeth - Exclusive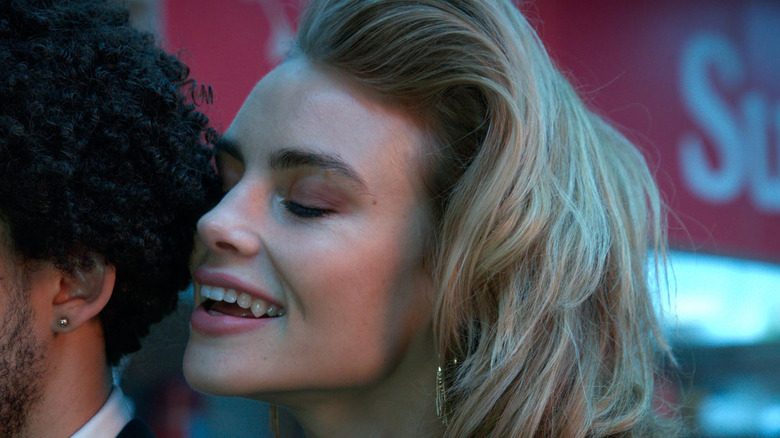 Netflix
When it comes to vampire royalty, Lucy Fry has the title on lock. From playing actual vampire princess Vasilisa (Lissa) Dragomir in the film "Vampire Academy" to her new role as Zoe in Netflix's "Night Teeth," fangs are a good look for the Australian actress. During an exclusive interview with Looper, Lucy Fry dished on her journey from 2014's "Vampire Academy" to "Night Teeth." She also revealed which former co-star she'd love to see bear fangs in a potential "Night Teeth" sequel or prequel.  
On who she would rather hang out with between Lissa in "Vampire Academy" and Zoe in "Night Teeth," Fry said, "I would rather hang out with Zoe because she's so much more fun. She's got a better sense of humor, and you just need to have a joke sometimes." 
She added, "Lissa was so long ago, and she was such a sweetheart and a good person. But I think she hadn't really found herself yet. She was young, and Zoe's like 200 years old. And she knows who she is, and she's not even worried. That's not even a concern in her mind anymore." 
From St. Vlad's to the streets of L.A.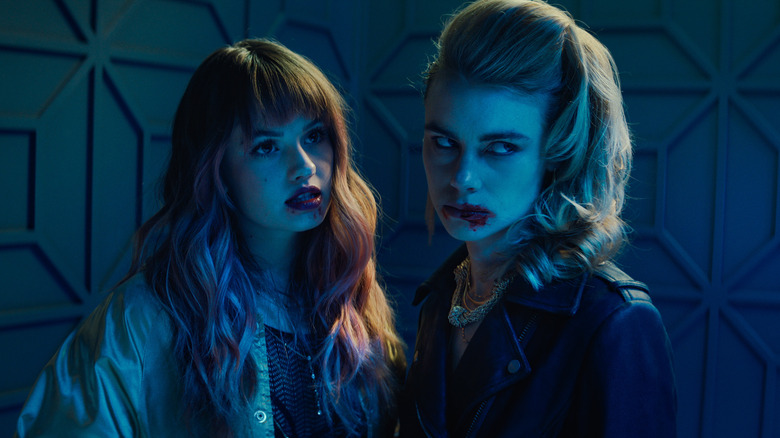 Netflix
Fry noted that "[Zoe] is a little bit toxic, but also super magnetic and super fun to hang out with," and she's certainly got a valid point there. Let's face it: Zoe is the vampire you want to party all night with, while Lissa is more long-term bestie material.
Regarding the biggest challenges between both series, Fry explained, "Well, Lissa in 'Vampire Academy,' that was the first film I ever did, so the challenges there were actually just feeling confident on set to play the role and learning what it was like to make a film." She added, "Being in London and just all of it were such huge experiences. And I kind of felt like I was just keeping up with the work and learning what this is all about, really." 
But Fry has come a long way since she hung out at St. Vlad's. "And now it's a lot later in my career, and I didn't have any of that fear anymore. So I just had so much fun playing Zoe, and none of it was about 'Can I do this?'"
When asked, Fry also concurred that her former co-star Zoey Deutch would make a great addition to the "Night Teeth" vampire crew. "Yeah. I agree with you with that. She would be amazing, yeah. And Zoey Deutch would be a great, amazing vampire because in 'Vampire Academy,' she wasn't playing a vampire," she said. "She was playing the human one. So that would be really, really cool to see her as a vampire. She would make it really funny too, I reckon." Your move, Netflix.
"Night Teeth" is now available to stream on Netflix, and "Vampire Academy" is also on the streaming platform.