Why Agent Curtis From Barry Looks So Familiar
HBO
Contains spoilers for "Barry" Season 4, Episode 3 — "You're Charming"
In the final scene of "Barry" Season 4, Episode 3, "You're Charming," the titular hitman — played by Bill Hader — is led to a prison interrogation room where Noho Hank (Anthony Carrigan) has arranged to have Barry killed by Toro (Guillermo Del Toro). Agent Curtis — the FBI lead in charge of Barry's witness protection arrangement — is casual and glib with him, but things take a dark turn.
Barry notices one of the agents (Fred Armisen) is nervous as Agent Curtis tries to assure Barry that he will be taken care of. The agent pulls a pen from his pocket, which promptly explodes, pulverizing his hand. Curtis, as well as the rest of the FBI team, are then taken out of the picture while Barry makes an escape.
Agent Curtis is played by veteran actor Dan Bakkedahl, an alumnus of Chicago's legendary Second City improv troupe. He also has a rich television resume stretching back more than two decades, including the likes of "The Goldbergs" and "Veep."
Dan Bakkedahl began his television career in the early 2000s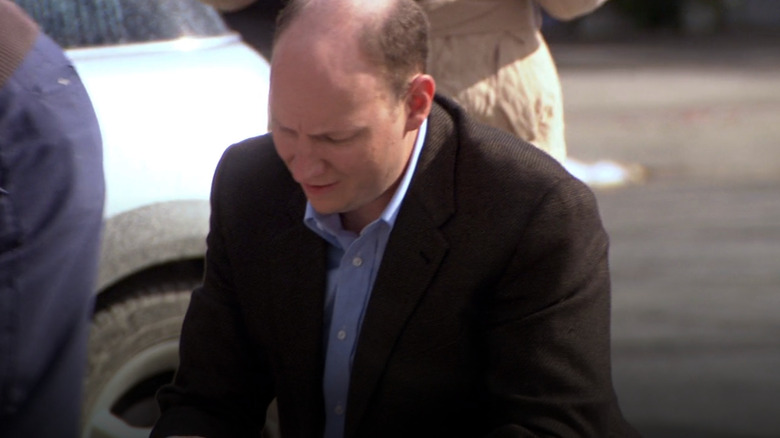 NBC
Dan Bakkedahl's acting debut came in 2002 in the indie comedy "One Man's Ceiling," which starred Alexa Fischer as the wife of an architect tasked with designing a new Mexican restaurant. He also served as a correspondent on "The Daily Show" in 2007. That same year, he also made guest appearances on "30 Rock," "Law and Order," and "Flight of the Conchords."
In 2009, Bakkedahl appeared on "The Office" in Season 5, Episode 13, "Prince Family Paper." He played Roger Prince Jr., a salesman at a small family-owned paper company where Michael (Steve Carell) and Dwight (Rainn Wilson) are sent to perform some corporate espionage. Two years later, he appeared as a waiter on a single episode of "Curb Your Enthusiasm," and he also landed his first recurring role on "Community" in a four-episode arc as Murray the air conditioning repairman.
Dan Bakkedahl's first starring role was on the FXX comedy Legit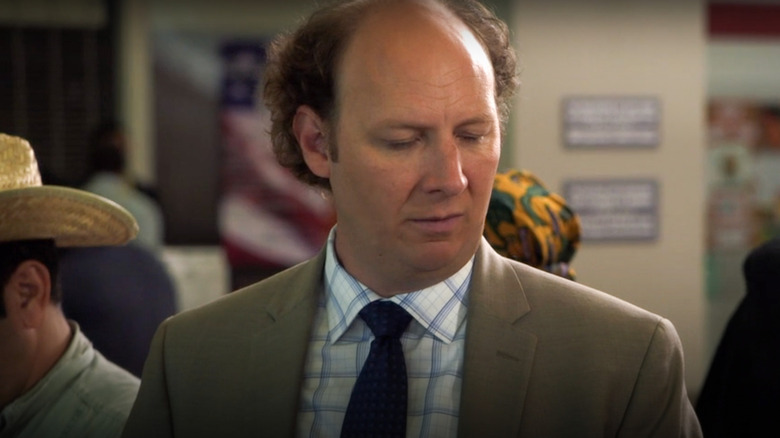 FXX
Later in 2011, Dan Bakkedahl landed a starring role in the Jim Jeffries comedy "Legit," which lasted two seasons. The show's ratings were surprising considering its positive reception from critics and audiences, who gave it scores of 94% and 99%, respectively. 
Bakkedahl played Jeffries' roommate Steve Nugent and appeared in all 26 episodes of the show. In an interview with The Asylum between the show's two seasons, Bakkedahl said he and Jeffries developed a quick friendship and chemistry with each other and co-star DJ Qualls, who played Steve's brother Billy. 
"We've developed a brotherhood," Bakkedahl said. "It happened rather quickly." He then described a rainy weekend in Portland, Oregon, where Jeffries offered to buy his co-stars lunch during a break in the shooting of the pilot episode. "Either he's putting on a really good front to make it seem like he's a generous, kind guy," Bakkedahl said,"or he is a generous, kind guy."
Dan Bakkedahl polished his comedy chops on some popular tv series in the 2010s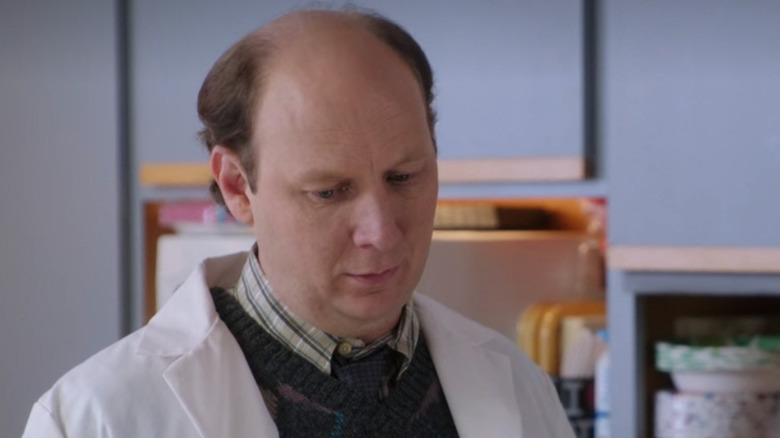 FOX
After the premature cancellation of "Legit," Dan Bakkedahl made guest appearances on "Californication" and "Brooklyn Nine-Nine" before landing a recurring role on "The Mindy Project." Bakkedahl appeared on seven episodes across Seasons 3 and 4 as Dr. Adrian Bergdahl, who replaces Dr. Peter Prentice (Adam Pally) at the Lahiri Medical Clinic. 
Dr. Bergdahl does not mesh well with the rest of the staff at the clinic, stealing bagels from the break room in Season 3, Episode 18, "Fertility Bites" and offending his co-workers with his offensive body odor and boorish manner. 
"Yes, Dr. Bergdahl is gruff, and he is rude," Dr. Lahiri (Mindy Kaling) says, "but you know who else is? Chris Christie, and he's our vice president."
Perhaps the writer who penned that line had a crystal ball in which they could see Bakkedahl's next role, which came on an Emmy-winning hit comedy series.
Dan Bakkedahl played Congressman Roger Furlong on Veep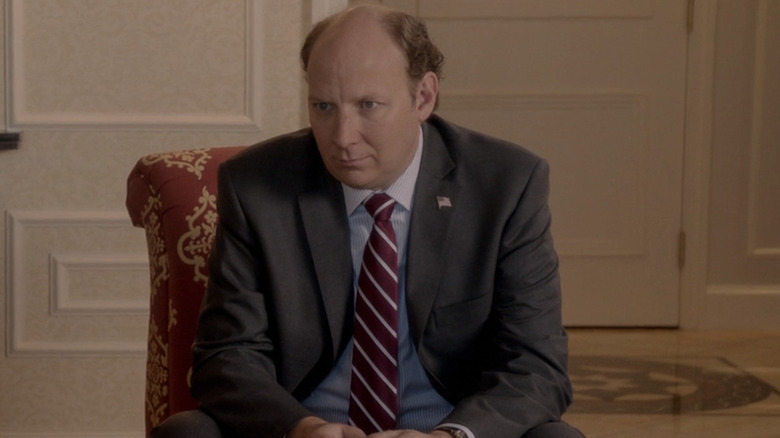 HBO
In 2012, Dan Bakkedahl was cast as Congressman Roger Furlong on the HBO political comedy "Veep." Furlong was introduced in Season 1, Episode 8, "Tears," at first seeking but then rejecting Vice President Selina Meyer's (Julia Louis-Dreyfus) endorsement for the governorship of Ohio. The two politicians bicker before she calls him "Congressman no-jaw" and throws him out of her hotel suite. Selina and Roger have a long and complicated relationship throughout the series from there. 
Although they never reach the status of friends or enemies, Meyer and Furlong cross paths often in Bakkedahl's 24 appearances on the show. He even speaks at her funeral in the series finale. In an interview with The Chris Hahn Show, Bakkedahl explained that Furlong has a truly universal personality type. 
"There are characters like Roger Furlong that exist in Hollywood," he told Hahn. "There are characters like Roger Furlong that exist in Washington, D.C., and Rio de Janeiro, and on a Bohemian island. You know, in the middle of paradise there's a guy that acts like Roger Furlong. He's got everything he could possibly want ... and he's still a curmudgeon and a foul-mouthed, horrible person." 
Dan Bakkedahl starred on the CBS comedy Life in Pieces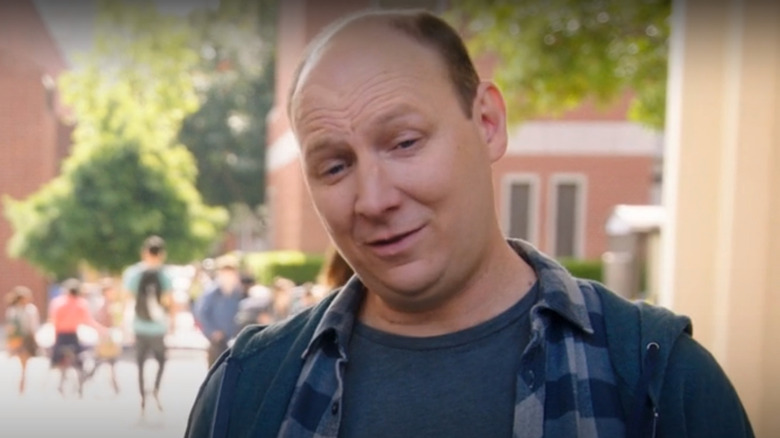 CBS
While Roger Furlong was wheeling and dealing in the hallways of various government buildings, Dan Bakkedahl was starring concurrently in a far different comedy on CBS. "Life in Pieces" premiered in 2015 and starred Colin Hanks and Betsy Brandt. The series was very similar to — and often compared with — "Modern Family." 
"'Life in Pieces' doesn't cover any ground that, say, 'Modern Family' already covered better," Vinnie Mancuso of The Observer wrote. "Another single-camera experiment gone wrong for CBS." 
The cast also featured Dianne Wiest and James Brolin. Despite this stellar roster, critics commented on how the show failed to deliver on the promise of said performers. For instance, Kristi Turnquist of The Oregonian called the cast "outstanding," but Turnquist also found the pilot failed to deliver on said performers. "Life in Pieces" lasted four seasons, leaving the airwaves in 2019.
Dan Bakkedahl also appeared on The Goldbergs and Space Force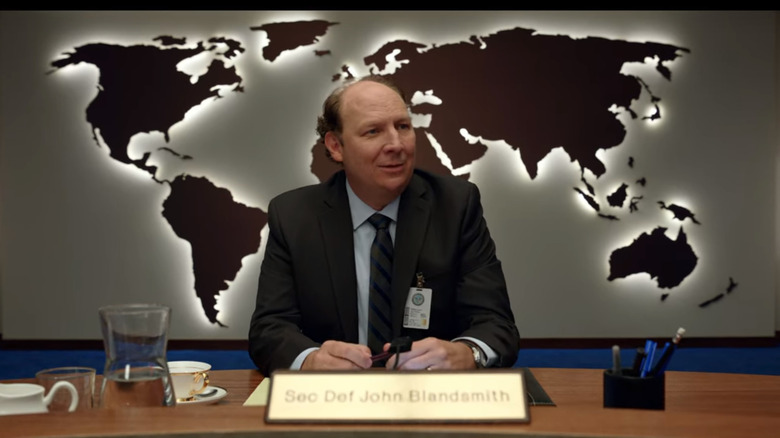 Netflix
While appearing on "Veep" and "Life in Pieces," Dan Bakkedahl was also cast on the ABC sitcom "The Goldbergs" as Mr. Woodburn, the science teacher at Barry's (Troy Gentile) school. Mr. Woodburn first appeared on Season 2, Episode 8, "I Rode a Hoverboard" and was seen in 17 episodes in between then and Season 9. 
In 2020, Bakkedahl also appeared on five episodes in Season 1 of the Netflix comedy "Space Force" as Defense Secretary John Blandsmith. The show starred Steve Carell, John Malkovich, Jane Lynch, and Lisa Kudrow. Despite the impressive talent, budget cuts at Neflix forced the cancellation of "Space Force" after two seasons. Bakkedahl only made it to the end of Season 1, with Tim Meadows' unnamed character taking over as Secretary of Defense in Season 2. This would also be the last season of the Netflix series.