The Conners Season 5 Finale: David's Absence Explained By Showrunners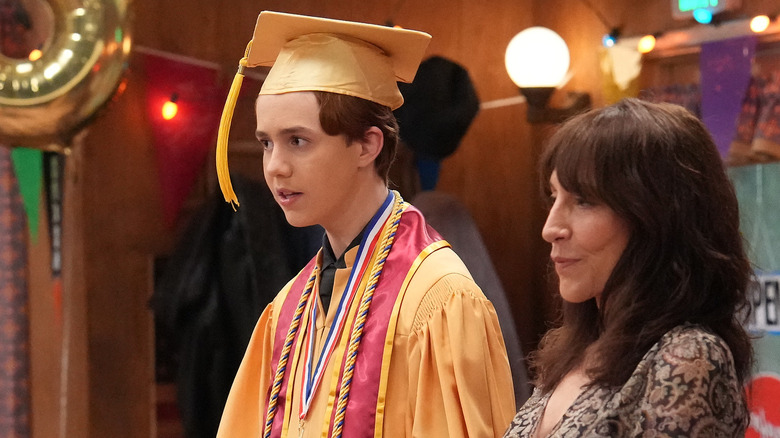 ABC/Eric McCandless
Families can be a tricky thing. Besides the family you're born into, you also have the family that you choose, or the family that shows up. David Healy (Johnny Galecki) has long been a fixture in the world of "Roseanne," having been featured in 93 episodes of the original series, and four uncredited appearances on the spin-off show "The Conners." This is because David was romantically attached to Darlene (Sara Gilbert), and the two were married for some time. David and Darlene eventually found themselves going their separate ways, but since they have two children together — Harris (Emma Kenney) and Mark (Ames McNamara) — there 's always the potential for David to show back up.
The Season 5 finale of "The Conners" set up a definite chance for David to reappear, as the episode is about Mark's graduation. However, the plot kept the character away. Speaking with Cinema Blend, executive producers Bruce Helford and Dave Caplan were asked why David did not appear in the finale, and they replied that the reason why actually arose from Galecki himself. Helford explained, "It got to be a situation where he just wasn't available, and we love him, and he loves being on the show. And we just felt we had to finally deal with that."
David's absence allowed for Ben and Mark to get closer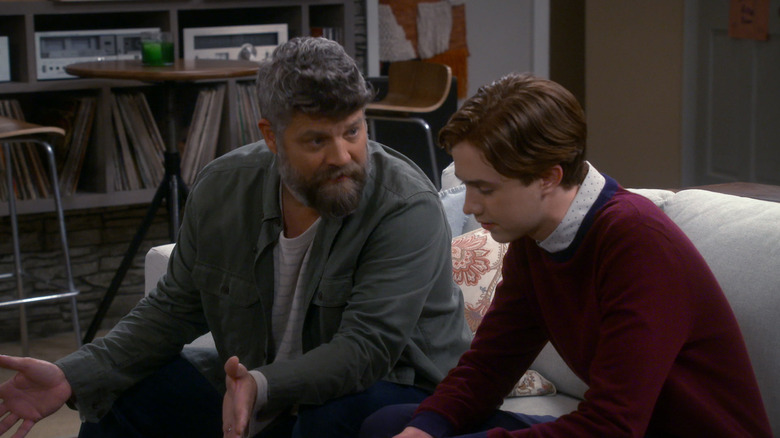 ABC
Caplan added, "Yeah, David was still kind of in the life of the show, certainly living through the kids, and we sort of had to deal with it. We made an initial approach to Johnny to see if he was available, but he's sort of not engaging with the business at the moment. But we still felt that to tell a good story about Mark and Ben, we needed the ghost of David in the show." 
Considering that the major focus of the finale was Mark's graduation, one might have suspected that David would show up to support his son. However, the lesson in the finale is that Ben (Jay R. Ferguson) is actually a great father figure to Mark. This is a great way to not only acknowledge David, but to also provide an in-universe explanation for his absence — Mark would rather have Ben at his graduation as opposed to his biological father.
As mentioned earlier, though, Johnny Galecki would have been welcome back on the set of "The Conners," but the actor himself is taking a break from acting. Considering that Galecki has been in the entertainment industry for years, a little rest and relaxation is probably great for his well-being, especially when one realizes that Galecki was pulling double duty appearing on "Roseanne" and "The Conners" at the same time he was starring on "The Big Bang Theory." Still, its a shame David didn't pop up in this particular episode of "The Conners," but it makes sense for Galecki personally, and the missing character helped provide a touching moment between Mark and Ben.