GOTG Vol 3's Final Message Confirms Chris Pratt's MCU Future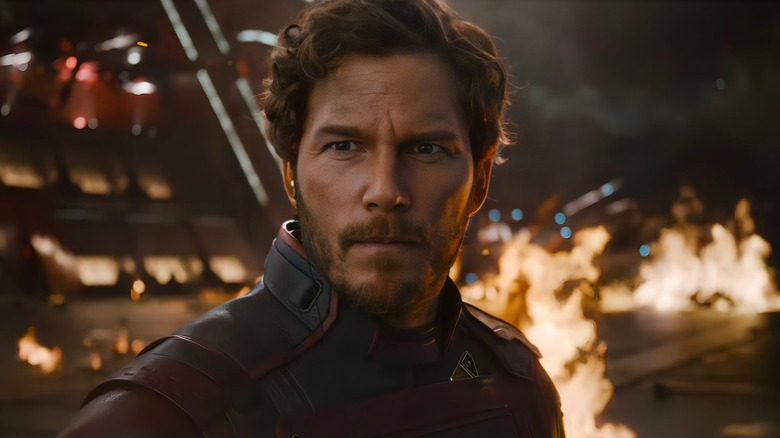 Marvel Studios/Disney
Contains spoilers for "Guardians of the Galaxy Vol. 3"

Our lonely hearts can't take it, but as indicated by the end of "Guardians of the Galaxy Vol. 3," the OG ragtag team of misfit world-savers is no more. Rocket Raccoon is officially taking the lead on a brand new team of guardians, with other vital players heading off to do their own thing. Gamora (Zoe Saldaña) has returned to the Ravagers, Nebula (Karen Gillan) and Drax (Dave Bautista) are bringing up a band of children on a newly rebuilt Knowhere, while Mantis (Pom Klementieff) is off on her own with her giant squad of space slugs. But with these characters going their own way, where does that leave our favorite smuggler and '80s music enthusiast Peter Quill, aka Star-Lord (Chris Pratt)? Well, in a beautifully sweet way, it's right back where we found him.
After a nod of nostalgia from Gamora and accepting that the woman he loved is no longer the woman he loved, Peter chooses to return to Earth and be reunited with his grandpa, the last remaining relative of the family on his Terran side. It's here where you'd think that the hot-shot hero's tenure would come to an end. And yet, in the film's final moments, we cut to white and see the message "The Legendary Star-Lord Will Return," teasing Pratt's protagonist, who has been hooked on a feeling since 2014, will be coming back for more. But how?
Chris Pratt has considered returning as Star-Lord without James Gunn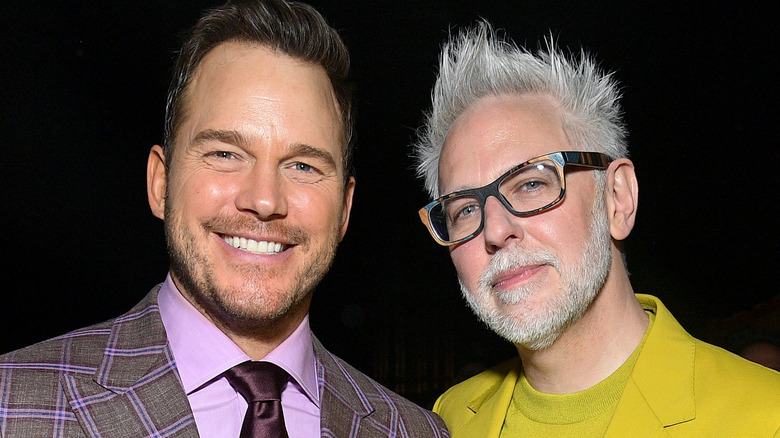 Charley Gallay/Getty Images
It's been confirmed by James Gunn himself when he spoke to Esquire Middle East that: "There could be more 'Guardians' movies, but it won't be with this group." If that changes, though, Gunn won't be handling it. He'll likely be too busy reviving the DC Universe to consider returning to Marvel Studios. That doesn't mean Pratt won't pay us a visit in the future, though, and with the MCU still stretching to the stars with some upcoming adventures, talks may have been had to bring Pratt back into the action. That is if the potential return is done in the right way, according to Star-Lord himself.
Speaking to Games Radar, Pratt praised Gunn. "It would be strange to continue Peter's story without James. He's done such a masterful job in the first three films," he explained. "We really found the voice of Peter Quill together, and without him, obviously, I would never have had this opportunity."
Pratt further clarified that his desire to make a comeback as Quill would very much be down to the reprisal honoring Gunn's work and the fans who fell in love with the character. "I don't want to be cynical in the approach, and if that's the case, I just wouldn't do it at all," Pratt admitted. "So maybe down the road, if something makes sense, I would do it, but it would really have to check a lot of the right boxes." 
Perhaps with the closing statement of "Guardians of the Galaxy Vol. 3," those boxes have been checked after all. The only question is, at what point could he return?
There's plenty more (outer) space for Star-Lord in the MCU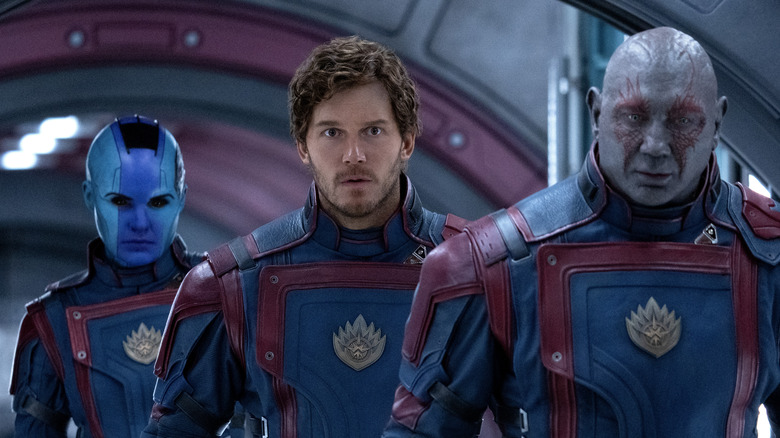 Marvel Studios/Disney
He might've settled down back in his hometown, but given the current state of the Marvel Cinematic Universe, our heroes are very much looking in the direction Peter Quill just came from in the next few chapters of this ever-expanding franchise. The next Marvel project set for release is "Secret Invasion" on Disney+, which will see Nick Fury (Samuel L. Jackson) coming back down to Earth before he joins the next big screen adventure, "The Marvels." Factoring these in, it wouldn't be a wild idea to see Quill pop up in either project, given the alien activity, but there's been no mention of him. To be honest, we'd be very impressed if Kevin Feige and the rest of the top Marvel folks had kept an appearance from Star-Lord under wraps, but that doesn't mean he's ruled out of the bigger entries on their schedule.
Let's not forget that there are also the big "Avengers" installments, "The Kang Dynasty" and "Secret Wars," which could see Quill pulled into the fray to help Earth's Mightiest Heroes. He has been one for some time, of course, but now that he's back on his home turf, it only makes sense that he would lend a hand to protect should the opportunity arise. Well, someone needs to manage the battle music mix, after all, no matter what time or space they might end up in.