Who Plays Rey In The Star Wars Franchise?
Of all the new characters developed by Lucasfilm and Disney for the "Star Wars" sequel trilogy, none are perhaps as polarizing as Rey Skywalker. The focal point of this new era in the galaxy far, far away, she was always fated to be subjected to harsh criticism — on the one hand, being compared to characters like Luke Skywalker and Obi-Wan Kenobi, who remain unimpeachable pop culture legends through a combination of enduring impact and nostalgia; and, on the other hand, a large portion of the fanbase's unfortunate predilection for sexist gatekeeping.
Whether drawing limp criticism for being a "Mary Sue" or suffering from a genuine lack of narrative planning, one of the few blameless actors in Rey's lukewarm reception is, well, the actual actor herself — British performer Daisy Ridley. Through studio dysfunction and audience vitriol, Ridley was consistently kind, classy, and visibly passionate about the opportunity to lend her talents to one of, if not the most beloved franchise in the world. Her grace in handling fame on such a massive scale is all the most impressive, considering her professional career began just two years before she touched her first lightsaber.
Daisy Ridley became a global celebrity overnight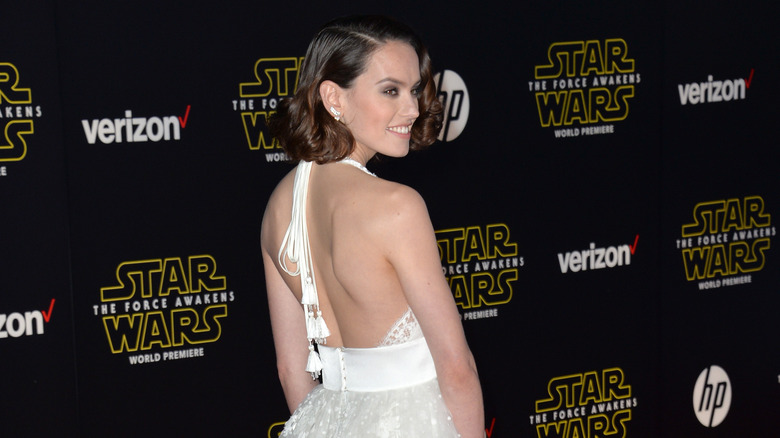 Featureflash Photo Agency/Shutterstock
It's genuinely difficult to overstate how fresh Ridley was when J.J. Abrams selected her as the face of Disney's new "Star Wars" trilogy, arguably the biggest role in the most anticipated cinematic project at the time. As we live in an age where it feels like a new "Star Wars" film is announced and canceled every month, you have to remember that fans had spent decades hoping for sequels to the original trilogy.
When Ridley was announced as Rey, she had yet to appear in a feature film and was characterized by the press as an unknown actor. Aside from a couple of theatrical roles and an appearance in the music video for the Wiley song "Lights On," her professional acting experience was limited to a handful of co and guest-starring spots on British television shows, such as "Causalty," "Toast of London," and "Mr. Selfridge." Her feature film debut was technically a 79-minute independent British horror film that premiered less than two months before "The Force Awakens."
Ridley's career took off after The Force Awakens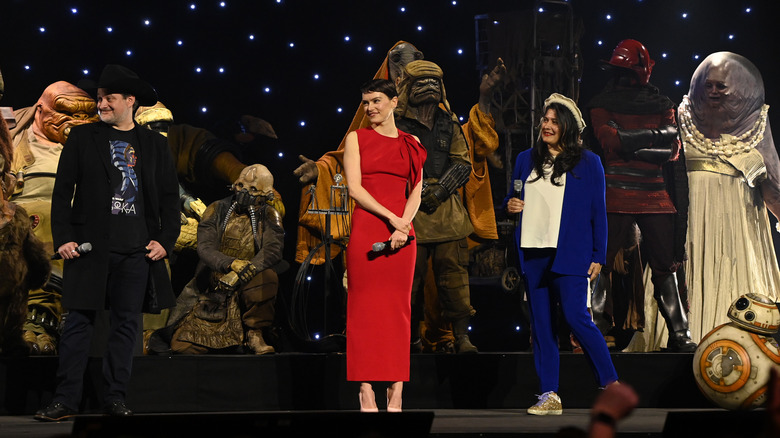 Kate Green/Getty Images
After her "Star Wars" debut, Ridley was offered more high-profile acting opportunities. In 2017, ahead of the release of "The Last Jedi," she starred in Kenneth Branagh's star-studded "Murder on the Orient Express" adaptation, and shortly thereafter played the titular character in the Shakespearian drama "Ophelia."
As she was taking on these roles, however, she was also offered the chance to star alongside "Spider-Man" actor Tom Holland in a film adaption of the book series "Chaos Walking," which was seemingly positioned as the next young adult blockbuster franchise in the same vein as "Divergent" or "The Hunger Games." For a host of reasons including reshoots and the COVID-19 pandemic, the film's debut was dramatically postponed, until it was finally released to a dismal critical and commercial reception in 2021.
Despite this, Ridley's career only seems to be picking up steam, with the actor expected to appear in four films in 2023 alone. These include the romantic comedy "Sometimes I Think About Dying," which was released in January of this year; a stop-motion biography about Leonardo da Vinci called "The Inventor;" the Neil Burger thriller "The Marsh King's Daughter;" and the Disney+ sports drama "Young Woman and the Sea." 
At this year's "Star Wars" celebration, it was announced that she would return as Rey Skywalker in an upcoming feature film — even though she stated rather recently that she didn't want to return after "The Rise of Skywalker."