The Goldbergs Finale: Hayley Orrantia Took The Most Sentimental Prop From Set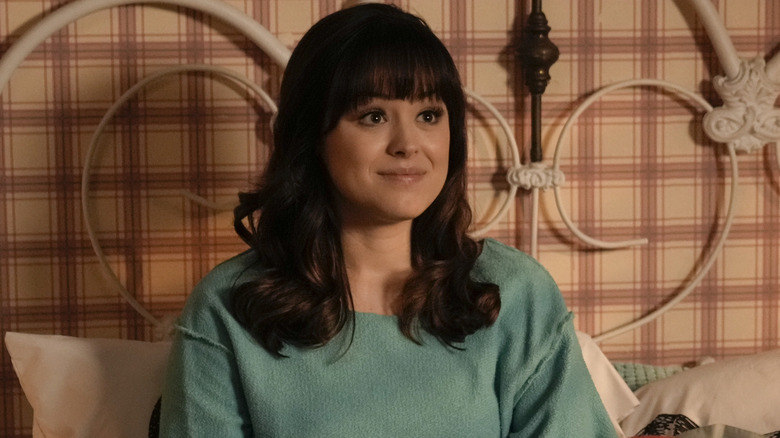 Scott Everett White/ABC
After a decades' worth of '80s sitcom nostalgia, ABC's "The Goldbergs" has finally wrapped up with the conclusion of its 10th season. Saying goodbye to the series has been an emotional endeavor both for longtime fans and for the cast members themselves, who have shared stories about the bittersweet feelings they had while filming the finale and concluding the production. In fact, star Hayley Orrantia shared one particularly moving anecdote about a sentimental prop she managed to take home from set before the show's end.
In an interview between the cast of "The Goldbergs" and TODAY, the cast was asked which — if any — show props they took home from the set. Orrantia revealed that she managed to take home the crossword puzzle that late actor George Segal, who starred on the series as Beverly's dad Pops until his death in 2021, often wielded over the years of the show's production. "There are some pages where he actually was filling it out or he had his lines that he wrote down on it, so it was always very special and thankfully they let me have that," Orrantia explained.
The cast snagged a bunch of other meaningful props
Scott Everett White/ABC
Hayley Orrantia may have left "The Goldbergs" with a touching memento in the form of George Segal's crossword book, but that's not the only prop the actor took home. Per the TODAY interview, she also kept the "knock" sign from Erica's bedroom door and the bouquet from Erica's wedding. She further revealed to The Nerds of Color that she even took the watercolor painting from the dining room set without asking the prop department. "I just stole it on the last day, but I left the frame hanging, which was hilarious because it looked like such an art heist," she recalled. "But I ended up taking it and I'm framing it here, and they definitely made fun of me. I guess it's all okay now, no one is looking for it anymore, but I was gonna go to the grave with that one."
Other cast members of "The Goldbergs" also managed to keep props related to their respective characters. Wendi McLendon-Covey landed some pieces of Beverly's outfit, including the character's '80s-styled wig and her duck-themed "I'm so flappy" sweater. "Of course, I'm going to be putting that under lucite like a museum exhibit," the actor told TODAY.
As for some of the other stars, Sean Giambrone still has Adam's trademark glasses and watch, while Troy Gentile walked away with Barry's iconic Philadelphia Eagles jersey. It's clear that even though "The Goldbergs" may be over, the actors that featured on the series will have plenty of items to remember it by in the future.