What's Love Got To Do With It? Review: A Rom-Com That Doesn't Stick The Landing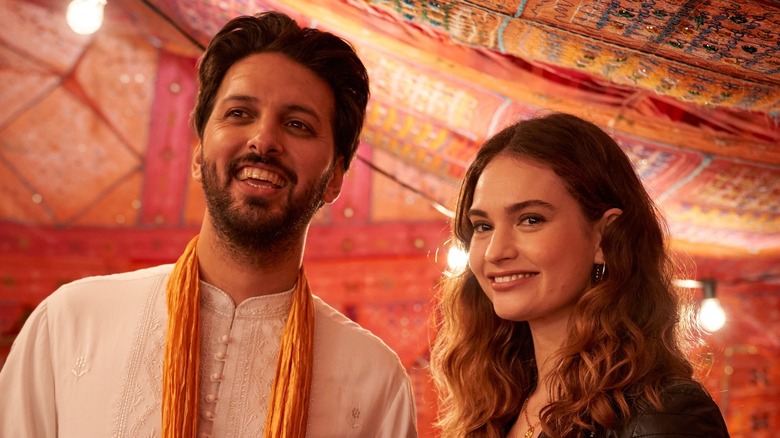 Robert Viglasky/STUDIOCANAL SAS and Shout! Studios
"What's Love Got To Do With It?" may be the name of a very famous song by Tina Turner, but that has nothing to do with the movie we're talking about. Instead of a tale of heartbreak and woe, this story genuinely asks the titular question through an examination of arranged marriage.
Zoe (Lily James) is a documentary filmmaker who's been unlucky in love. Still, when Kaz (Shazad Latif), her friend and next-door neighbor, decides to follow his Pakistani parents' example and go with an arranged marriage (or "assisted marriage"), she's flabbergasted. Kaz is a doctor in his early 30s — he could have almost anyone he wants. Zoe simply doesn't understand his decision to opt for an arranged marriage. But Kaz argues that love isn't the most important thing about marriage. After all, look at the divorce rate in Britain. If love was so important, people wouldn't get divorced so often, right? Meanwhile, the divorce rate for those who choose arranged marriages is 1%. Still, Zoe remains skeptical.
When the bros who fund her documentaries call for a feel-good entry, Zoe proposes Kaz's arranged marriage adventure as a possibility, so she can try to understand his choice. As she follows him and his family on their journey, from seeing a matchmaker to talking to various girls to finding a suitable match in Lahore, Pakistan, Zoe starts to wonder if he may have a point. After all, she's not doing so well on her own, and her friend Helena (Alice Orr-Ewing) is currently confronting the fact that her husband (Peter Sandys-Clarke) is cheating on her. This makes Kaz's way of finding love look pretty good.
While "What's Love Got to Do with It?" appears to argue strongly for arranged marriage through most of its run time, it gets behind marriage for love in the end. This last-minute switcheroo is confusing, to say the least. Moreover, while James and Latif are great, the ending is less than convincing.
A fantastic cast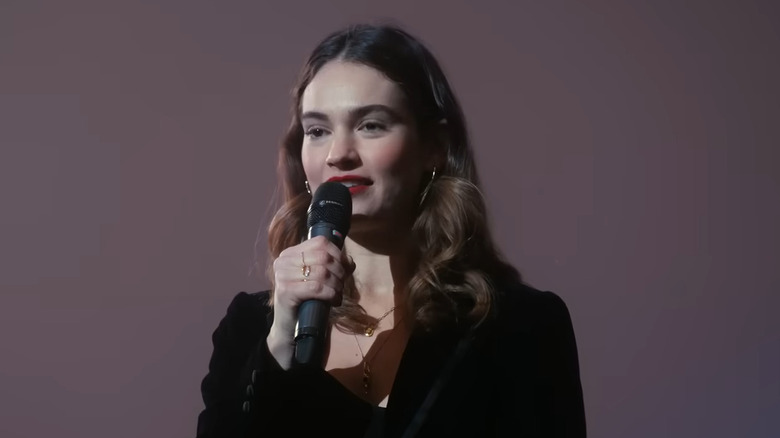 StudioCanal/YouTube
Most of "What's Love Got to Do with It?" works because of its stellar cast. While there aren't a lot of big names here, there's not a weak player among them. Lily James is fantastic as Zoe, the woman the action revolves around. She's played many characters in different time periods, from Lady Rose in "Downton Abbey" to Pam in "Pam & Tommy," but she's also excellent as a girl in modern times who's just trying to figure it all out. Shazad Latif is also strong as Kaz. He's convincing in his commitment to following his parents' example and going with an arranged marriage, despite his feelings for Zoe. Kaz and Zoe don't project their feelings for one another as much as they could, but said feelings are wrapped up in a lot of baggage, making their moves toward rom-com happiness understandably subtle instead of grand.
Then there are the parents. Shabana Azmi and Jeff Mirza are fantastic as Kaz's parents, especially Azmi. Emma Thompson is also delightful as Zoe's mom Cath, although her ridiculous comments about Muslim weddings being exotic will not be embraced by everyone. 
Ushering everyone through their paces is director Shekhar Kapur, who you might know from films including "Elizabeth" and "The Four Feathers." He manages to effectively juxtapose scenes of Bollywood-style dancing and celebration with less glamorous sequences in which Zoe and Kaz fight or debate marriage, and never lose anything in either instance.
The story's message is muddled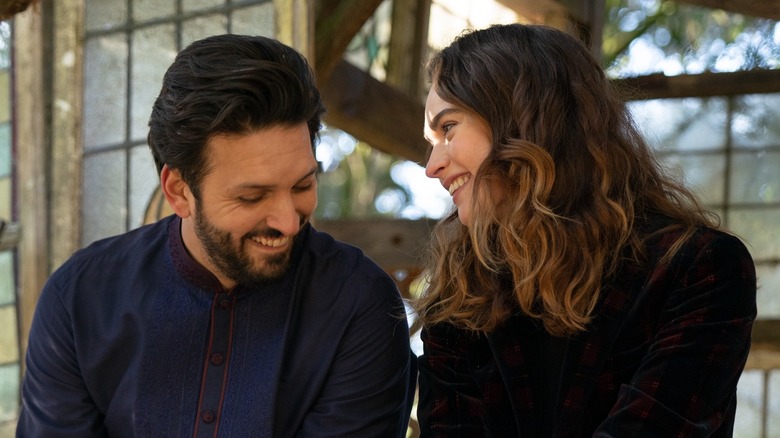 Robert Viglasky/STUDIOCANAL SAS and Shout! Studios
Sadly, this film's conclusion feels messy. While it argues for arranged marriage for most of its runtime, it ultimately comes to appreciate the romanticism of marriage for love more deeply. Arranged marriage is still respected, but it is firmly pushed aside.
Perhaps the best example of this arrives when Jamila (Mariam Haque), the one child who is barely seen in Kaz's family, and her white husband David (Michael Marcus) come over. While Kaz's family has spent the majority of the film ignoring Jamila's existence because of her marriage, when she arrives, the family accepts her without reservations. Even their grandmother (Pakiza Baig), who complains about every other facet of Western culture, is happy to see Jamila and her young son.
You can't help but wonder: had Kaz and his family picked a better match, would things have gone so south so swiftly? His pick seems like a poor choice from the start, yet when things don't work out, instead of trying again, Kaz goes for a love match with Zoe. It's this turn that makes the movie so hard to swallow. It's not surprising, given Zoe and Kaz are stuck in a rom-com, that they end up together. Yet a savvier movie might have taken the romance out of it and instead examined what happens when a second chance at an arranged marriage is required. As it stands, the movie ends up becoming another ode to Western-style romance, courtesy of a disingenuous last-minute turn into the rom-com box. That said, with great performances and solid directing, this movie will still put a smile on your face.
"What's Love Got to Do with It?" premieres in theaters on May 5.