The Editing On Vanderpump Rules Is Unmatched: Where's The Emmy?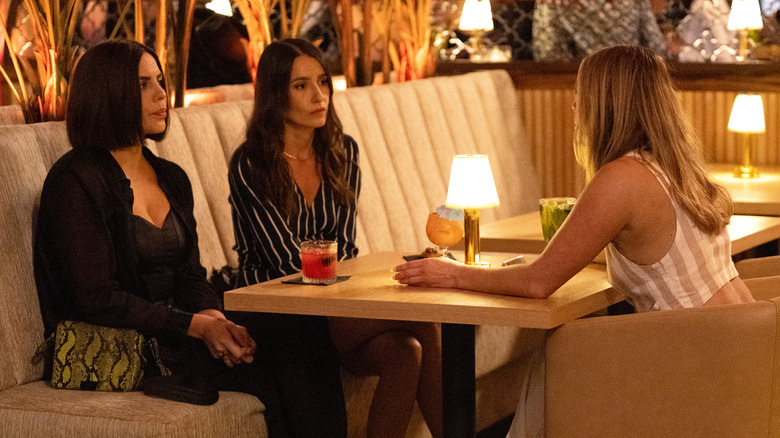 Amanda Edwards/Getty Images
Editing is an essential part of any sort of visual medium; think of any great film, and there's an exceptionally talented editor working behind the scenes to cut everything together just so. Imagine what "Jaws" or "Star Wars" or "Apocalypse Now" would be without someone making sure every single cut and transition is exactly right. As it happens, the best editors currently in the business are doing exactly that, but not for an acclaimed film; they're behind the scenes on "Vanderpump Rules."
A Bravo spin-off of "Real Housewives of Beverly Hills" led by Lisa Vanderpump and the gorgeous, reprehensible employees at her West Hollywood restaurants, "Vanderpump Rules" has been on the air for ten seasons, and even throughout its many ups and downs, the editing has always been top notch. The show relies on a mix of footage and confessionals, which are often stitched together to stunning effect; it's clear that the editors are the foremost exports on "Vanderpump Rules" lore, as they should be, and they use that to their full advantage.
The editing on "Vanderpump Rules" has never been more vital than during Season 10 (which is airing now), which unexpectedly centers around the scandal known as Scandoval after news of it broke in March of 2023. The editing on the reality series is biting, precise, and done perfectly — and it should have a few Emmys, or perhaps a full EGOT.
The editing in Season 10 of Vanderpump Rules has been top-notch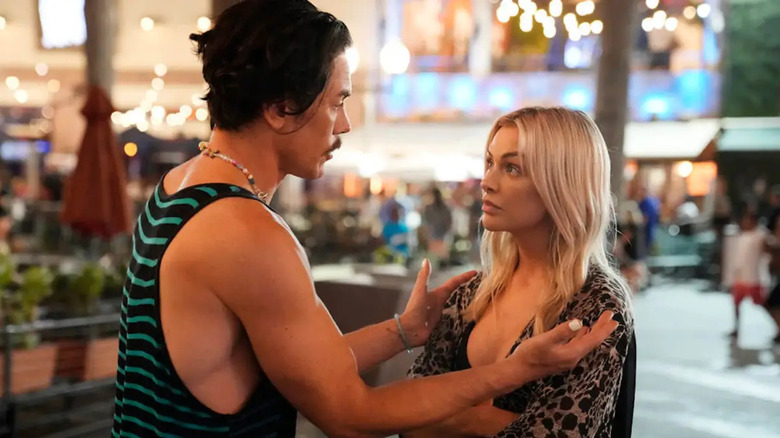 Bravo
The key to the editing on "Vanderpump Rules" is that the editors innately understand their subjects — and, as such, know that most of the people they're filming are extraordinarily stupid. The smarter ones, like Lala Kent or former cast member Stassi Schroeder, tend to avoid unflattering cuts by being savvy enough to handle the editors, but people like Rachel "Raquel" Leviss and Tom Sandoval, who spent several months on camera having an affair behind everyone's back, are already getting their respective villain cuts during Season 10. Leviss keeps doing confessionals about how Sandoval and his now ex-girlfriend of nine years, Ariana Madix, are her closest friends, while she's actively having an affair with Sandoval and stabbing Madix in the back, and shots of Sandoval keep showing him conspicuously looking at Leviss at every opportunity.
The best editing moment of Season 10 so far, though, came at the very beginning of the thirteenth episode, "The Lady is a Glamp." As Sandoval and Leviss' affair starts to become more and more obvious, cast members like Kent and Vanderpump start putting the pieces together; working with that, the editors crafted a specific timeline of everyone finding out that Leviss stayed at Sandoval's house while Madix was out of town. With black and white footage and a rewind effect, Kent narrates the pieces coming together, and the entire thing is done perfectly. It's like something out of film noir on a show where people regularly throw drinks at each other.
Vanderpump Rules' editing has always been top notch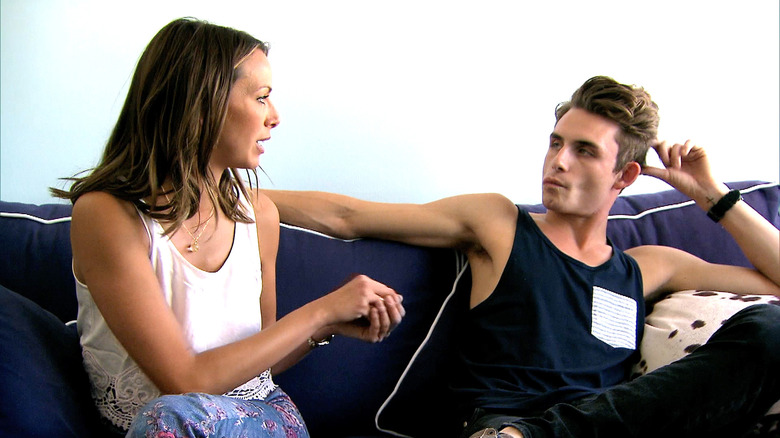 Bravo
The editing team over at "Vanderpump Rules" didn't sharpen their skills just for Season 10; they've been uniformly great at sharp edits for the show's entire run. A perfect example comes from Season 3, back in the halcyon days of Kristen Doute and James Kennedy's wildly dysfunctional relationship. After their fellow cast member Scheana Shay's birthday party, Kennedy and Doute left separately — but Doute, the biggest snoop of all time, goes through this email and finds what the dummies on the show then refer to as the "smoking Uber." Kennedy, as it turns out, went home with another girl, but as he tells Doute, nothing happened. Well, except that they kissed. And he maybe tried to undress her. But they didn't sleep together. Definitely not!
Immediately after Kennedy comforts his teary girlfriend, assuring her that nothing happened, the editing team, in all their wisdom, jump cuts to Kennedy's confessional, where he utters this immortal line: "At this point, I'm just lying to Kristen for her own good. Because I know if I tell her the truth, it'll just devastate her. The truth is, Jenna and I were definitely boning." Incredibly, this is then followed by a confessional from Doute, where she praises Kennedy for being so honest with her. The entire sequence is, to put it lightly, a masterpiece — and it's thanks to the editing team knowing exactly how these moments could tie together.
The editors on Vanderpump Rules know the cast so well — and that's why the editing is so excellent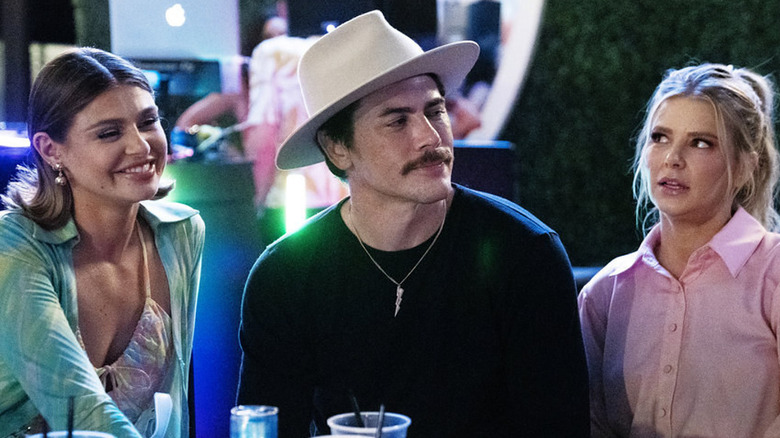 Bravo
In essence, the editors at "Vanderpump Rules" are at their best when they use quick cuts and flashbacks to call out the messy, stupid cast members. Take the moment where Jax Taylor (later during his run on the show) laments the fact that there's so much drama at SUR Restaurant and Lounge (Sexy Unique Restaurant Restaurant and Lounge, actually) and wishes it would calm down and go back to being like the old days. The edit then goes directly to all of the times Taylor caused problems both at SUR and outside of it in the past, like the time his ex-girlfriend screamed at him during dinner service or the time he got arrested for stealing sunglasses in Hawaii.
The ninth season of the show is widely regarded as its worst, but it might have the very best trailer. As the cast started getting older, getting married, and having babies, the trailer shows Kent, Madix, and others talking about how much they've matured and grown... only to immediately cut to clips of them falling over drunk, screaming at each other, or throwing drinks once again. 
The editors at "Vanderpump Rules" are masters at exploiting the pure hypocrisy of the cast members; while some might not be quite as donkey-brained as their cohorts, they're all, at their core, self-centered people with very little awareness of how they actually behave. Luckily, the editors are here to spell it out for the audience — and it makes for incredible television. Give them all of the Emmys, please.