Grey's Anatomy: Caterina Scorsone Doesn't Just Play A Hero On TV, She Is One IRL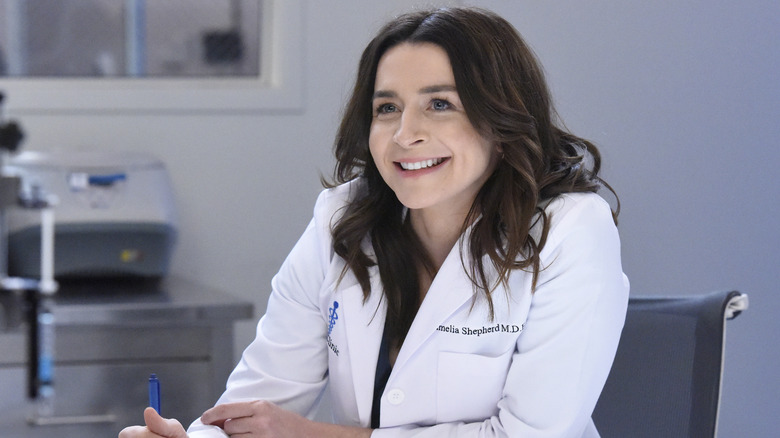 ABC
Despite the ongoing franchise wars with their larger-than-life comic book superheroes, everyday heroes are still supplying exciting storylines on television — as evidenced by long-running law and medical procedurals like "Law & Order," the "One Chicago" franchise, and "Grey's Anatomy," to name a scant few. Many actors portray the hundreds of fictional heroes who feature in these series, and not everyone finds themselves in life-or-death situations in real life — thank goodness. But Caterina Scorsone had an actual life-or-death situation where she had to be a hero.
Scorsone plays Dr. Amelia Shepherd on the long-running ABC show "Grey's Anatomy," which is nearing its Season 19 finale. The estranged youngest sister of Derek Shepherd (Patrick Dempsey), Amelia first appeared on the spin-off "Private Practice," causing problems for Derek's ex-wife, Dr. Addison Montgomery (Kate Walsh). Amelia appeared in an episode of "Grey's Anatomy" in Season 7, in October 2010, to try to reconcile with her brother, but continued at Los Angeles' Oceanside Wellness Group, making occasional appearances at Seattle Grace. Scorsone's character eventually moved to Grey Sloan Memorial Hospital permanently for Season 11, after "Private Practice" ended. While Amelia has had her struggles, particularly with maintaining her sobriety and being unable to find happiness in love (Amelia's fans desperately want her to find romance), the brilliant neurosurgeon has saved many lives over her decade-plus tenure. Yet Scorsone was recently the one to save lives in real life, when her Pasadena home burned down.
Caterina Scorsone shared on Instagram her horrifying experience saving her children from a house fire
Caterina Scorsone took to Instagram on April 3 to describe the terrifying incident, which had happened several months earlier. As she prepared her three young daughters, Eliza, Pippa, and Lucky, for bed, "smoke began to seep up through the grout around the tub," she wrote. "When I looked down the hallway a river of thick black smoke had already formed and was filling the house." She explained that she had only a couple of minutes to get herself and her children out, "with less than shoes on our feet." Sadly, she said she wasn't able to save her entire family, as they lost all four of their pets — a dog and three cats — in the fire. "We are still sitting with that loss," she wrote, sharing pictures of her beautiful fur babies, "but we are lucky we got to love them at all."
Scorsone said she is grateful to have gotten her human family out unscathed and for the many people who helped her after the fire. "This is not a post about a fire. This is a post about community," she wrote. "This is a love letter to the incredible people that showed up and the incredible ways that they did," she said, giving thanks to first responders, friends and family members, and other communities who offered assistance and material goods such as clothing, books, toys, and supplies after they lost everything in the blaze. "What we learned is that the only thing that matters are the people (and beings) that you love," the "Grey's Anatomy" actress wrote.