Jamie Foxx Returns To Social Media Amid Hospitalization, Says We'll See Him Soon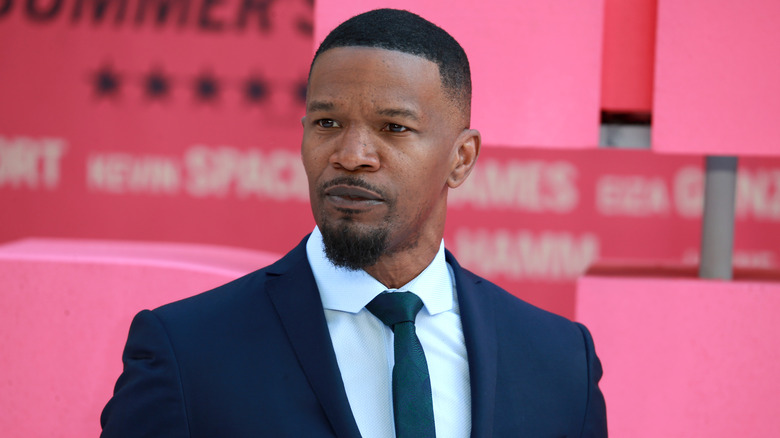 Fred Duval/Shutterstock
Jamie Foxx just released his first comment after suddenly being hospitalized. On Instagram (as was reported by TMZ), amidst an outpouring of support, the actor posted to his story, saying, "Appreciate all the love!!! Feeling blessed," and also wrote a shout-out to Nick Cannon. After Foxx's hospitalization, Cannon stepped in to replace him as the host of the game show "Beat Shazam." In his note to Cannon, he said "see u all soon," which hopefully means that his progress is steady.
The reason behind Foxx's hospitalization is, as of this writing, still unknown. On April 12, Foxx's daughter Corinne, who's also the DJ on "Beat Shazam," made the announcement that her father was having health issues and had a "medical complication" while filming his next movie, "Back in Action," in Atlanta with co-star Cameron Diaz. Weeks later, TMZ reported that Foxx's inner circle was asking for prayers for the Oscar winner — but now that he's released a personal update, hopefully his fans can rest easy for a moment.
News of Jamie Foxx's hospitalization came as a huge shock to fans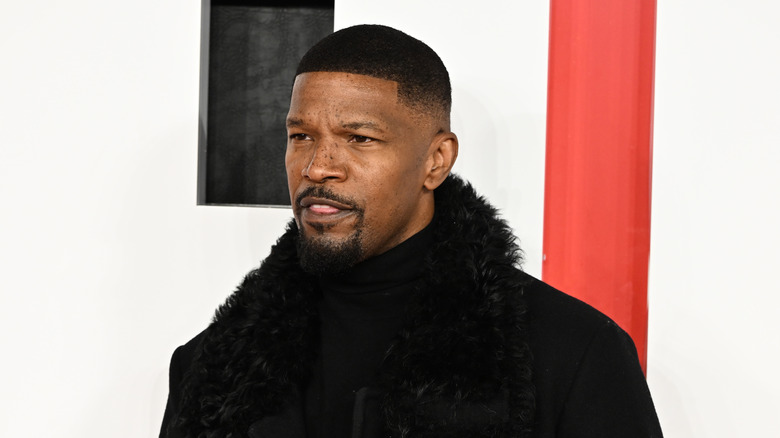 Jeff Spicer/Getty Images
At just 55 years old, Foxx has built an incredible career for himself — and until he was hospitalized, he certainly wasn't showing any signs of slowing down. Beyond the fact that he lured Diaz out of retirement for the aptly titled "Back in Action," he's got a whopping five upcoming credits as of this writing, and he's still one of Hollywood's most in-demand performers.
Foxx won the Academy Award for Best Actor thanks to his leading role in 2004's "Ray," for which he learned to play piano; he's also best known for starring turns in "Collateral," "The Soloist," "Law Abiding Citizen," "Django Unchained," "White House Down," and "Baby Driver." Besides prestige movies and action flicks, he's also shown off his comedic chops in both "Horrible Bosses" movies, and he appeared as Max Dillon (also known as Electro) in 2021's "Spider-Man: No Way Home" after originating the character in "The Amazing Spider-Man 2."
Fans around the world are thinking of Foxx during his recovery, and hopefully, we'll hear more updates soon.