Are Dune's Timothee Chalamet & Zendaya Friends In Real Life?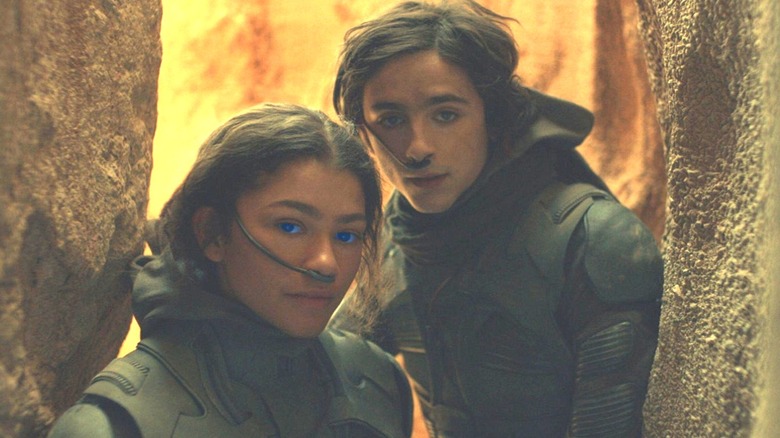 Warner Bros. Pictures
With a massive star-studded cast, beautiful set pieces, and plenty of sci-fi action, "Dune" really had it all. However, audiences were surprised at how little stars Timothee Chalamet and Zendaya shared the screen. While that won't be the case for "Dune: Part Two," as Zendaya will have a much larger role in the sequel, the lack of screen time between Paul Atreides (Chalamet) and Chani (Zendaya) has many wondering if the two actors are friends in real life. 
Surprisingly, the two Hollywood stars hadn't met before arriving on the set of "Dune," but once they did, a strong bond and friendship formed between them. In an interview with Vogue, Zendaya revealed she admired Chalamet's work from afar, reminiscing on how they bonded with dance parties in her trailer. After dancing to songs like "Soulja Boy," the two recognize each other as great friends, with Zendaya saying, "He's obviously a very talented actor, but just a wonderful person and a good friend to have." 
If that's not enough to showcase their strong friendship, both actors took part in BuzzFeed's "BFF Test," answering questions about one another. The curse-word-filled interview proves Chalamet and Zendaya know everything there is to know about the other, as the "Dune" stars exude every aspect of a good friendship.
Chalamet and Zendaya share a sibling-like relationship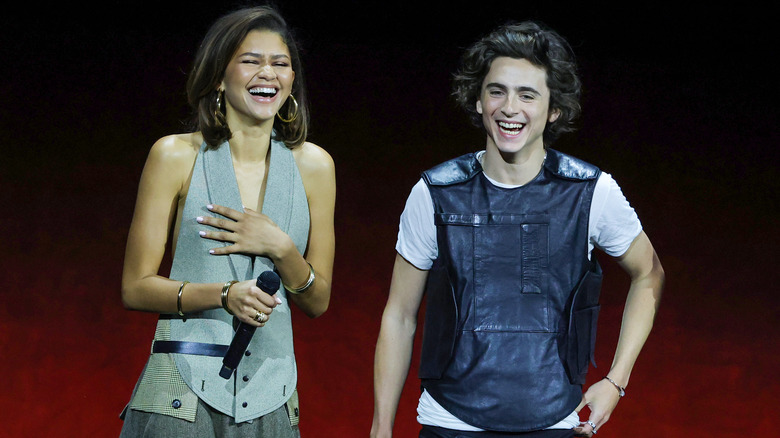 Ethan Miller/Getty Images
Throughout countless interviews, Zendaya and Timothee Chalamet have shown how close they've grown because of "Dune," relying on one another for advice. Both young actors are in similar situations, gaining incredible fame and recognition, priming themselves to take over Hollywood.
During an interview with Variety, Chalamet gassed up his costar for her work on "Dune: Part Two." "She's bringing exactly what she brought to the first one — which was incredible — but in greater abundance. And she's really become a sister. I'm so grateful to count her as a partner and a sister and a friend," he said, proving their bond runs deeper than playing on-screen lovers in "Dune."
A relationship as strong as Chalemet and Zendaya's lends itself to their work, which is more than evident in the small looks we've gotten at "Dune: Part Two." Unlike the first movie, Paul and Chani's relationship will be the sequel's focus, with director Denis Villeneuve telling Vanity Fair it's "the epicenter of the story." He couldn't say enough about both actors' performances in the film, praising the level of emotion each brought to their characters. Such prominent on-screen chemistry wouldn't be possible without an equal off-screen relationship, which only grew stronger as Chalamet and Zendaya spent months together filming "Dune" in the deserts of Abu Dhabi and Jordan.