Zendaya Fans Just Got Game-Changing News For Dune Part 2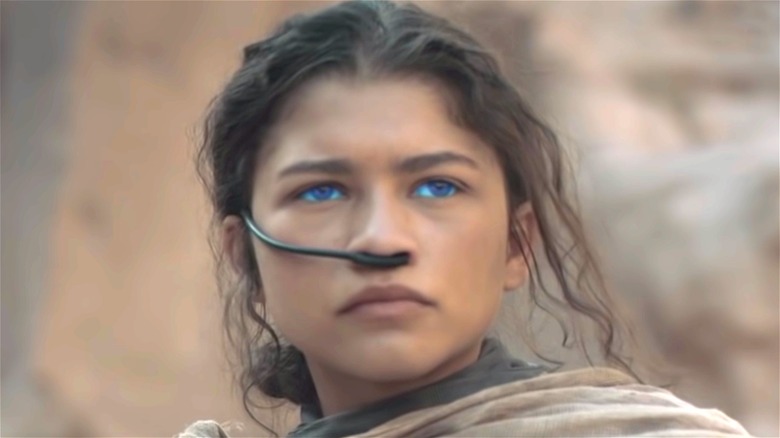 Warner Bros. Pictures
One of the most highly anticipated movies of 2020 subsequently became one of the most exciting of 2021 in light of the COVID-19 pandemic. The wait makes the prospect of watching "Dune" in a packed theater all the more enticing as the massive space epic drops around the country on October 22, 2021. 
Frank Herbert's seminal science-fiction novel received a cinematic adaptation before in 1984 with David Lynch at the helm. It's generally viewed as a failure by audiences and critics alike, but there are plenty of reasons to be hopeful for this new version. For starters, the director is Denis Villeneuve, who's responsible for some of the most thought-provoking sci-fi movies of the last decade, with "Blade Runner 2049" and "Arrival."
The trailers have already raised hype through the roof, and the knowledge that this is the first part in a duology ensures ample time goes toward showcasing this new world in its entirety. However, while audiences wait for the first installment to come out, Villeneuve is clearly looking toward the future and hoping Warner Bros. greenlights a sequel. If it does come to fruition, there's one major change-up to anticipate.
Dune: Part Two will focus on Zendaya's character as the protagonist
Warner Bros. Pictures
"Dune: Part One" puts Paul Atreides (Timothée Chalamet) front and center, as evidenced from all of the marketing materials thus far. In the far-off future, the Atreides family and their underlings travel to another planet for the mythical "spice," but once they arrive, they discover it's not so easy to invade a foreign land to take the natural resources. That includes a group of people already on the planet, known as Fremen, who end up in the middle of the intergalactic conflict. 
Paul may get the lion's share of attention as his family is central to the plot, but Villeneuve recently revealed that if Warner Bros wants "Part Two," then Chani (Zendaya) will potentially take on a bigger role. The director explained, "I am honored to present two such explosive talents on screen [Chalamet and Zendaya] and I can't wait to shoot the second part of 'Dune' to get them back together. Knowing that in the next chapter Zendaya will be a protagonist of the story" (via IndieWire). Though Chalamet's Paul will still be front and center, it seems like Zendaya may expand her part in the story as well.
All in all, fans are just excited to see "Dune" return to the big screen — so here's hoping "Dune" does well enough to warrant a sequel from Warner Bros.