The Hilarious Way Zendaya And Timothée Chalamet Bonded On The Dune Set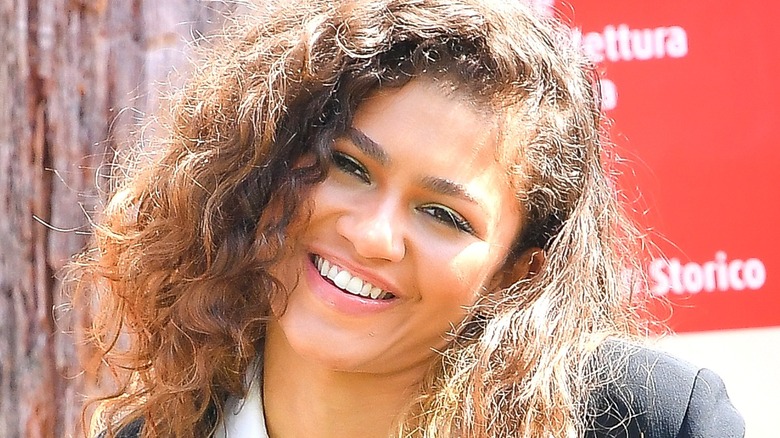 Jacopo Raule/Getty Images
The often delayed "Dune" reboot is poised to launch on October 22, and while there is still more than a month left before the film arrives in theaters and on HBO Max simultaneously, generally positive first reviews from critics have helped drive anticipation.
"Dune" is directed by Denis Villeneuve, whose previous sci-fi works such as "Arrival" have set the bar pretty high for this latest attempt at adapting the unadaptable. Performing these kinds of storytelling feats has basically become Villeneuve's filmmaking M.O. Let's face it, a literary short story about two people caught in the midst of a peaceful alien invasion and the transcendent power of language doesn't exactly scream "cinematic masterpiece," and yet, Villeneuve managed to make it so. Warner Bros. clearly found the right guy for the "Dune" job.
At the center of the new film are young characters, Paul Atreides and Chani of the Fremen, played by Timothée Chalamet and Zendaya repsectively. The complex roles require the two to display real chemistry on screen, so perhaps it was a foregone conclusion that they'd find a way to bond with each other. It was not a foregone conclusion, however, that Soulja Boy would be involved. 
Here is the hilarious way Zendaya and Timothée Chalamet bonded on the set of "Dune."
Timothée Chalamet and Zendaya bonded over '2000s dance songs like Soulja Boy'
In a recent Vogue feature, Zendaya described herself as eager to work with "Dune" director Denis Villeneuve on the project, who was quickly impressed with her precise acting skills and professionalism.
However, it was her costar, Timothée Chalamet, whom Zendaya seems to have become closest to. Zendaya recalled that she was the only actor on the cast list who was close to Chalamet in age, and when they met, he said, "Awesome, someone who understands my jokes!" Beyond those jokes, the two would keep themselves busy on set with impromptu dance parties in her trailer. Zendaya said, "He just rolled up with his little boom box," from which he blasted "2000s dance songs like Soulja Boy."
That camaraderie seems to have evolved into a friendship off-set as well. The two remain in contact when one visits the other's home city, New York for Chalamet and Los Angeles for Zendaya. The actress described Chalamet as "a wonderful person and a good friend to have," something she said she especially appreciated within the film industry, where it can be tough to find someone who understands the pressure that young actors are under.