Day Shift: Are Jamie Foxx And Snoop Dogg Friends In Real Life?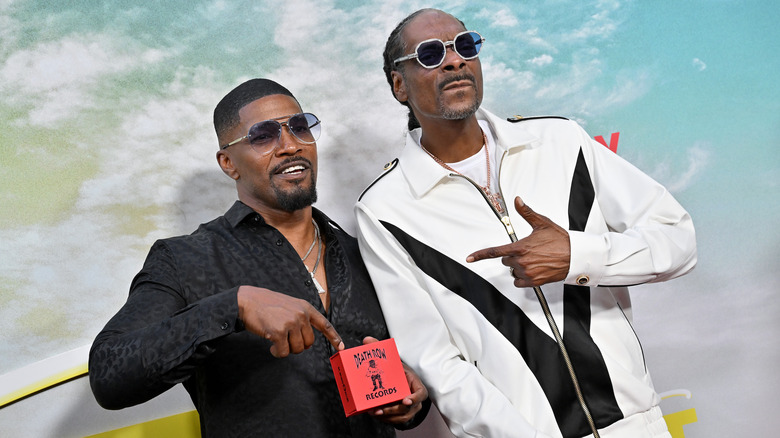 Axelle/bauer-griffin/Getty Images
Netflix's "Day Shift" is a study in partnership. Ok, it's mostly a study on how to brutally murder vampires, but the horror comedy wouldn't exist without some key duos at the helm. One is the collaboration between director J.J. Perry and producer Chad Stahelski, two longtime friends and "John Wick" collaborators. There's also the odd couple-esque pairing of vampire hunter Bud Jablonski (Jamie Foxx) and his nebbish supervisor Seth (Dave Franco), giving the movie a distinct buddy cop vibe, not to mention the muscled vampire-killing brothers Mike (Steve Howey) and Diran Nazarian (Scott Adkins).
Then there's Bud's old buddy "Big" John Elliot, played by Snoop Dogg. When Bud needs some quick cash to keep his family together, Big John comes to the rescue to help his friend get back into the vampire-hunting union. Foxx and Snoop have an easy, natural rapport, so it makes sense that the duo is friendly in real life. "I've known this brother, man...more than a couple of decades," Foxx said on the "Rap Radar" podcast. When Perry expressed interest in casting Snoop Dogg, Foxx jumped at the chance to pull some strings and enlist his friend.
Snoop and Foxx help each other out with parenting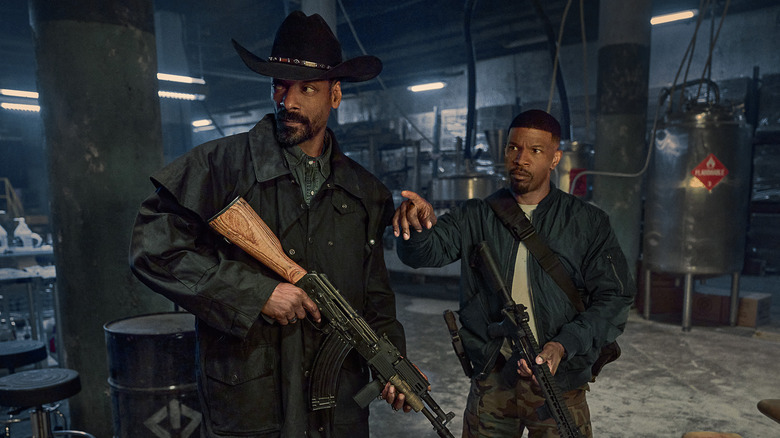 Parrish Lewis/Netflix
Jamie Foxx and Snoop Dogg's friendship is rooted in their respective music careers, and the pair has collaborated on each other's records, including Foxx's 2005 album "Unpredictable" and Snoop's 2006 album "The Blue Carpet Treatment." "Day Shift," however, marks their first movie together.
As much as they're collaborators in the recording studio and on set, Foxx and Snoop have been known to join forces in the name of parenting — especially when it involves some light pranking. In an appearance on "The Tonight Show Starring Jimmy Fallon," Foxx recounted how he once enlisted Snoop Dogg to scare his daughter's boyfriend.
"What happened was my daughter, who didn't know I had already ran a background check on her boyfriend — he comes to the crib and Snoop happens to be there," Foxx told Fallon. "And I said, 'Snoop, there he is right there. Shake him up.'" Foxx continued, "Snoop walked over to my daughter's boyfriend and said, 'Hey, what's up. Look here. We her uncles, you know what I'm saying? So act accordingly, homie.'"
According to Foxx, he and Snoop's little act of intimidation was totally well-meaning. But it does help to have friends in high places. "I wanted the young man to understand that she's got people that really love her," Foxx said. "So that if something does go wrong, Snoop is coming."