The Diplomat's Stunt Doubles Sat On The Sidelines During Kate & Hal's Fight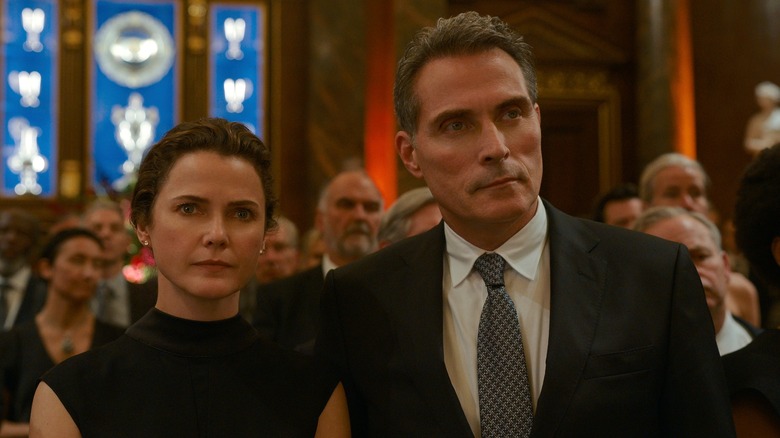 COURTESY OF NETFLIX
Stunt doubles play an integral part in a film's production. In any scene that brings a risk of injury to a main actor, the stunt double can step in and take the literal punches so that there doesn't have to be a break in filming. Of course, sometimes actors want to prove they have the chops as well, so they take the lead, making the stunt doubles' lives much easier. 
Netflix's "The Diplomat" isn't a particularly action-heavy show, but there are moments that normally would've called for stunt doubles. But Keri Russell and Rufus Sewell, who play Kate and Hal Wyler, respectively, were more than happy to take charge for one moment. The scene in question sees Hal say something not nice to Kate, which causes her to punch him. It leads to a spat that leads to a bit more (light) fighting, but Russell and Sewell were more than happy to do it themselves. 
In an interview with Lauren Veneziani of DC Film Girl, the pair were asked about the scene, and they were delighted to talk about it. They confirmed that while stunt doubles were there, their services weren't necessary, as Russell explained, "We kind of like looked at each other like, 'Are we doing this?' Let's just do it!" It resulted in a fun scene that was probably more than a bit relatable to anyone who's gone through a marital spout as well.
Creator Debora Cahn wanted to take the fight just a tiny bit farther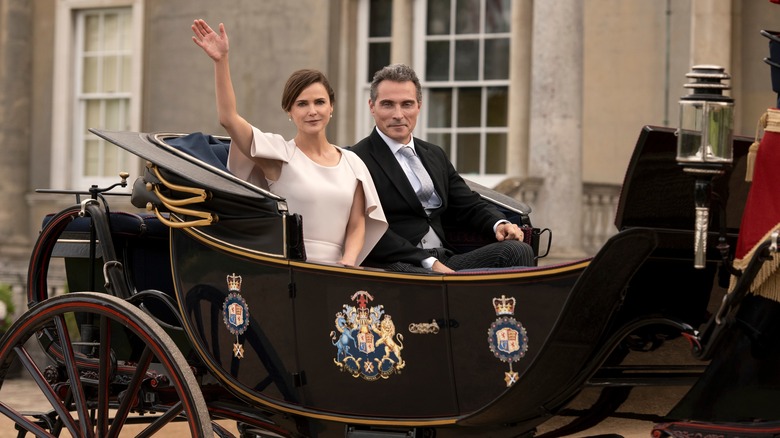 ALEX BAILEY/NETFLIX
"The Diplomat" filmed all over Europe, but when it came to the characters, it wasn't all just sightseeing and tourist destinations. There was real political intrigue afoot, and those flaring tensions led to some serious moments throughout the show's first season. Veneziani also had the chance to speak to the series creator Debora Cahn about the fan-favorite scene, and Cahn was just as ecstatic to see Keri Russell and Rufus Sewell get down and dirty. Cahn elaborated, "I love the idea of being able to take something to its extreme and then just a teenie bit farther, and the kind of, the intensity of the situations that the two of them are in and all the time in their lives — warzones, frontlines — and with each other, like the heightened nature of that I think takes the kind of conflicts that we're in all the time and exaggerates them."
The scene in question may not have been a "John Wick"-style action sequence, but there's always a level of trust that's needed between actors to pull something like that off. Cahn was always impressed with what Russell and Sewell brought to the table and their commitment to their roles. Cahn went on to say, "We had stunt doubles who like sat on the side, like they were in there not a single moment because Keri and Rufus were like, 'Let's do it! Let's really go for it!'"
Cahn concludes by saying that her job is so much easier when actors like Russell and Sewel trust each other and can get the best performances out of one another. "The Diplomat" Season 1 is now playing on Netflix, and there may be more fights in the future as the streaming service has already picked it up for a second season.