Batman's New Suit Was Given To Him By Fan-Favorite Batmen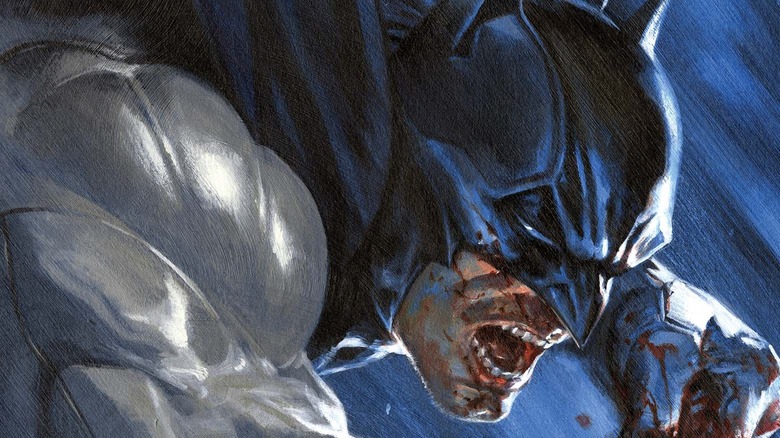 DC Comics
Contains spoilers for "Batman" #135
After Batman enters the Bat-Verse and meets some of the most remarkable Dark Knights from different worlds, the hero receives a new Batsuit that perfectly honors the hero's storied history.
In "Batman #135" by Chip Zdarsky, Mike Hawthorne, Jorge Jimenez, Mikel Janin, Adriano Di Benedetto, Tomeu Morey, and Romulo Fajardo Jr. from DC Comics, Bruce Wayne's battles against the Red Mask — a villain from another universe who is desperate to turn himself into the Joker. It eventually leads him to several different realities where the Joker has returned from the dead. While dealing with the multiple variants of the Joker, Batman meets some of the most recognizable Batmen.
From Michael Keaton's Batman to the Batman from the "Arkham Knight" video games, some assist the hero as he travels from world to world. However, two specific Batmen come in clutch for the hero. Adam West's Batman and Frank Miller's Batman from "The Dark Knight Returns" offer him a new suit and utility belt that are instrumental in tracking down and taking out Red Mask at the end of time. The new Batsuit and small details throughout also give Batman one of his best looks in recent memory.
Batman's new suit honors two of his most important sides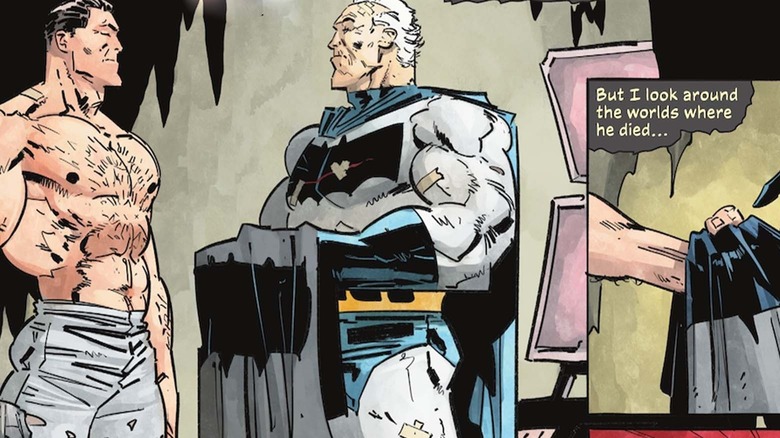 DC Comics
After meeting Batman Beyond and his mentor Bruce Wayne, encountering the old and broken version of Batman from "Kingdom Come," and The Dark Knight from "Batman: The Animated Series," Batman finds himself in the world of "Batman" from his campy adventures in the 1960s. It's there Batman finds Adam West's Joker taking on an even more twisted version of Cesar Romero's Joker, as the villain has become more evil thanks to Red Mask's infection. Upon meeting the main Batman, who doesn't have the tools he usually does after being teleported by Failsafe to Red Mask's reality, West's Batman offers him his yellow utility belt, saying it will help him fight against the darkness, showing the heroic helping hand which made that take on the character so beloved.
On the flip side, the next world Batman visits is much darker and grittier than the West version of Batman's. He meets the grizzled and scarred Batman from Frank Miller, Klaus Janson, and Lynn Varley's "The Dark Knight Returns," who immediately feels connected to the hero. His fellow Batman offers to patch him up, as he's experienced plenty of bumps, bruises, and cuts himself during his tenure as The Caped Crusader. Before Batman heads to another reality, TDKR's Batman offers him a new Batsuit. Bruce accepts the costume with a chunky bat logo. With his utility belt and a new uniform, the current iteration of Batman is brilliantly designed based on two of the most iconic past versions of the hero.
Batman's new look is a winner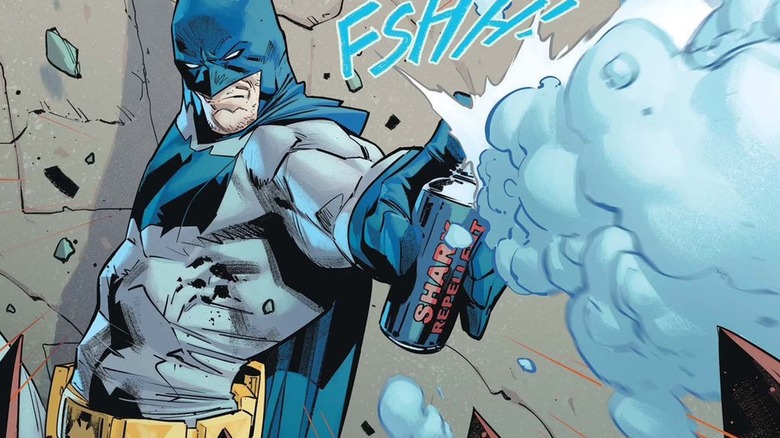 DC Comics
While Batman has had many costume overhauls over the years, his new look is one of the best he's ever had. His blue cowl and cape, big bat logo, and yellow utility belt combine his past to forge something new and exciting. Jorge Jimenez's style makes the Batsuit look incredible, as it doesn't feel like a mismatch of several elements from different Batmen but feels cohesive.
Batman's new ensemble looks great as he takes on the Red Mask, with his utility belt providing him with the shark repellent needed to take down the villain's nightmarish Joker shark creations. It remains to be seen whether Batman will continue to wear the suit in future issues of the ongoing series, but considering how amazing it looks in "Batman" #135, while also factoring in its comic book history for the hero, hopefully, it sticks around for the foreseeable future.
Batman's new Batsuit makes its comic book debut in "Batman" #135 by Chip Zdarsky, Mike Hawthorne, Jorge Jimenez, Mikel Janin, Adriano Di Benedetto, Tomeu Morey, and Romulo Fajardo Jr. from DC Comics, which is in comic book stores and online retailers now.