Whatever Happened To SignalVault After Shark Tank?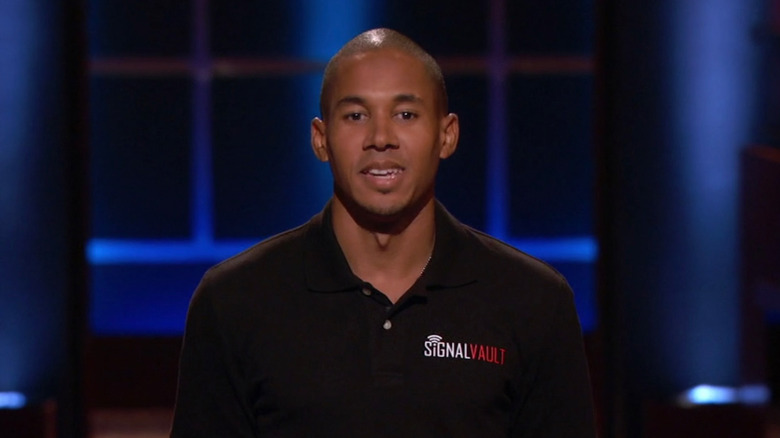 ABC/Hulu
Given that sharks like Mark Cuban, Robert Herjavec, and Kevin O'Leary have all made money in technology, tech pitches tend to go over well on "Shark Tank." In the show's 14 season history, the sharks have invested in everything from the Hater App dating app that matches people by their mutual dislikes, to the Cycloramic panoramic photo app that lets users take 360-degree pictures.
During the Season 7 premiere, which aired in September 2015, one such tech pitch was SignalVault. It's a product designed to combat a multibillion-dollar problem: identity theft, and specifically credit card and debit card theft. Shaped just like a credit card, SignalVault fits inside any wallet or purse and uses an e-field to block intrusions from RFID scanners used by would-be hackers, rendering card data invisible.
Entrepreneur, cybersecurity expert, and SignalVault creator Chris Gilpin asked the sharks for $200,000 in exchange for a 12.5% equity stake in his company. He received three offers. Lori Greiner and Herjavec both offered $200,000 in exchange for a 15% equity stake, while O'Leary offered the same amount for a 20% stake. Gilpin countered by asking for Greiner and Herjavec to team up for $250,000 in exchange for an 18% stake, but Greiner and Herjavec convinced him to go up to 25%.
Gilpin walked away with a deal, but what happened after the cameras stopped rolling?
SignalVault is a bona fide Shark Tank success story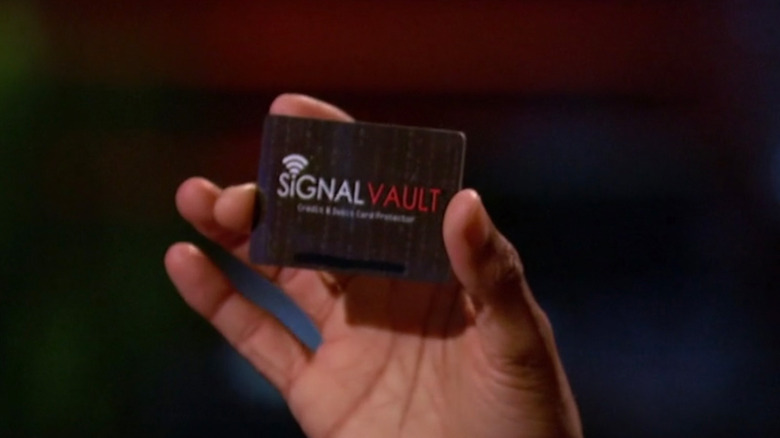 ABC/Hulu
First, some background. As Gilpin explained during his back and forth with the sharks, he'd started the company in September 2013, one year and nine months before pitching it on the show — starting SignalVault with the proceeds he won from a lottery ticket, no less. In that time, Gilpin had sold about 45,000 SignalVaults through his website at $14.95 a pop, for an average annual revenue of $275,000.
SignalVault definitely received a "Shark Tank" bump. Gilpin spoke to The Daytona Beach News-Journal in November 2016, about 14 months after his "Shark Tank" episode aired. In that time, SignalVault did $3.2 million in sales. This allowed Gilpin to move out of his home setup and into an actual office, and to hire employees. One thing that isn't clear is whether Gilpin, Herjavec, and Greiner stuck to the terms of their original deal, changed it, or walked away entirely. 
Today, Chris Gilpin is still the CEO of SignalVault, as well as a motivational speaker. You can still purchase a SignalVault on the company's website, along with several other products like a signal-blocking wallet called a "Shield Wallet," an IQCam outdoor security camera, or an IQConnect smart wall switch. 
"Shark Tank" likes to claim that it exists to help small-time entrepreneurs get great ideas off the ground, and this is one instance where that's definitely the case.