Who Does Perry Mattfeld Play In Shameless?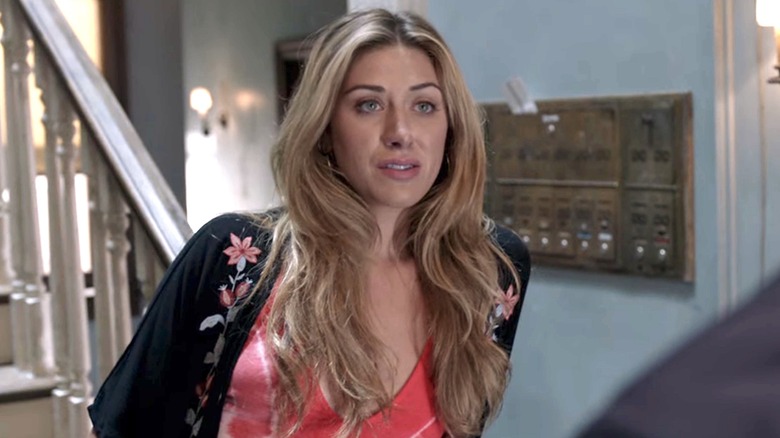 Showtime
Of the many legacies Showtime's hit dramedy "Shameless" can lay claim to, one will surely be helping to launch the careers of several of its younger cast members, "The Bear" star Jeremy Allen White being perhaps the most notable of the lot. But during its 11-season run on Showtime, "Shameless" also happened to boast one of the more impressive lists of guest stars in the whole of the small screen realm.
Some of those actors — Luis Guzmán, Katey Sagal, Bob Saget, and Courteney Cox among them — were, of course, already well-established in Hollywood circles. But others were just getting their big breaks when they made their "Shameless" debuts. And of the names on the latter list, Perry Mattfeld is one that's likely become far more familiar since her "Shameless" days came to an end.
As for when those days began, Mattfeld joined the cast of the series during its eighth season as Mel, one half of a power couple who called Fiona Gallagher's shiny new apartment building home. As it was, Fiona met the other half of that couple first, becoming fast friends with the far more easy-going Nessa Chabon (Jessica Szohr). As "Shameless" fans no doubt recall, Mel's relationship with Fiona was not quite as nice.  
Mattfeld was a character Shameless fans loved to hate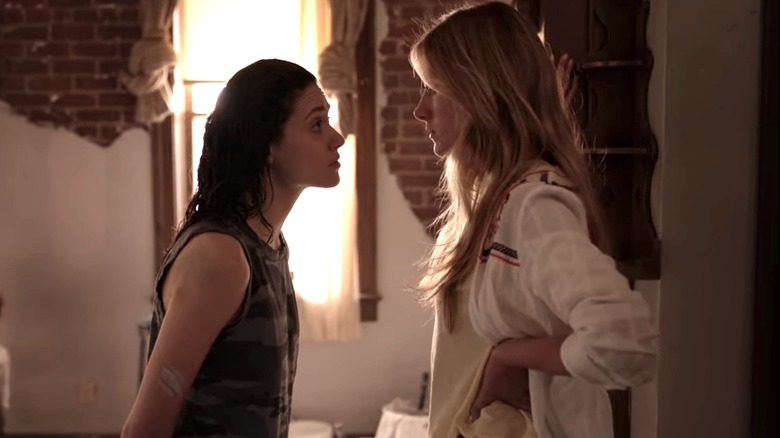 Showtime
In fact, Perry Mattfeld's Mel spends the better part of Season 8 at odds with the eldest Gallagher sibling. Their tete-a-tete gets particularly nasty when Mel cattily chases off a potential renter for one of Fiona's apartments. While Fiona puts that fire out in vintage Gallagher fashion, the ongoing tension understandably prevents the two from connecting in the way Fiona and Nessa did, with Mel becoming the "blonde and b****y" femme Fiona stans loved to hate.
All in, Mattfeld only made seven appearance on "Shameless." Still, the series did indeed prove a springboard for Mattfeld's career, who followed it with a minor role in the Julia Roberts-fronted drama series "Homecoming." The next year, Mattfeld was fronting a series of her own, portraying a blind woman trying to solve her friend's murder in The CW thriller "In the Dark."
That series ended its 3-season run last year, with Mattfeld lining up a pair of film roles soon after. The first came in Shudder's original comedy-horror hybrid "Who Invited Them," where she portrays one half of maybe the world's worst party-crashing couple. This year, Mattfeld shares the screen with Michael Shannon, Kate Hudson, Don Johnson, and Zach Braff in the mistaken identity laugher "A Little White Lie." As for what's ahead, Mattfeld is stepping up to stardom with sizable roles in the highly-anticipated "The Idea of You," and Brian Cox's upcoming military drama "Mending the Line." Suffice it to say, she's come a long way since her "blonde and b****y" days on "Shameless."