Succession: How The Godfather Helped Inspire Kendall Roy's Rise To Power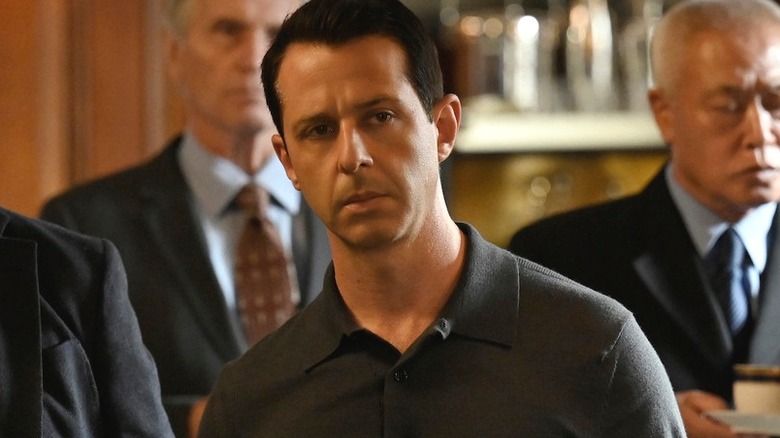 David Russell/HBO
"Succession" star Jeremy Strong portrays the complex and ever-evolving Kendall Roy, and the dynamic of deceased patriarch Logan Roy's (Brian Cox) family tips its Emmy-award-winning hat to "The Godfather." Fans can't ignore the intriguing power struggle that belies the day-to-day business dealings handled by three of Logan's children: Kendall, Roman (Kieran Culkin), and Shiv (Sarah Snook). Perhaps most interesting are the parallels that exist between Kendall and Michael Corleone (Al Pacino), which were intentional on the part of creator Jesse Armstrong and executive producer Mark Mylod. Like Michael, it took a father's death to inspire Kendall's ascension and solidify himself as one of the CEOs.
"And that's the tragedy this show is," Strong said in an interview with Vulture. "We talked about 'The Godfather' a lot at the beginning. Jesse [Armstrong] and Mark Mylod said this was a show about family trauma. And while it is a wickedly funny satire — so funny that it hurts — on late-stage capitalism, for me as Kendall, it mainly just hurts."
"They structured the ending of season one as this bear-hug letter, this attempted coup that ended in an actual bear hug between my father and me," Strong continued. The relationship between Kendall and his father didn't exude the same tried-and-true devotion and respect that Michael showed his dad, Vito (Marlon Brando), in "The Godfather." That's evident by Kendall's attempted takeover of Waystar Royco in Season 1 and the Phoenix-rising-from-the-ashes (in this case water) metaphor. In the end, death and tragedy had a hand in both Michael and Kendall's rise.
The Michael Corleone-like way Kendall ascended to power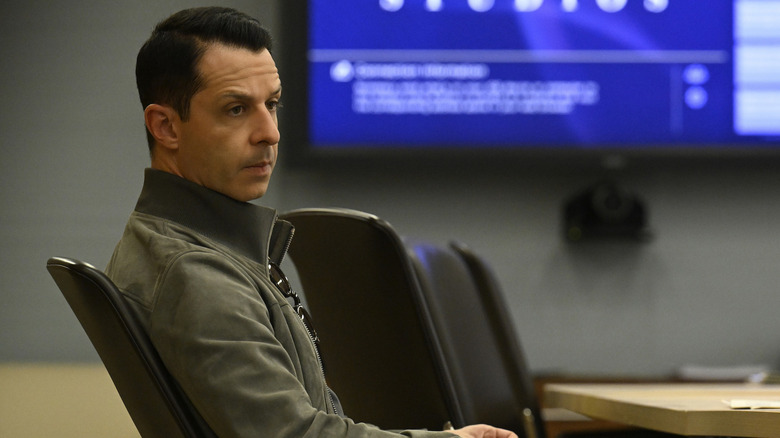 David Russell/HBO
"Succession" makes no bones about reminding everyone that it's a farcical black comedy at its core, unlike "The Godfather." Hilarious scenes like Kendall Roy aimlessly talking to the teleprompter during his pivotal speech in Season 4, Episode 6, "Living+" serve as evidence that the tone of the series doesn't have anything in common with the darker, grittier storytelling in "The Godfather." There's no denying that Kendall's rise to power is eerily similar to that of Michael Corleone, as is their shared lack of morality. But it was tragedy and death that helped drive Kendall's succession.
"And there's another moment I think of from the first 'Godfather,' where Michael comes home after his first wife [Apollonia] has been blown up in a car," Strong said during the above interview. He then compared that crucial moment to the Phoenix-rising accident that changed Kendall forever in Season 1. "He has suffered an irrevocable loss of a piece of himself. Of a piece of his humanity," the actor said.
Strong then compared Kendall's Michael Corleone-like transformation to a memorable line from Oscar Wilde's poem, "The Ballad of Reading Gaol" — "Yet each man kills the thing he loves." The death of Logan in Season 4, Episode 3, "Connor's Wedding" opened the door for Kendall to ultimately become the leader of the Roy family, but, for now, Roman (Culkin) serves as CEO alongside his brother. But will Shiv (Snook) have a chance to make her own case before the series finale?