The Marvelous Mrs. Maisel Clues That Point To Why Joel Is In Jail
In between all of the jokes and costume changes, Season 5 of "The Marvelous Mrs. Maisel" gives viewers a glimpse of what the future holds for these characters. In 1987, Miriam "Midge" Maisel (Rachel Brosnahan) is a world-famous comedian, but her ex-husband hasn't been so lucky. Titled "The Pirate Queen," Episode 5 reveals that Joel Maisel (Michael Zegen) is in prison, where Midge visits him regularly. The opening scene gives a few hints about what's going on in Midge's life. Rose Weissman (Marin Hinkle) has died, though Midge and Joel have a granddaughter named after her. Midge is making money by promoting a line of high-end wigs and she's still not talking to Susie Myerson (Alex Borstein), but the flash-forward also offers clues about Joel's incarceration.
"It did say in the script that it was a short sentence. I think it was only two years, so I knew he didn't kill anybody. It did appear to be some sort of white-collar crime," Michael Zegen explained to Vulture. "But the truth is that it's more than that and it's deeper than that. I was happy with the reveal."
Although it looks like Joel didn't commit any violent crimes, it's clear that whatever he did was about protecting Midge. Despite their messy divorce, Episode 5 shows that Midge and Joel still have a lot of love for one another. Even though Joel's future isn't looking very bright, his character arc is finally coming full circle. 
Joel is a lover, not a fighter
From the very beginning of the series, Joel has struggled with his devotion to Midge. He loves her, but he can't stand to see her become a successful comedian, which was his dream. Joel decides that he wants a second chance with Midge after cheating on her with his secretary, though the pair ultimately divorce. However, these former lovebirds are certainly still attracted to each other. They share a kiss in Episode 5 after having an argument about Susie's mob ties, although we know that it doesn't change their relationship. The "60 Minutes" flash-forward in Episode 2 revealed that Midge has three famous ex-husbands, though none of her other husbands are Joel.
Considering what we know about Joel, that adds up. Even though he loves Midge dearly, he never fights for their relationship when it counts. When Mei (Stephanie Hsu) breaks up with him, Joel is devastated and he goes on a drunken tirade on stage at The Button Club. When he causes a scene in the gambling den and gets beaten up by Mei's friends and family, Joel doesn't even try to stop it. He may struggle to make the right choices, but he's not a violent man. He would never do anything to jeopardize his relationship with his kids, especially since he feels guilty for breaking their family apart. Joel isn't the type to physically harm anyone, but the fact that he's in jail shows that he's finally willing to love Midge unconditionally. 
Who is Joel doing really business with?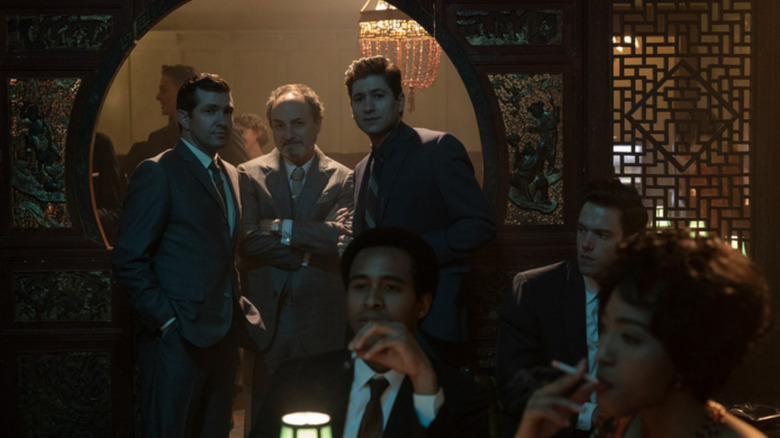 Phillipe Antonello/Prime Video
The fact that Joel's incarceration has something to do with protecting Midge demonstrates how much his character has changed over the course of the series. When we meet Joel, he has no sense of loyalty. He betrays Midge and he pays the price. The divorce forces him to confront his failures and he slowly starts to change. He pinpoints his strengths and uses them to his advantage, instead of struggling to fit into a certain mold. He opens up a club and the business is quickly expanding. Beyond his relationship with Midge, there are plenty of people who could be double-crossing Joel. He seems to have a lot of business partners, and some of them are shadier than others.
First of all, a gambling ring operates in the basement of Joel's bar, and Mei's family probably doesn't have much love for Joel now that they've gone their separate ways. Secondly, Joel has been friends with his business partner Archie Cleary (Joel Johnstone) for years, but that doesn't mean there won't be any last-minute backstabbing. On the other hand, Joel's father, Moishe (Kevin Pollak), is incredibly gullible. Moishe organizes an extraction mission after Midge off-handedly says that Mei is stuck in China, so it's possible that Joel's in jail because he's taking the fall for something his father did. Joel also has Susie's mob goons on his radar, so viewers will have to wait and see what happens with this storyline moving forward.