Who Plays Cam Tucker On Modern Family?
It's not too much of an exaggeration to say that if even one member of the main cast for "Modern Family" wasn't there, the beloved sitcom just wouldn't have been the same. Every major member of the Dunphy, Tucker, and Pritchett clan is important to the show's unique flavor, and that includes Mitchell Pritchett's goofy yet loving husband Cam Tucker. Watching this couple play off of each other in hilarious fashion all while raising their daughter Lily is one of the most endearing elements of "Modern Family," and it thankfully stayed that way all throughout the series' run.
While Cam proved to be one of "Modern Family's" breakout characters in the long run, some viewers may not know just who exactly plays him. Wonder no longer — Cam is played by Eric Stonestreet, a longtime actor that TV fans may have crossed paths with through a couple classic procedural series or even via the realm of reality TV.
Eric Stonestreet has appeared in all sorts of stuff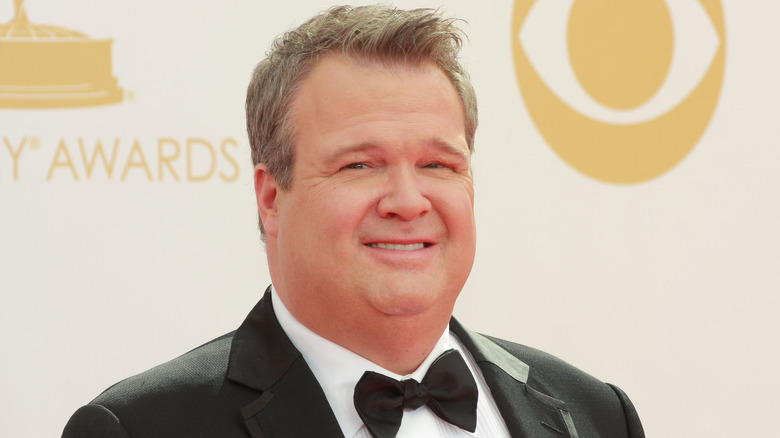 Featureflash Photo Agency/Shutterstock
Interestingly enough, Eric Stonestreet almost held a very different career that would have seen him in the world of sports. However, a series of injury-related events precipitated his ultimate pivot to professional acting. He held a recurring role on "CSI: Crime Scene Investigation" as Ronnie Litre, and he's made guest appearances on series like "Malcolm in the Middle," "Bones," "NCIS," "Monk," and "American Horror Story." Recent years have also seen the actor extend his voice acting portfolio, with starring roles in Illumination's "The Secret Life of Pets" movie franchise and small screen productions like Disney's "Sofia the First."
Stonestreet has also grounded himself in the reality TV sphere. He served as a host for the relatively short-lived ABC series "The Toy Box," in which contestants created toy prototypes for judges to evaluate in a "Shark Tank"-esque fashion. More recently, he has served as the host for Fox's "Domino Masters," which sees teams of competitors battling against one another to build the most impressive domino creation.
Of course, while Stonestreet's career has been diverse and filled with unique roles, his most recognizable credit remains "Modern Family." The part means a lot to Stonestreet too, and he has spoken in particular about the significance of contributing to on-screen LGBTQIA+ representation. "If it changed one conversation in one household, then that's a massive impact for us," Stonestreet told TODAY. "That means a tremendous amount to me, and I know that's happened for sure."