Modern Family's Eric Stonestreet Almost Had A Very Different Career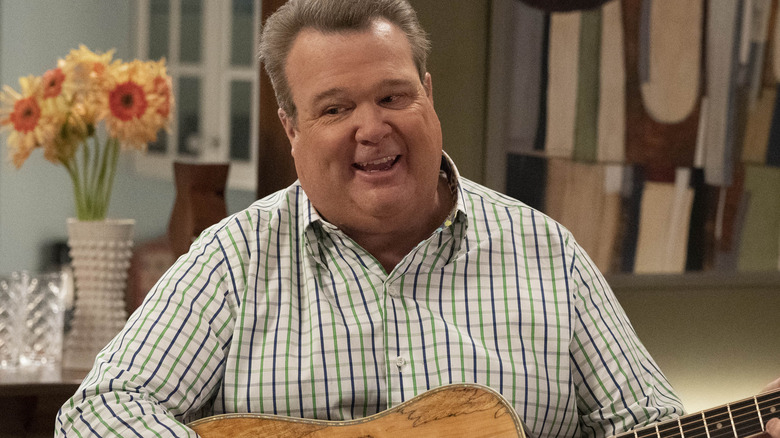 ABC
Almost all working people in the world had to take different paths to embark on the career they are in today. And some of these decisions came with multiple crossroads that could have been life-changing in one way or another. This, of course, is even true for successful actors who, if they had chosen a different path, may have ended up as average fans rather than in the spotlight. This rings true for Eric Stonestreet, who was heading towards a shockingly different career had he stayed on his trajectory earlier in life. If Stonestreet hadn't shifted gears, the hilarious performer may have ended up becoming a prison warden.
When Stonestreet spoke with The Hollywood Reporter, he explained that his initial sights were set on being the man in charge of some of the country's worst criminals. "My career path was that I wanted to be a warden at a level-five penitentiary," he explained. One of these prisons was located where Stonestreet grew up. "There's a federal facility in Leavenworth, that's literally called the 'Hot House' and that's a level five penitentiary." 
This unique employment choice didn't come out of nowhere. "I grew up around prisons. My degree is in sociology, with an emphasis in criminal justice," he said. "I was going to school to be an administrator in a penitentiary." And although prisoners may have benefited by having the funniest warden ever, if Stonestreet stayed the course, "Modern Family" fans wouldn't have had the Cameron Tucker they know today.
A path from prison to family
Before heading to Hollywood and eventually joining the cast of the hit ABC sitcom "Modern Family," Eric Stonestreet didn't even have an acting career on his radar. The Kansas City native explained to Reuters that after an injury that thwarted his track and field scholarship to a junior college, he transferred to Kansas State University. His studies narrowed his goals to having a career in the prison correctional system, but a bad breakup with a girlfriend pushed him to change things up. For Stonestreet, that change took the form of his auditioning for a play, which changed his career outlook. "I just caught the bug," he said. "It was exhilarating."
As fans know, Stonestreet never ended up welcoming "fresh fish" to their new cages as he eventually snagged the role of Cameron Tucker, whom he portrayed for 250 episodes over "Modern Family's" 12-year run. His comedy chops, however, didn't just come out of nowhere. Stonestreet moved to Chicago on his way to Hollywood, studying at the famous Second City Theater, where he developed his funny bone. He then moved to Los Angeles where he began booking small TV roles on shows like "CSI" and "ER." And even though he has solidified himself as the hilarious performer we know him as today, Stonestreet still feels a connection to the criminal world. "I've always been fascinated by crime and punishment," he explained. "Someday I hope to get to be in an organized crime movie."