Whatever Happened To Kisstixx After Shark Tank?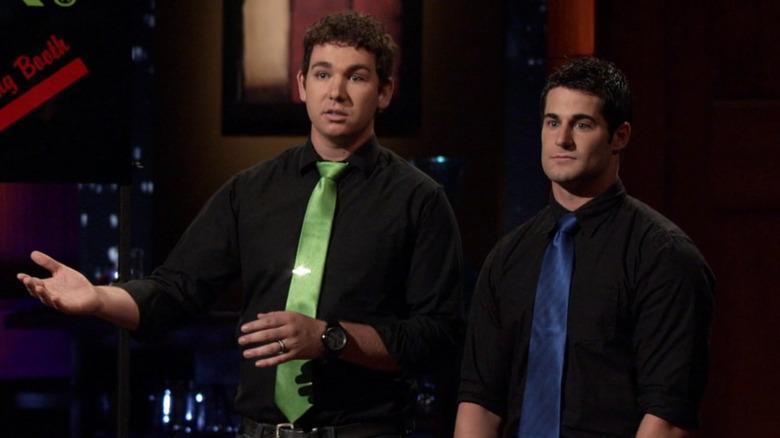 ABC
Who knew that an effort to get girls in college would become a full-time business? Utah Valley University students Dallas Robinson and Mike Buonomo created Kissstixx, a flavored chapstick to enhance kissing. The product contains two chapsticks of complimenting flavors that couples can apply to create an increased feeling of chemistry while smooching. Within less than a year of operation, the duo's business pulled in $80,000 in sales.
It was then time to see if the sharks of "Shark Tank" were ready to pucker up and take their deal that sought $200,000 for 20% of the business. Their presentation contained an especially memorable moment that showed Kevin O'Leary and Barbara Corcoran testing the product by kissing each other, much to Corcoran's dismay. 
Despite this and the reveal of a $540,000 Walgreens purchase order, the million-dollar evaluation baffled most of the sharks who felt they couldn't give fair counter offers. Mark Cuban is the only shark left standing, willing to give the $200,000 for 40% equity. The two were happy to not only have made a deal with the outspoken billionaire but also for managing to get O'Leary and Corcoran to press lips. But have things been as lucky for the business itself?
Kisstixx was one of Mark Cuban's best investments
After getting a deal with Mark Cuban on "Shark Tank," Dallas Robinson and Mike Buonomo's flavored lipstick Kisstixx saw some solid success. As with many businesses following their episode's airing, Kisstixx became quickly overwhelmed by orders and sold out of inventory. On an update segment from Season 4, the two reveal that since being on "Shark Tank," they've made $1 million in sales while also appearing in over 1,000 retailers with plans to expand even further by year's end. They have also opened up three new product lines. Mark Cuban himself spoke highly of the company to Forbes, considering it one of his best investments alongside other success stories such as Tower Paddle Boards and Lollacup.
A following update segment from Season 5 saw things take a turn as Buonomo left the business for a new job opportunity. But that didn't necessarily slow things down. Cuban helped the company get a new and improved website domain. They would also team up with Nashville country artist Danielle Peck whose song "Kiss Me Like You Miss Me" became associated with the brand while Peck herself became a contributor for the site. But despite this, as well as gaining $2 million in sales and locking a deal with Kroger, the business itself would close up shop in 2018 due to declining sales. Robinson went on to become the Executive Vice President of the charitable organization The Kokua Project.