Star Trek: The Next Generation Actually Featured A Young Kirsten Dunst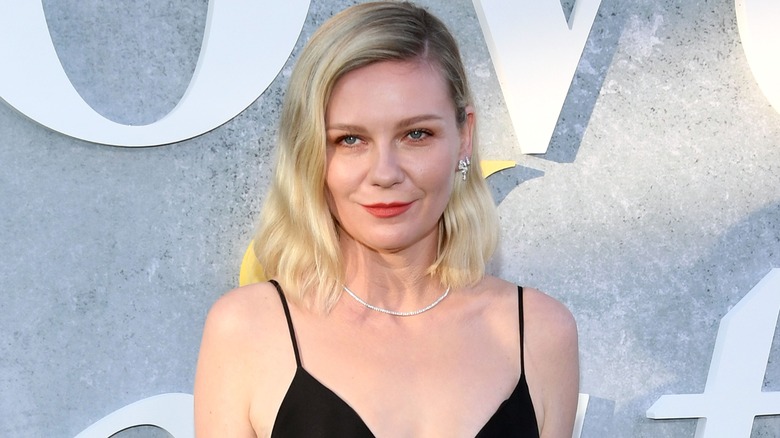 Jon Kopaloff/Getty Images
Kirsten Dunst's burgeoning television and film career found its way to the "Saturday Night Live" stage on November 12, 1988. The six-year-old actor appeared as one of the granddaughters of Dana Carvey's iconic President George Bush on "SNL." But Dunst's portrayal of the blood-sucking killing machine Claudia in Tom Cruise and Brad Pitt's "Interview with the Vampire" truly launched the actor to prominence six years later in 1994. But just the year before, the young thespian was a guest star in the final season of "Star Trek: The Next Generation."
In Season 7, Episode 7, "Dark Page," Dunst portrays a kind-hearted telepath named Hedril. Deanna Troi's (Marina Sirtis) mother, Lwaxana (Majel Barrett-Roddenberry), is busy teaching the one-time exclusively telepathic Cairn species how to communicate verbally, and Troi's mom refers to Hedril as her star pupil. Sadly, unbeknownst to the rest of the Enterprise-D crew, Hedril reminds Lwaxana of her firstborn daughter Kestra (Andreana Weiner) who died tragically in an accident while Deanna was still an infant.
Dunst has played virtually every character type imaginable from Peter Parker's (Tobey Maguire) love interest Mary Jane Watson in Sam Raimi's "Spider-Man" trilogy, to the younger Amy March in 1994's feature film version of "Little Women," to Sofia Coppola's on-screen adaptation of Marie Antoinette. But don't let her small role on "TNG" fool you because Hedril was integral to "Dark Page's" storyline.
Dunst portrayed Hedril on Star Trek: The Next Generation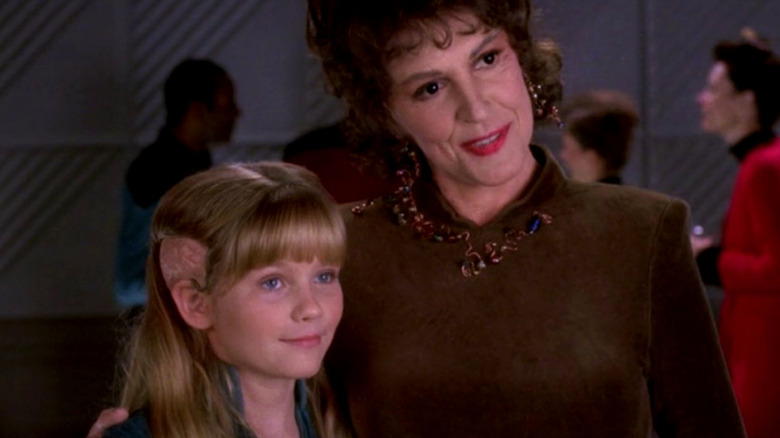 Paramount
Almost a year prior to her vampiric character Claudia joining the undead family of Lestat de Lioncourt (Cruise) and Louis de Pointe du Lac (Pitt) in the feature film adaptation of author Anne Rice's "Interview with the Vampire" novel, Kirsten Dunst warped her way into the 24th century. True, Hedril was a tiny role on "Star Trek: The Next Generation," but Dunst's warmth and authenticity added even more gravitas to the already heart-wrenching storyline in which Lwaxana (Barrett-Roddenberry) finally had to confront the loss of her oldest daughter, Kestra (Weiner).
Some fans might be surprised by the acting skills Dunst possessed at such a young age, but "TNG" wasn't the actor's first rodeo. In fact, she'd been working professionally since she was a toddler. "I was three years old in the grocery store," Dunst said during an interview with Vanity Fair. "And people would come up to my mom and be like, 'Your kid's cute. You should put her in like child acting or modeling.' And we were in New Jersey. And so, I signed with the Ford Modeling Agency as a little girl."
"I went out for a Kix cereal commercial, and I booked it," Dunst continued. "And then 'Interview with the Vampire' came around. And that, you know, was my big break." Dunst most recently portrayed Rose Gordon in the film "The Power of the Dog" alongside husband Jesse Plemons and the MCU's own Doctor Strange, Benedict Cumberbatch.