Whatever Happened To Grace And Lace After Shark Tank?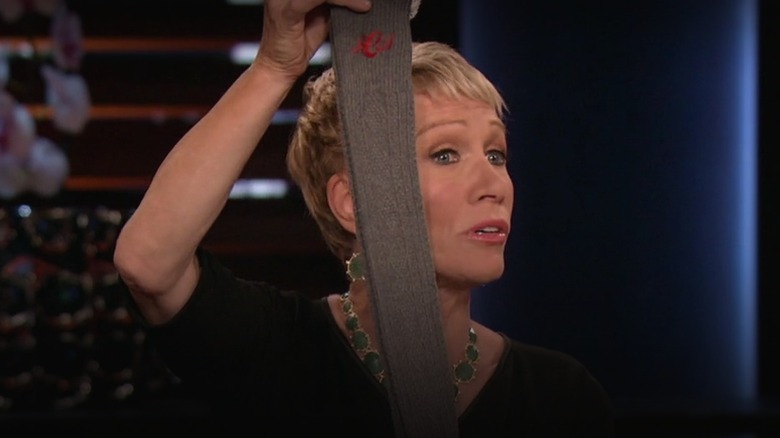 ABC
For hopeful entrepreneurs risking the reputation of their new company by appearing on ABC's hit series, "Shark Tank," one thing better than a great backstory is the prospect of some truly good deeds that business success would bring to the world. For Rick and Melissa Hinnant, the Texas married couple had both of these factors going for them when they presented their company, Grace & Lace, to the panel of carnivores. For the backstory, the couple explained to the Sharks that the idea for this new company stemmed from a personal tragedy. Back in 2011, they lost their infant daughter after giving birth prematurely, which confined Melissa to bed rest. This pushed her to be creative to fill the extra time.
What first started out as a hand-knit pair of boot socks Melissa created during her bed rest, led to the birth of a new business. Amazingly, after posting on Etsy, they saw over 50,000 pairs sold in just two years. This was enough for the couple to try to take the business to another level on the "Shark Tank" stage. That turned out to be an incredible decision as they struck a deal with Barbara Corcoran. This then proved to be the perfect match as Grace & Lace boasted over $1 million in sales in just five days after the episode aired. By the end of 2022, not only was Grace & Lace averaging an annual $15 million in sales, but the Hinnants have been able to make good on their promised charity work.
Grace & Lace successes has built orphanages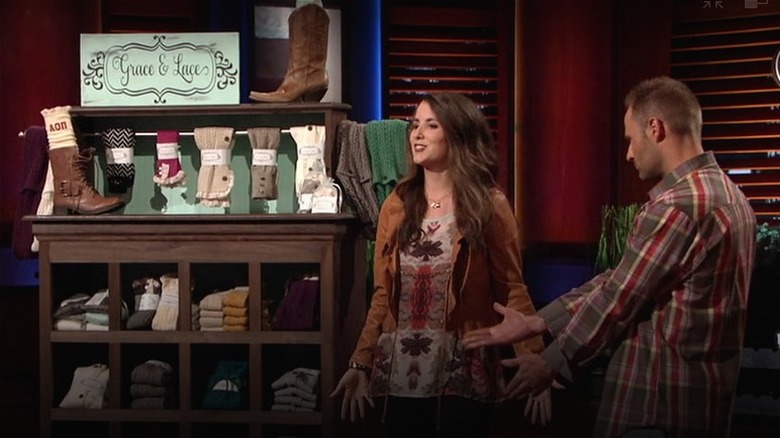 ABC
When Melissa and Rick Hinnant first presented their Grace & Lace business to the investors on a Season 5 episode of "Shark Tank," they already had plenty of positive growth going for them. The moguls perked up when they discovered that the couple had started this business with only $800 and, after already selling 50,000 pairs, had no debt. When the duo asked for $175,000 in exchange for 10% of their business, Robert Herjavec wanted to take the deal immediately. However, Barbara Corcoran convinced the couple that she was a better match, offering the same deal but with half the given money becoming a line of credit. Rick and Melissa shook hands with Barbara, and the new business team was off and running.
Today, all the products of Grace & Lace can be purchased on their website. The company has expanded from just boot socks to a wide range of apparel, which includes items like sweaters, jackets, and pants. This expansion reflects the impressive profits Grace & Lace has pulled in. In fact, by 2019, their overall sales number had reached $47 million (via Shark Tank Recap). What's even better than the company's success story is how Melissa and Rick have taken their profits to build and open orphanages in India. As of October 2022, the Hinnants have built thirteen facilities to house orphaned children (via Shark Tank Blog). From tragedy to profits, combined with the duo's incredible generosity, makes this "Shark Tank" feel-good story one of the show's best.