Why Attack On Titan Season 4 Part 2 Episode 12 Was Delayed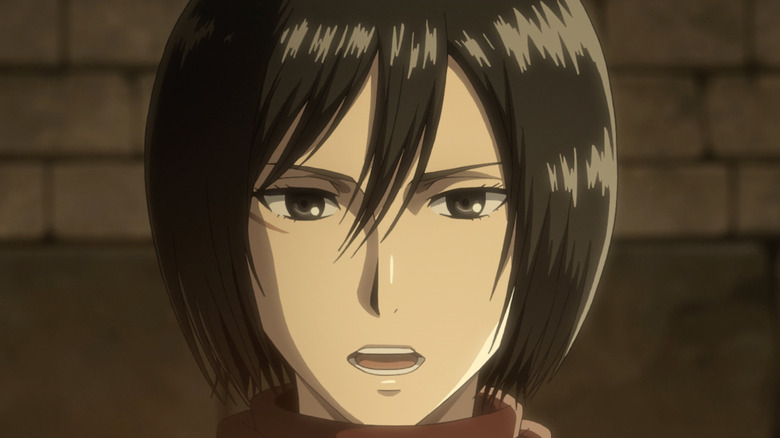 MAPPA/Funimation
Although the fourth season of the enormously popular anime series "Attack on Titan" has always been billed as "the final season" of the series, longtime fans know that this title is rather misleading. Rather, Season 4 of "Attack on Titan" has been ongoing ever since 2020, and has been split into three separate parts that could each constitute their own season of television — with Part 1 playing out across 16 episodes and Part 2 across 12 episodes.
As if this multi-year extension of the final season wasn't torturous enough for fans, audiences experienced yet another delay with the finale of Season 4 Part 2 — which was delayed one week for AnimeJapan2022. Season 4 Episode 12 was originally supposed to air on March 27th, 2022, but was pushed back to April 2, 2022, to make way for "Special Programming" related to this event, according to We Got This Covered. The annual event is held in Tokyo, Japan to celebrate and exhibit anime studios, shows, and fans.
Though this delay was particularly unfortunate (due to all of the hype surrounding the finale of Part 2), these extended waits have become all too common for fans of "Attack on Titan" — with the upcoming Part 3 of Season 4 being no different.
The Final Chapters: Special 2 hasn't been delayed... yet
Fans who have been following the so-called "final season" of "Attack on Titan" will know that Season 4 Part 3 began on March 4, 2023, with the hour-long television special "The Final Chapters: Special 1" — adding yet another series of titles and segments to split up the story into smaller portions.
With only five chapters of the manga left to adapt, it's expected that the second television special (likely titled "The Final Chapters: Special 2") will be the final part of Season 4, and the finale of "Attack on Titan" as a series. That said, we still don't have any word on the exact release date for this special, though the show's official website promises a release window of "Fall 2023." This rather general time frame leaves plenty of room for unexpected delays that could push the series finale into 2024, though for now, fans should remain optimistic that the long-running anime will finally reach its climactic end later this year.
If the series truly does conclude in 2023, it will mark the end of an epic decade-long journey alongside Eren Jaeger (Yuki Kaji/Bryce Papenbrook) and the rest of the Scout Corps — and the conclusion of the genocidal rampage known as The Rumbling.