Shazam Star Zachary Levi's Forgotten Hallmark Movie Moment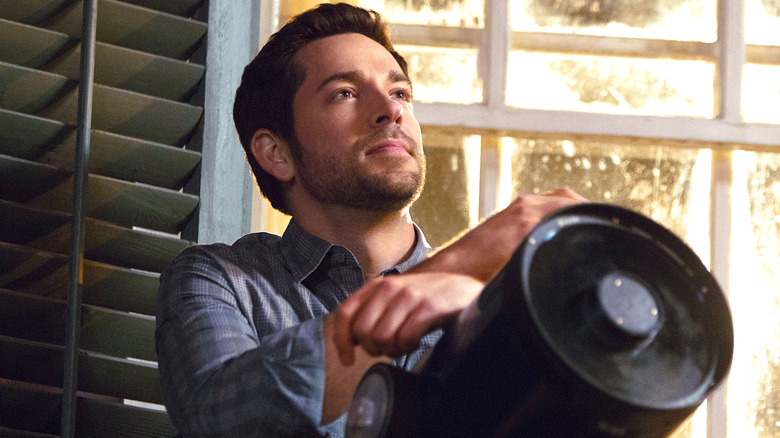 Hallmark Channel
Zachary Levi is an actor who has worn many hats in the course of his now decades-long career. Levi, of course, cut his teeth with a role on a little-seen sitcom called "Less Than Perfect," but was soon enough earning some legit cult cred for fronting NBC's much-loved, but less-watched spy dramedy "Chuck." Before you could blink, he was voicing a Disney prince in "Tangled," and turning up in MCU projects (he was Fandral in the Thor movies), before landing the role of Shazam in the DC franchise of the same name. 
But did you know that somewhere in the midst of all this, Zachary Levi also added the title of Hallmark hunk to his onscreen repertoire? 
Yes, that's right, it was the very same Zachary Lev fronting the greetings card company's 2013 romantic drama "Remember Sunday." Believe it or not, that made-for-TV flick was released the very same year Levi debuted his swashbuckling Asgardian hero Fandral in "Thor: The Dark World," and while there's little question fewer people saw "Remember Sunday" out of the two projects, those who did might well argue it features a stronger performance from Levi. If nothing else, the unabashedly soapy "Remember Sunday" likely boasts a slightly better reputation, as Levi's lone Hallmark venture went on to earn a spot in the production house's vaunted Hall of Fame Collection. 
Levi shared the screen with Gilmore Girls alum Alexis Bledel in his lone Hallmark flick
As for the dramatic merits of "Remember Sunday," they're a bit suspect: to be honest, the movie is essentially a toned-down rehash of Adam Sandler and Drew Barrymore's hit 2004 rom-com "50 First Dates." That film found Barrymore playing a woman with sever short term memory issues, and Sandler playing the commitment-phobic cad who falls head over heels for her. The roles are reversed in "Remember Sunday," with Zachary Levi playing Gus, a memory-challenged jeweler whose amneisa issues began after he survived a near-deadly brain aneurysm.
His romantic counterpart in "Remember Sunday" is "Gilmore Girls" alum Alexis Bledel, who plays a luck and love-starved waitress named Molly. As the story goes, Molly thinks her luck has finally changed for the better when she meets Gus, believing the handsome, albeit mildly eccentric jeweler may be the one. Things understandably get complicated when she realizes Gus hasn't been entirely forthcoming about his inability to, you know, remember who she is when he wakes up any given day.
This being a romantic affair, of course, Molly chooses to accept the challenge of winning Gus' heart anew every single day for the rest of their lives. And if you've seen "Remember Sunday," you know it milks that terribly amorous setup for every ounce of romantic flavor. Thankfully, Levi and Bledel have the onscreen chemistry to elevate the sticky sweet "Remember Sunday" over typical Hallmark schlock, thus making it a low-key must-see in their respective oeuvres.