GOTG Vol 3: Pom Klementieff Says Mantis (& James Gunn) Changed Her Life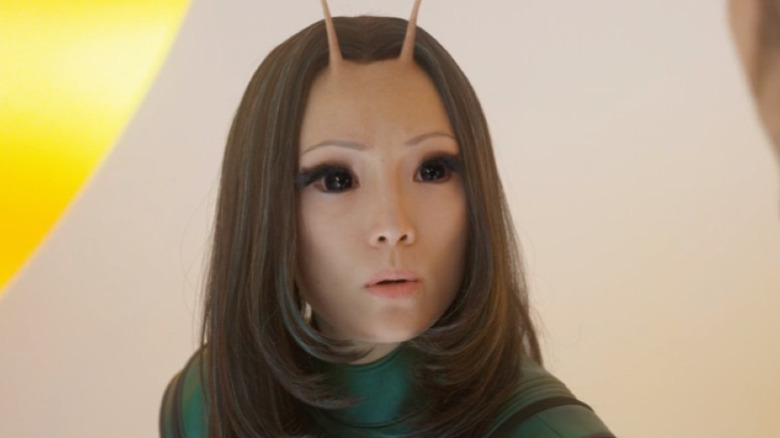 Disney+
"Guardians of the Galaxy 2" served as the second outing for Chris Pratt's Star-Lord, and his rag-tag group of bad guys turned semi-good. It also offered an opportunity to give fans a lot more background about Peter Quill and answered how he was able to hold the Power Stone for a few moments at the end of the first film. However, perhaps the most intriguing part of the film was the introduction of Mantis (Pom Klementieff) and her relationship with the rest of the team. Her connection to Drax (Dave Bautista) seemed to be the highlight as they are both oddballs and lack any sense of social cues.
The role served as a breakthrough for Klementieff, who had yet to receive worldwide recognition, appearing in smaller projects, albeit appearing in Spike Lee's "Old Boy" alongside Josh Brolin. The is no arguing the fact that landing the role of Mantis in "Guardians of the Galaxy 2" and then reprising in "Avengers: Infinity War," "Avengers: Endgame," "Guardians of the Galaxy Holiday Special" and "Thor Love and Thunder" changed her life. And she said as much, confessing to interviewer Nathan Fillion when asked during the press junket (in audio provided to Looper) what she means to her.
"For me, it's not Mantis. It is Mantis and James Gunn. James changed my life, and to get to play Mantis, God...she's an empath, so you have to have a deeper connection with everything and everyone. It is beautiful to tap in and create deep and profound, layered emotions, you know?" She went on to say more about her experience, explaining that it was fun to be "super weird." "Yeah, and then I got to be super weird, which is really fun to do too. And that just comes naturally to me. I love playing this character, and I am so grateful to James for giving me this opportunity."
She is the glue that keeps the Guardians together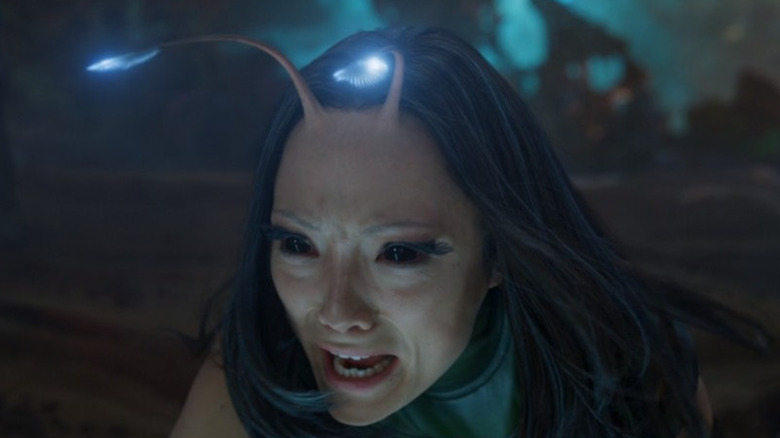 Disney+
When putting together a team of people who not only seem to lack any sort of desire to make the world a better place but also prefer to work alone, something has to keep them together. While Star-Lord acted as the driving force to bring them together in the first film, Mantis seems to be the only character that can understand the inner workings of not just each individual member but the team itself. Klementieff revealed in that same interview that James Gunn described Mantis as the member that keeps the team working.
"To get to play with all of these incredible actors and each character completes each other. And I remember Jeames telling me that Mantis is kind of like the glue that kept the Guardians together in some ways, you know." She goes on to say that she thinks the role offers a great message to the world. "I think it is beautiful, and I think the world lacks a lot of empathy, you know? It is a beautiful message."
In the real world, allowing everyone to see the other side of any conflict and help them work together as a team would be a superpower more valuable than any other in Marvel Comics. Klementieff portrays that role wonderfully and is parlaying that into a burgeoning career. Much like how Dave Bautista turned his role in "Guardians of the Galaxy" into a successful movie career by appearing in franchises like James Bond and "Dune," Klementieff is doing the same as fans will see her in both installments of the two-part finale of the "Mission Impossible" franchise.