Cocaine Bear's O'Shea Jackson Thinks He Had An Easier Time On Set Than Dad Ice Cube Did In Anaconda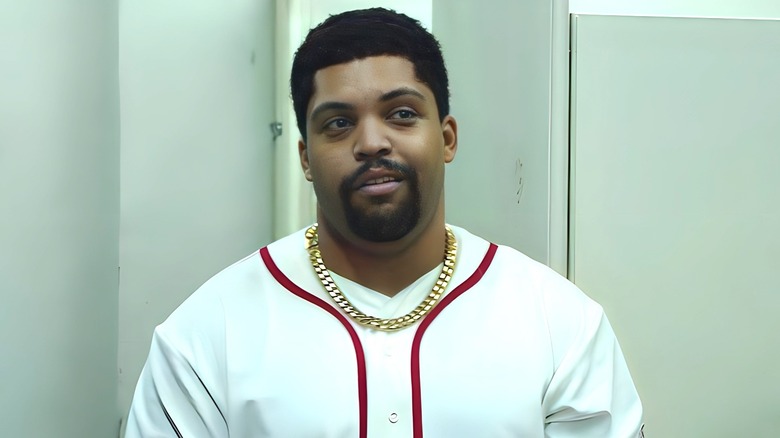 Universal Pictures
Fans of horror comedies have been a bit spoiled over the last year. After 2022 featured the releases of "Barbarian," "The Menu," and "Bodies Bodies Bodies," 2023 has already gifted them with a dancing killer android in "M3GAN" and a drug-addled black bear with "Cocaine Bear."
O'Shea Jackson Jr. plays Daveed, a fixer for organized crime, in "Cocaine Bear." That's a fact that will not go remiss, being that his father, rapper-actor Ice Cube, went up against a giant snake in the 1997 creature feature "Anaconda." In an incredible coincidence, both characters are also among the only survivors in their respective films.
All the same, Jackson thinks he had an easier time on "Cocaine Bear" than his dad did on "Anaconda," simply due to the massive size of the animatronic snake Ice Cube had to contend with on set. "I was on the set of 'Anaconda' a lot. I was into reptiles and everything," Jackson told Syfy. "This is the '90s. They're not really popping when it comes to working technology yet. This animatronic snake, it's 300 or 400 pounds, and it would go haywire. It would tear up the set," the actor went on.
While Jackson had an easier time, Ice Cube did get to kill the snake
While the thought of an out-of-control robot who might kill someone also puts "Anaconda" even closer to "M3GAN," this faux snake was no laughing matter, according to O'Shea Jackson Jr. "It destroyed catering one day. So a lot of the scenes where you see actors wrapped up in the snake — they are scared to death," the actor explained. "Because, if this pops my dad in the mouth, it's 'Tragedy in Brazil as rapper Ice Cube drowns in river.'"
Luckily for Ice Cube, he survived the ravages of the jungle and was even lucky enough to be the one who kills the giant snake in "Anaconda." This factor also aided in Jackson's enjoyment while watching the film as a kid, despite seeing the tricks of how things worked from his time on set. "He got the final kill in 'Anaconda,' with the axe, which was just dope as a kid — to see your dad completely destroy this snake," 
Jackson said. Whether the duo will be teaming up for a father-son nature attack movie in the future is still up in the air. Jackson is in no hurry, however. "Give me my Lakers and my air conditioning," the actor said.