Yellowstone: Josh Lucas Wanted To Play Rip Before Landing His Role As Young John Dutton
Josh Lucas joined the "Yellowstone" cast early in the show's tenure. He has appeared in numerous seasons as a young John Dutton, protecting the family's Yellowstone ranch at all costs. The actor knew from the moment he read the script that he wanted to be a part of what Taylor Sheridan was making with "Yellowstone," but he initially had his sights set on playing Rip. 
"I read the script, and I was like, 'Look, I'll do anything to be a part of the show,'" Lucas told Tell-Tale TV. "I assumed I'd maybe be one of [John Dutton's] kids, or [I] wanted to be one of his kids, but I also really loved Rip, and Taylor Sheridan was incredibly clear that he knew exactly who he wanted to cast and it was not me for any of those characters. But he did say, like, 'I have this idea, and I'll get back to you.' A few weeks later, he said, 'Hey man, can you get on an airplane tomorrow? I want to do some flashbacks telling John Dutton's story 20 years earlier, with the death of his wife,' and I was on the plane the next morning." 
Although Lucas didn't get his dream role in Rip, which went to Cole Hauser, he did explore a different side of John Dutton — even if initially Sheridan only wrote the character for Kevin Costner. 
Josh Lucas compared Yellowstone to The Godfather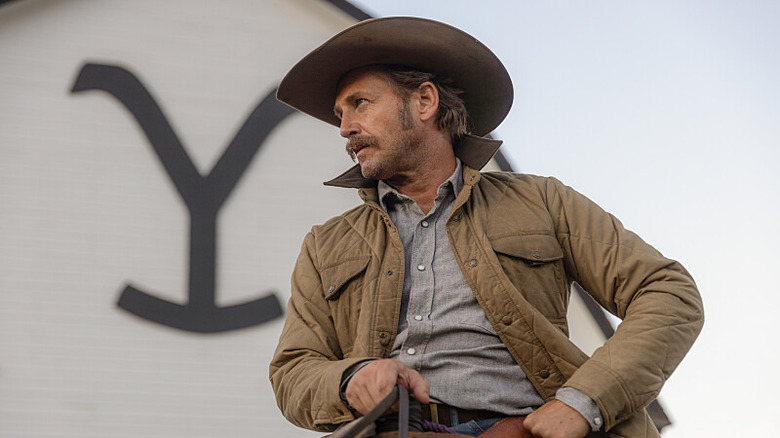 Paramount
During an interview with Deadline, Josh Lucas broke down what it's like sharing a character with Kevin Costner. Both actors play John Dutton in "Yellowstone," with Lucas taking over the younger version in flashbacks. He loves being a part of Sheridan's world and related the role to what Marlon Brando and Robert De Niro did for "The Godfather."
"I was approached all the way back before they started shooting the pilot," Lucas told Deadline. "Taylor and I discussed it at length, you know, 'The Godfather' and what Marlon Brando and Robert De Niro did. These men don't necessarily need to look alike. They need to have the essence of each other."
Brando famously brought Vito Corleone to life in "The Godfather," with De Niro joining the cast in "The Godfather Part II" as a younger version of the character. With Lucas and Costner sharing the role of John Dutton, it allows "Yellowstone" to explore the Dutton family patriarch more deeply. As Lucas mentioned in the interview, it gives them the opportunity to present two different sides of the character, showcasing John's development as he grows older.