Taylor Sheridan Already Had Kevin Costner On His Mind When He Wrote Yellowstone
It's difficult to imagine "Yellowstone" without its lead star Kevin Costner.
Taylor Sheridan's "Yellowstone" became a fan-favorite for many when it debuted in 2018. What compelled initial viewers to tune in for the debut series? It featured the Oscar-winning Kevin Costner, one of the most celebrated and beloved actors of his generation. Known for roles in "JFK" and "Field of Dreams," Costner has cemented himself as Hollywood royalty, which is exactly why Sheridan was interested in having him headline "Yellowstone."
Costner is also a well-rounded multi-hyphenate creator, known for directing and producing films like "Dances with Wolves." Prior to working with Sheridan, the creative only had a limited footprint on the small screen. Costner's most notable television appearance was in History's "Hatfields & McCoys" miniseries, making "Yellowstone" his first major gig on television.
During a 2018 interview with Collider, before "Yellowstone" became a spin-off bearing phenomenon, Sheridan revealed that he had always been interested in working with the iconic actor. "I'd been a fan of Kevin's work my whole life," the co-creator shared. "Just a chance to sit down with someone you've admired was a great honor. I was really hungry to find something to do with him and I had the idea for this show. I wrote the pilot and I sent it to him." It clearly worked out for both of them, as "Yellowstone" is continues to be one of the largest properties on both traditional television and streaming.
Kevin Costner is proud of what Yellowstone has become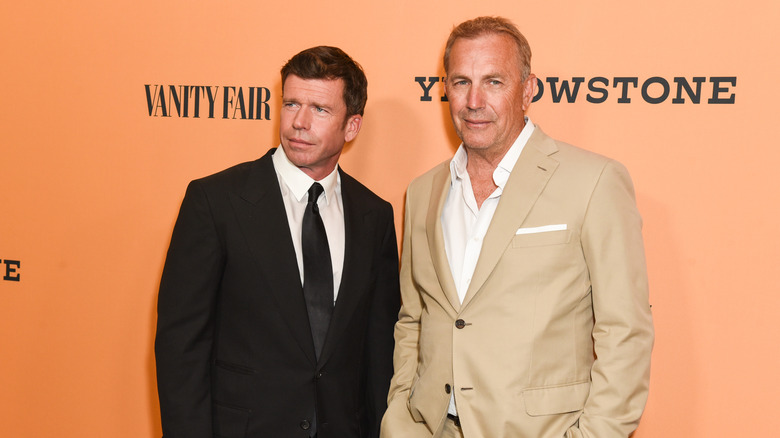 Presley Ann/Getty Images
Kevin Costner has received unanimous amounts of praise for his appearance as the Dutton family's patriarch in "Yellowstone." For Taylor Sheridan, it's important to leverage Costner's innate talent and abilities to make the show as intriguing and inviting as possible. This includes going beyond his acting skills. "Kevin's one of the biggest movie stars of the past 40 years, and well deserved," Sheridan acknowledged in a conversation with Variety. "He's an incredible storyteller as a director, as a writer, as an actor, and so when you have that that kind of tool in your toolbox, you can write him into some really conflicting situations."
And there have been dozens of conflicting situations, which have made "Yellowstone" essential TV over the last few years. Since the success of "Yellowstone" on the Paramount Network, several spin-offs have been commissioned, with two prequels produced so far: "1923" and "1883." The future of "Yellowstone" continues to be bright and gold-colored but it wasn't expected to be such a huge success, at least for Costner. In an interview with ComingSoon, Costner explained how couldn't have anticipated the cult-like following the drama has received. "I didn't predict that it would be a runaway success, but I'm not surprised at all that people do like it to the degree that they have liked it," Costner said. "I think that I couldn't have predicted that exactly." 
Ultimately, "Yellowstone" is the behemoth that it is in part due to Costner's star power and dedication to the series, which is something he acknowledges. "I have a special pride in understanding what we launched, what we did, and how we continue to do it," Costner shared.