The One Song James Gunn Always Wanted To Put In A GOTG Movie But Didn't
Disney/Marvel Studios
Ever since James Gunn first took the helm of the "Guardians of the Galaxy" franchise for the Marvel Cinematic Universe, the writer-director has been known for his iconic needle drops. Being that Gunn is also a fervent and dedicated fan of all kinds of music, the choices that he comes up with for scenes are often some pretty deep cuts, which makes them work even better with the movies.
Even "The Suicide Squad" contained plenty of totally gnarly bangers to set the stage, including the pop-off at the start of the film with "People Who Died" by the Jim Carroll Band. All the same, even with the wealth of choices that the director has been able to sneak into his films, there are still songs that he wishes he'd had the opportunity to use.
At a press junket for "Guardians of the Galaxy: Vol. 3" attended by Looper, Gunn revealed that "Cruel To Be Kind" by Nick Lowe is the song he'd wanted to use most in the MCU series, but he never found the right moment to slot it in. "I keep a list of hundreds of songs that would be 'Guardians 3' kind of songs," the filmmaker explained. "There are songs I have on lists, like 'Cruel To Be Kind' by Nick Lowe has been on every list that I've had."
Alas, the opportunity to use Cruel to Be Kind never came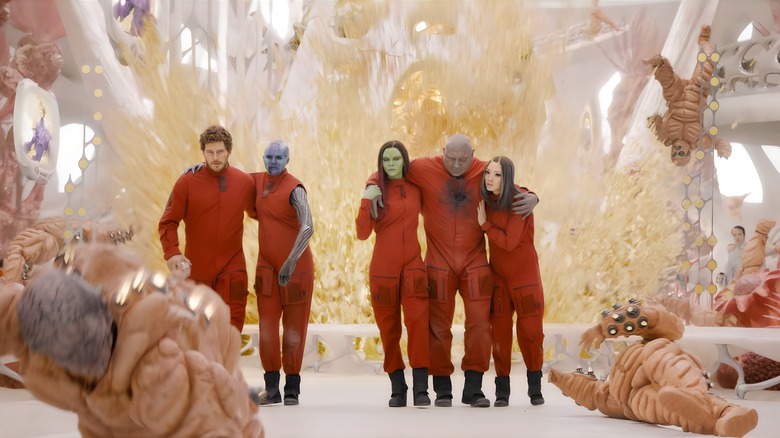 Disney/Marvel Studios
Anyone who's heard the poppy 1978 song by Nick Lowe will likely immediately see how a song choice like that could fit into "Guardians of the Galaxy: Vol. 3." Whether it was used in a training montage, during a tense battle sequence, or in some other context altogether, the song would easily fit into James Gunn's bombastic take on these characters.
"I just never found a place to work it in," Gunn said regretfully. Of his process, he said he looks for his vision of "what fits the scene." "Often times it's a song I don't know very much," the director went on to explain. Still, he said that "Guardians of the Galaxy: Vol. 3" was more of a challenge, as it felt like with the ending of the second film, they could go almost anywhere with the music.
Either way, with "Guardians of the Galaxy: Vol. 3" set to release next week and the film already garnering strong reviews, fans can no doubt look forward to getting all kinds of new earworms lodged in their craniums when they see the new film in theaters on May 5th, 2023.