Who Did Jana Kramer Play On Chicago Fire?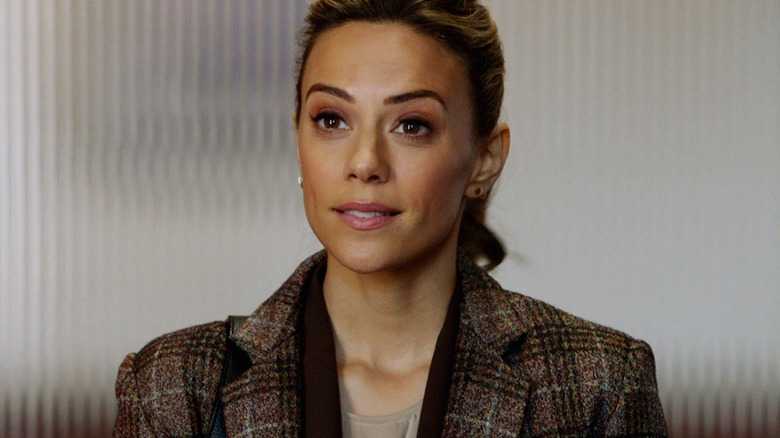 NBC
Jana Kramer rose to prominence as an actor through her central role on three seasons of teen drama "One Tree Hill" as Alex Dupre. Since then, she's maintained a career as a country music singer and become a frequent presence in Lifetime original movies, as well as a single-season contestant on "Dancing with the Stars." In January of 2023, Kramer joined the cast of "Chicago Fire" for a single episode, in a non-Lifetime acting role altogether rare at this stage of her career.
Kramer plays a character named Melissa Keating in Season 11, Episode 11, titled "A Guy I Used to Know." One of the episode's core storylines revolves around Captain Tom Van Meter (Tim Hopper), whom Commander Martin Pearce (John Sierros) thinks is complicit in scamming insurance companies by officially determining at least one case of arson to be accidental. Kelly Severide (Taylor Kinney) investigates Van Meter alongside Keating, who represents an insurance company called LaSalle Indemnity.
While Kramer's "Chicago Fire" character may be limited to this single episode, her proximity to protagonist Severide grants her a temporary sort of importance. This momentary significance of her role delighted "One Tree Hill" fans, excited to see Kramer in "Chicago Fire" and on their TV screens once again.
Jana Kramer enjoyed working with Taylor Kinney
When Jana Kramer was still filming her "Chicago Fire" episode in 2022, she uploaded a series of clips of her goofing around with co-star Taylor Kinney to her Instagram story, all of which are still available to watch through a Kinney fan account on YouTube. Based on this limited footage, Kramer appears to have had a great time working on the series, maintaining a playful dynamic with Kinney behind the scenes.
A couple of photos Kramer uploaded to her personal Instagram account from the "Chicago Fire" set corroborate this. In the first image of her three-photo slideshow, she and Kinney are in full costume and in promo-ready poses, though attentive viewers will notice that Kinney is inexplicably holding a sandwich. In the following two pictures, Kinney appears to be wielding his sandwich as a weapon, causing Kramer to recoil. Kramer captioned the photo, "Instagram VS reality. So much fun filming Chicago fire. The kindest crew and cast around!"
Although her "Chicago Fire" appearance may be brief, Kramer seems to have made the most of the gig, satisfying fans of her work with a return to TV acting, and thoroughly enjoying the time she spent on set all the while.