One Tree Hill Fans Are Thrilled Over Jana Kramer's Appearance On Chicago Fire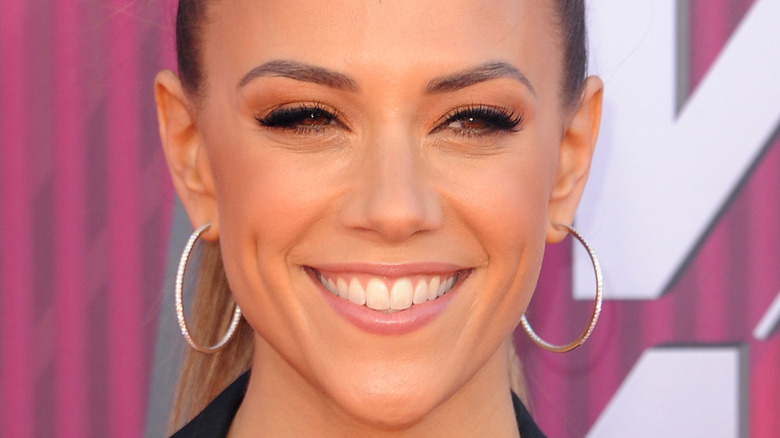 Tinseltown/Shutterstock
It's safe to say that there are virtually no TV viewers out there who watch just one show only. With that being said, you're bound to see some of your favorite actors from previous series pop up now and again on new shows that are currently on your watchlist. It may be someone joining the cast permanently or showing up as a guest star, which would make it more of a significant event. Fans of Jana Kramer got to experience a moment like this, as she recently graced the screen in NBC's "Chicago Fire."
In Season 11, Episode 11 ("A Guy I Used to Know"), Jana Kramer showed off her acting chops once again. The 39-year-old actor/country singer made her cameo playing Melissa Keating, a Chicago detective. For fans of hers (and "One Tree Hill"), her small role may have felt like it went as fast as it came, with many wondering if she will be making further appearances.
As thrilling as this moment is for Kramer's fans, this role on "Chicago Fire" didn't come as a surprise for many of them, since it was announced back in December that she would be popping up on the show. On December 1, 2022, she posted on her Instagram account photos from the set. Along with the photos she wrote, "So much fun filming Chicago Fire. The kindest crew and cast around!" Well, fans have had to wait about a month before they got to see the end result of her shoot, and thankfully, that day has finally come.
Jana Kramer throws on her Chicago detective shoes, much to her fans' delight
Plenty of Jana Kramer fans know her mostly for her country music talents. She's had hit albums for over a decade, but that hasn't stopped her from pursuing a solid acting career. On the scripted side of things, most fans know her for appearing in 43 episodes as Alex Dupree in The CW's "One Tree Hill." The character, seen by some as an overconfident go-getter, had her story arc last over three seasons, eventually coming to a close to pursue a career in (get this) country music. But, as you can see with fan reactions, there's still plenty of excitement when Kramer flexes her acting chops.
With Kramer's episode airing this past January 11, fans of hers were either ready for it, or pleasantly reminded that she was about to be on their beloved "Chicago Fire." "Oh, yeah, I forgot Jenna Kramer was going to be on tonight," declared @aclarkcountry over on Twitter! "Oh, hiiiii Jana Kramer," exclaimed @MeetUsatMollys.  While over on YouTube, @camelliaroan6341 was already looking ahead, hoping for Kramer's roll to eventually become reoccurring (in front of or off camera) by posting, "Taylor Kinney is a hot guy for you Jana Kramer! Yes, I am match-making for my girl & my favorite guy from Chicago Fire!"
Kramer's not just a talented country music star and actor, but you can call her a savvy promoter, as well. She helped get the excitement rolling for this episode. In addition to her Instagram photos on set, she also appeared in a video posted by cast mate,Taylor Kinney, while she sat in her make-up chair. Fans were surely thrilled to see the behind-the-scenes banter between her and their favorite cast members shortly before she got into character.