Outer Banks' Chase Stokes & Madelyn Cline Made Sure To Put The Show First After Their Split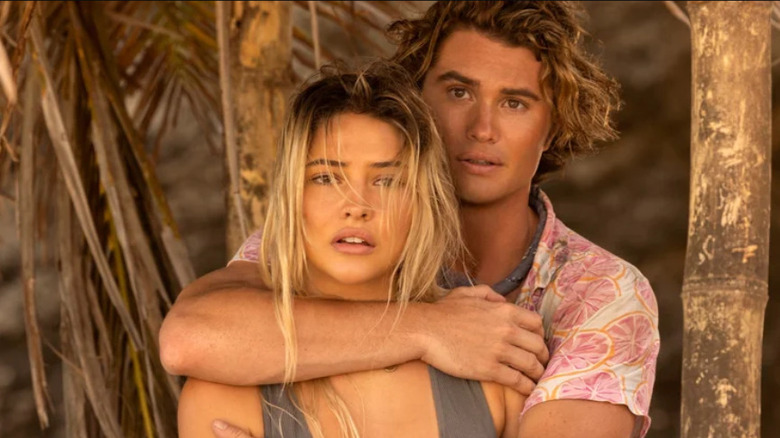 Jackson Lee Davis/Netflix
Dating in Hollywood can be complicated, and Madelyn Cline and Chase Stokes of the Netflix drama series "Outer Banks" know this as well as any other erstwhile TV couple. Countless couples have met on set, and while it's one thing to let a relationship run its course once the cameras have stopped rolling, it's quite another for the relationship to end while filming is still taking place.
Cline and Stokes, two of the leads of "Outer Banks," started dating in 2020, and after a great amount of rumor milling and intrigue, went public with their relationship in June of that year. However, even with all of the public appearances they began to make, the couple decided to call it quits in 2021, not long at all before filming began for the third season of "Outer Banks."
Luckily, according to Cline, the two have managed to keep things friendly and professional on set. "We always said that the job remains untouched," she told Cosmopolitan. "Nothing else, personal or negative, will touch the job. And while that's not always easy, our job is to leave the show better than we found it, to leave the season better than we found it."
Meanwhile, Stokes has proclaimed in an Extra TV interview that he remains Cline's "biggest fan," and that the two remain on good terms. "I'm always going to be her biggest fan inside the show and outside the show, and she's been an incredible scene partner to work with."
Dating in the limelight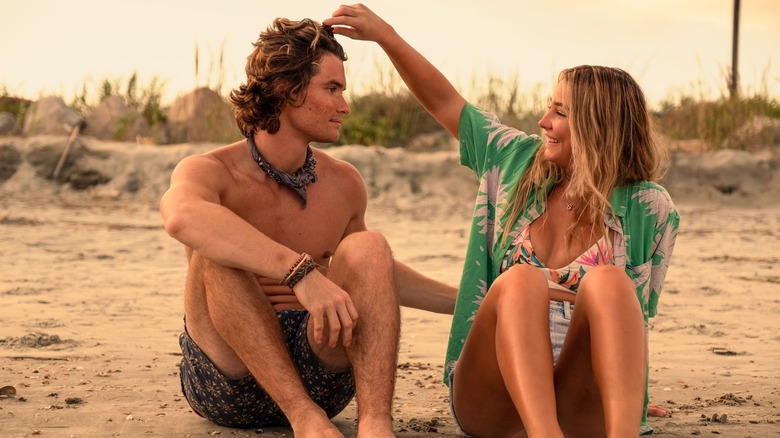 Jackson Lee Davis/Netflix
It's not just Madelyn Cline and Chase Stokes who have had to deal with the pressures of dating while being famous. Plenty of celebrity couples have shared their thoughts and their stories to that effect. Being fodder for tabloids and paparazzi and social media intrigue makes doing even the most mundane couple activities a challenge, if not an outright ordeal. Which is to say nothing of the challenges of staying together. 
Cline said that this was something that struck her during her breakup with Stokes. "I realized the negative side effects of that while going through the breakup, realizing I had let people in and then felt like I couldn't get anybody out," she told Cosmo. "It just hit me like a freight train. I wanted us both to move on and be happy. People see the need for sides. There are no sides — there's no winning or losing in a breakup."
It's understandable, then, that Cline has played her current relationship close to the vest. "I am happily taken. All I know is he makes me incredibly happy," she said. "And I've truly never been happier, and I feel very, very empowered." As to who this mystery beau is, she is, for the time being anyway, not telling.