Why Smee From Peter Pan & Wendy Looks So Familiar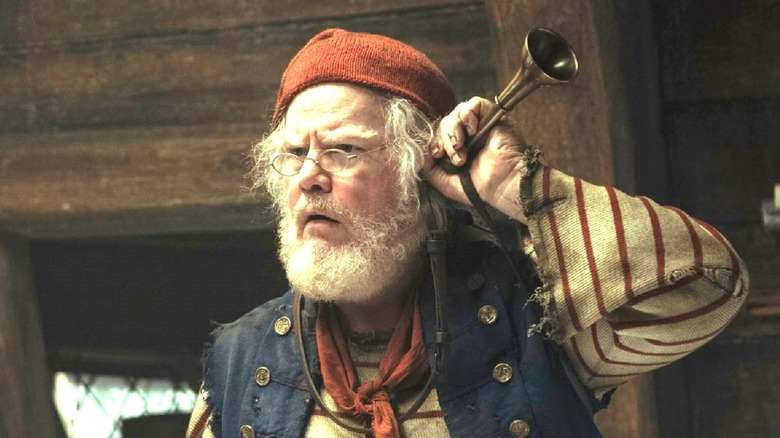 Disney+
Peter Pan could probably grow up if Hollywood stops remaking his story over and over. Then again, "Peter Pan & Wendy," a live-action adaptation released on Disney+, has a surprising amount of heart.
The 2023 version goes much as you would expect it to — Peter Pan (Alexander Molony) steals Wendy (Ever Anderson) and her siblings away to Neverland, and together with the Lost Boys and Tiger Lily (Alyssa Wapanatâhk), they clash against Captain James Hook (Jude Law) and his roving pirate hoard. But there's a bit of a change in focus in that "Peter Pan & Wendy" forces notoriously egotistical loners Peter and Hook to face their fears of camaraderie.
The shift in both of them begins in their respective support groups. For Peter, it's Wendy who's the catalyst. For Hook, it's Mr. Smee, a bumbling but bighearted goof played by the one and only Jim Gaffigan.
While Gaffigan is probably best known for his ongoing work as a stand-up comedian, he also possesses an ever-growing acting résumé that stretches back to the late 1990s. In fact, he's been in over 110 projects, ranging from shorts and animation to TV series and movies. Here are some of his highest-profile live-action roles.
Jim Gaffigan was a guy who needed therapy on That '70s Show
If you're fond of Topher Grace or love to see that Mila Kunis and Ashton Kutcher are still together after all these years, it's probably because you're a fan of "That '70s Show." Though the period sitcom mostly features a core group of teenagers as they go about their daily lives in the 1970s, it also sometimes focuses on their parents as they try to survive having teenagers, which, you know, fair. "That '70s Show" bowed out in 2006, but not before becoming a beloved classic with 16 Primetime Emmy Award nominations.
Jim Gaffigan played Roy Keene, a guy with more than a few self-esteem issues. As Steven Hyde (Danny Masterson) frames it in Season 5, Episode 18, "Hey Hey What Can I Do," "Roy has some problems with ... people," which is comedy lingo for "Roy has clinical depression that will be played for laughs." And played for laughs it is — Gaffigan appears in seven episodes across Seasons 5 and 6, where his entire purpose is to be really, really pathetic. And it's just icky. Sorry, folks, not everything ages well.
13 Going on 30 turned Jim Gaffigan into a high school has-been
In the rom-com "13 Going on 30," Jenna Rink (Christa B. Allen and Jennifer Garner) accidentally uses the "magic wishing dust" given to her by her best friend, Matt Flamhaff (Sean Marquette and Mark Ruffalo), to bypass puberty and her 20s altogether, becoming 30 overnight. Only Jenna quickly realizes that the person she was between 13 and 30 is not the person she wants to be, so she makes it her mission to course correct. Along the way, she falls in love with Matt, who's had feelings for her all along.
Jim Gaffigan played Chris Grandy, Jenna's one-time childhood crush who grows up into a ... less-than-steller individual. While the 2004 movie uses his physical appearance and job as a taxi driver to indicate his lack of worth, it's actually his behavior toward Jenna that's the problem. The moment he realizes she's in the back of his cab, he becomes sexually aggressive. Fortunately, Jenna hightails it out of there the second Chris hits the brakes.
Jim Gaffigan played it straight in The Love Guru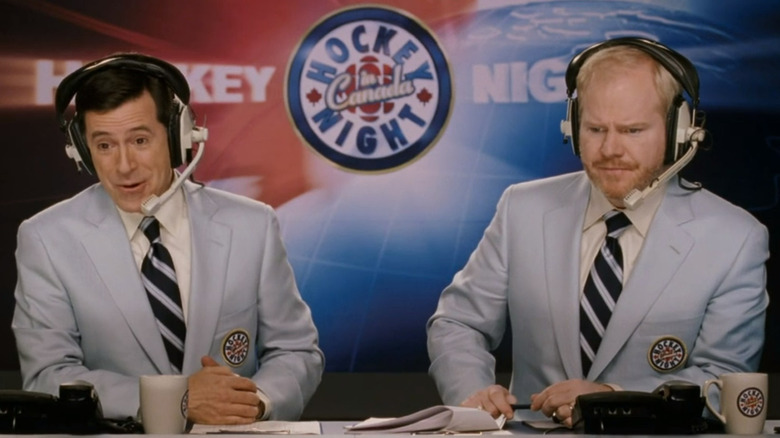 Paramount Pictures
Paramount's 2008 rom-com "The Love Guru," which was universally disparaged by critics and audiences alike, depicts a self-help guru's endeavor to patch up the crumbling marriage between Toronto Maple Leafs star player Darren Roanoke (Romany Malco) and his wife, who has left him for a player on the Los Angeles Kings. The idea is that if Darren gets his act together, then his team will break their losing streak and win the Stanley Cup.
Jim Gaffigan played Trent Leuders, a National Hockey League broadcast announcer. In an unexpected turn of events, Gaffigan's role is actually the straight man in this particular situation — he just wants to do his job like a normal adult human being. And that's a bit hard to accomplish when his co-anchor, Jay Kell (Stephen Colbert), is actively doing hard drugs and can feel colors on his skin.
Zac Efron might be 17 again, but Jim Gaffigan is just very, very tired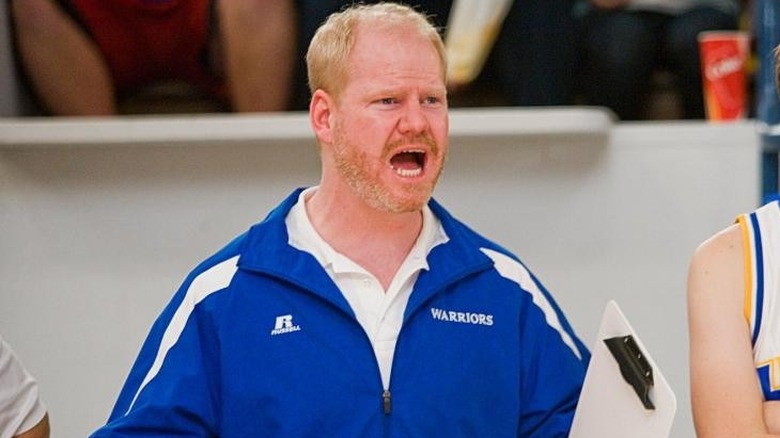 Warner Bros. Pictures
"17 Again" is a teen fantasy comedy starring Matthew Perry and Zac Efron as Mike O'Donnell, a middle-aged man whose marriage is falling apart because he's stuck in the past. Fortunately, there's a magical janitor around to rewind his biological clock. A teenager once again, Mike tries to relive his golden high school years, only to realize that he now has the opportunity to better understand his children's struggles, and even his wife's. The whole thing is very silly and very charming ... as long as you're comfortable with "Back to the Future" levels of incest comedy.
Jim Gaffigan played Coach Murphy, Mike's high school basketball coach, who is still in the position 20 years later. The role doesn't really give Gaffigan much room for humor; he's really just one of those teachers who gave up years ago and considers intermittent shouting to be a satisfactory form of communication. He's clearly not that attentive to his students either, because he doesn't bat an eye when Mike joins the basketball team the second time around.
Jim Gaffigan was Jim Gaffigan on The Jim Gaffigan Show
Every now and then, a celebrity decides that their life should become a literal sitcom to be consumed by the masses. Dwayne Johnson did it in 2021 with "Young Rock," and Jim Gaffigan did it in 2015 with "The Jim Gaffigan Show." The production ran for two seasons on TV Land and ended in 2016. The story follows Jim Gaffigan and his wife, Jeannie (Ashley Williams), as they attempt to parent five children in a small New York City apartment.
The plots are pretty standard fare for a sitcom, and the number of food-related jokes is pretty standard fare for anything related to Gaffigan. And his status as a professional comedian no doubt helped ensure the many celebrity cameos, including Matthew Broderick, Jimmy Fallon, John Mulaney, and Chris Rock, names that barely cover a fraction of the entire list, which is, quite frankly, staggering.